Everything To Know About The Flight Attendant Season 2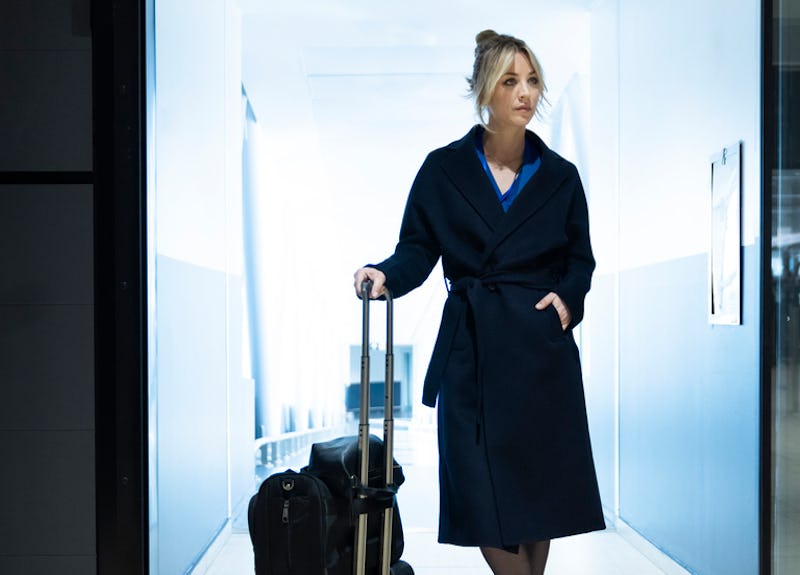 Colin Hutton/HBO Max
Fans of Kaley Cuoco's Emmy-nominated The Flight Attendant have been waiting for the show's second season since HBO Max gave it the green light in December 2020. Prior to this news, Cuoco, the star and executive producer of the dark comedy, hinted that there were already "plans for another season" of the once-limited series as early as August 2020. At the same virtual press tour, co-showrunner Steve Yockey added that some storylines were built into the script that could be expanded further should the series continue. "We have a great producing team, we are a wonderful group of storytellers. I think we have everything in place should the show move forward after this initial mystery," he said. Especially with Cassie Bowden's new side hustle, this means that Cassie could dive into any number of fascinating cases as more seasons get picked up.
Season 1 of The Flight Attendant was based on the book of the same name by Chris Bohjalian, and the initial run of episodes reached the conclusion of the novel's events. Season 2 will need to explore beyond the source material, though the book, which was published in 2018, also sets up the premise for future stories. Here's everything to know about The Flight Attendant's upcoming season, including the new cast members and the show's premiere date.
The Flight Attendant Season 2 Plot
At the end of Season 1, after solving the murder she was the prime suspect for, Cassie bagged a gig as a CIA asset. It's similar to the end of The Flight Attendant book, where she goes undercover as a flight attendant for the CIA when an informant is needed on board.
For Season 2, Cassie leads a new life. She's relocated to Los Angeles, has a new government-backed side job, and, most importantly, she's sober. It's not smooth-sailing for her, though, and things go south when she gets involved in another murder. "When an overseas assignment leads her to inadvertently witness a murder, she becomes entangled in another international intrigue," the season logline reads.
Speaking to THR's TV's Top 5 podcast in December 2020, Cuoco suggested any sobriety journey Cassie embarks on would likely be short-lived. While posing some questions the new season could address, she stated, "As far as anything specific, it would be Cassie trying to live a sober life, which won't happen. The trauma she dealt with 30 years won't go away overnight."
The Flight Attendant Season 2 Cast
Expect to see familiar faces return to the show. Cuoco, who was nominated for an Emmy for the series, will reprise her role as Cassie. She's joined by Rosie Perez (Do The Right Thing), Griffin Matthews (Dear White People), and Yasha Jackson (Manifest), who play Cassie's fellow flight attendants Megan Briscoe, Shane Evans, and Jada Harris, respectively.
Zosia Mamet (Girls) will also return as Annie, Cassie's BFF and lawyer. Annie's boyfriend Max, played by Deniz Akdeniz (Once Upon A Time), will also make a comeback. Also set to return this season are Grey's Anatomy's T.R. Knight, who plays Cassie's brother Davey, and Audrey Grace Marshall, who plays young Cassie.
Last Sept. 24, a whole slew of actors was added to the cast, including new series regulars Mo McRae (Empire), Callie Hernandez (La La Land), and JJ Soria (Army Wives). Per a Deadline report, McRae will take on the role of CIA officer Benjamin Berry who gets "a little too involved with his assets." Meanwhile, Hernandez and Soria will play lovers Gabrielle and Esteban, respectively, who also work together as bounty hunters.
Cheryl Hines (Bad Moms Christmas), Mae Martin (Feel Good), Margaret Cho (Good on Paper), Jessie Ennis (Mythic Quest), Santiago Cabrera (Star Trek: Picard), and Shohreh Aghdashloo (The Expanse) were also announced as recurring guest stars.
Last Nov. 11, Alanna Ubach (Cassie and Lexi's hilarious mom on Euphoria) was also added to the cast as the "icy" new flight attendant Carol Atkinson, aka Black Market Carol. She's apparently "not a fan" of Cassie's. Another character who isn't Cassie's fan is her estranged mom, Lisa, to be played by Sharon Stone. According to the Jan. 11 Deadline report, Lisa would "prefer to stay estranged" from her daughter, especially "after a lifetime of dealing with Cassie's alcoholism."
The Flight Attendant Season 2 Release Date & Trailer
During the same THR podcast discussion in December 2020, Cuoco explained when more episodes could hit HBO Max. "We would, in a perfect world, shoot this time [of year] in 2021 so the world could calm down," she said. "I'd like to keep it COVID-free."
On Feb. 19, Cuoco posted on Instagram that filming had finished. "That's an official wrap on season 2 @flightattendantonmax ✈️ 3 countries , 7 months , mega highs and lows, Covid etc!" she wrote.
Finally, on March 17, HBO Max announced that the eight-episode season will premiere this spring. The first two episodes of The Flight Attendant Season 2 will drop on April 21, followed by another two episodes on April 28. After that, the four remaining episodes will be released weekly through May 26.
The streaming platform also released the first official teaser on March 17. "Asking yourself what predicaments Cassie could get into in Season 2?" Cuoco asks audiences before introducing a "sneak peek" into next season.
"Hi, I'm Cassie, and I'm an alcoholic," she announces in what looks like an AA meeting. "I'm still a flight attendant, and I've been making better choices. I moved to LA, met this great guy, picked up a part-time job. I kinda feel like I'm turning into this whole new person," she continues, as clips of her new life are shown. Her friend Annie even points out that Cassie seems to be living in a John le Carré spy novel. Well, if the protagonists in his novels abstained from alcohol. In an ominous moment, Cassie warns, "I can't have a drink 'cause if I have one drink, bad things happen."
Of course, her life as a new spy has its peaks and blowups — literally, a car explodes. Oh, and the mind palace is back, only this time Cassie's talking to herself.
This post will be updated as more details on The Flight Attendant Season 2 are released.
This article was originally published on