This New Amazon Show Stars SO Many Celebs
From Sandra Oh to Mark Hamill.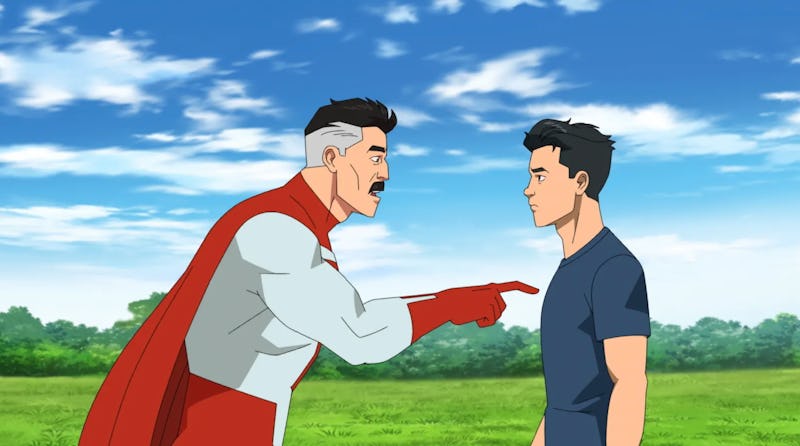 Amazon
Amazon's new animated superhero series, Invincible, tells the story of Mark Grayson. The half-human half-alien son of one of Earth's most powerful superheroes, Mark gets his own powers at the age of 17 and is forced to confront his father's legacy — while protecting the Earth from evil, of course. The show is based on the comics written by Robert Kirkman, the same man behind The Walking Dead comics, and features a seriously impressive voice cast packed with your favorite celebs.
"I had like some vague sense of what the characters are supposed to sound like, but I guess for the most part, it's just some variation on my voice in my head, which you can imagine is not great," Kirkman, who's also writing and executive producing the Amazon Prime series, recently told Comicbook.com. "So, being able to learn about these characters that I feel like I've known so much about, like through these actors, and hear their portrayal it's just spectacular. And I couldn't be more happy with the cast. I mean, it is literally the best cast any television show has ever had in the history of anything."
Check out the star-studded list of actors below.
Steven Yeun Voices Mark Grayson/Invincible
Steven Yeun got his big break on The Walking Dead, another series based on a Robert Kirkman comic, and since then has appeared in films including Burning, Sorry to Bother You, and Minari. In addition, Yeun did prior voice acting for shows including Voltron: Legendary Defender and Tuca & Bertie. In Invincible, Yeun plays the teenage Mark Grayson, who adopts the superhero moniker Invincible after his superpowers inherited from his father finally manifest soon after his 17th birthday.
J.K. Simmons Voices Nolan Grayson/Omni-Man
J.K. Simmons is best known for starring in the television series Law & Order, Oz, and The Closer, and for his film roles in the Spider-Man trilogy and Whiplash. His voice acting credits include Legend of Korra, Gravity Falls, and Zootopia. In Invincible, Simmons voices Mark Grayson's father Nolan Grayson, otherwise known as the superhero Omni-Man, who is actually a member of the Viltrumite alien race.
Sandra Oh Voices Deborah Grayson
In addition to playing Mark's mother, Deborah Grayson, in Invincible, Sandra Oh has starred in Grey's Anatomy and Killing Eve. She's also had small voice acting roles in series including She-Ra and the Princesses of Power and American Dad!
Zazie Beetz Voices Amber Bennett
In Invincible, Zazie Beetz voices Amber Bennett, one of Mark Grayson's human classmates and romantic interests. In the Invincible comics, Bennett is a white girl, but her character was reconceived as a Black girl in the Amazon show. Beetz is best known for starring in Atlanta, as well as for her roles in Deadpool 2 and Joker.
Gillian Jacobs Voices Samantha Eve Wilkins/Atom Eve
Gillian Jacobs is most recognized for her roles in the television series Community and Love. In Invincible, she plays Samantha Eve Wilkins, otherwise known as Atom Eve, a hero who has the ability to change the atomic and molecular design of objects. Atom Eve is also a member of the Teen Team (a Teen Titan-like group of young heroes), and just so happens to attend the same high school as Mark.
Seth Rogen Voices Allen the Alien
Seth Rogen's long list of acting credits include roles in movies such as The 40-Year-Old Virgin, Knocked Up, Superbad, and Pineapple Express. Rogen has also done some voice acting in the Kung Fu Panda series as well as the 2019 Lion King. In addition to his role as Allen the Alien — a pleasant alien who regularly comes to Earth to battle Omni-Man and eventually befriends Mark — Rogen is also an executive producer of Invincible.
Jason Mantzoukas Voices Rex Splode
In Invincible, Jason Mantzoukas voices Rex Splode, a member of the Teen Team who has the power to turn anything he touches into an explosive that will detonate on his command. Mantzoukas is best known for his roles in the television series Brooklyn Nine-Nine, The Good Place, Parks and Recreation, Enlightened, and Close Enough.
Walton Goggins Voices Cecil Stedman
Walton Goggins has starred in shows including Justified, Lincoln, and Sons of Anarchy, and has appeared in films such as Django Unchained, Tomb Raider, and The Hateful Eight. In Invincible, Goggins plays Cecil Stedman, an agent who works as the liaison between the government and the superheroes of the world.
Zachary Quinto Voices Robot
Quinto portrays Robot, the leader and tech guy for the Teen Team. Outside of Invincible, he's best known for his work on the series Heroes, NOS4A2, and American Horror Story: Asylum, and for playing Spock in the recent Star Trek films.
Mark Hamill Voices Art Rosenbaum
Mark Hamill's character Art Rosenbaum is a tailor for the superheroes of the world, as well as a family friend of the Grayson's. Hamill is (obviously) most known for starring in the Star Wars films, but has also been voice acting for decades. He is most known for voicing the Joker for a number of DC comics series, but has also done notable voice acting work on Avatar: The Last Airbender and Regular Show.
Andrew Rannells Voices William Clockwell
Though Andrew Rannells is best known for his theater work — including productions such as The Book of Mormon and The Boys in the Band — he has also appeared in shows like Girls, Big Mouth, and Black Monday. In Invincible, Rannells voices William Clockwell, Mark's best friend and one of his high school classmates.