Kourtney Kardashian Calls Kim A "Witch" & "Narcissist" In Blowout Fight
On the Season 4 premiere of The Kardashians, the sisters fell right back into their Season 3 conflict.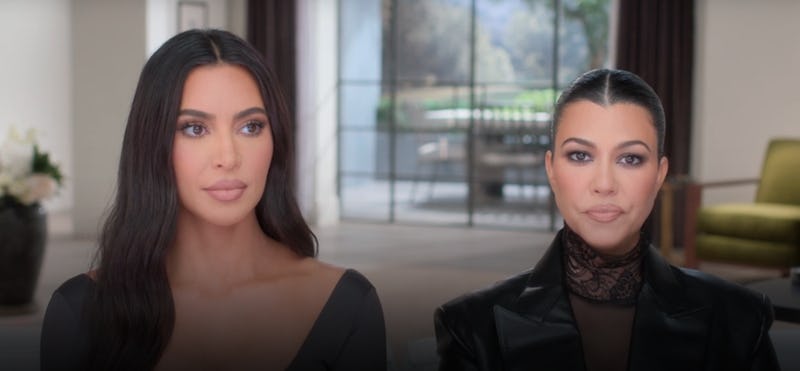 Hulu
Kim and Kourtney Kardashian fought once again on The Kardashians Season 4 premiere, taking little time to restart their argument from Season 3.
For those who forgot the details of the sisters' dispute: The disagreement began after Kim collaborated with Dolce & Gabbana on a special collection, just months after the brand helped design Kourtney's May 2022 wedding to Travis Barker. Kourtney expressed hurt over this — prompting Kim to accuse Kourtney of copying details from her own 2014 wedding to ex-husband Kanye West, and using them for her and Barker's recent nuptials.
Both sisters say their hurt feelings resurfaced while they were approving edits of the Season 3 episodes, when they each first learned what the other had said in confessional interviews. The argument reached a new boiling point just days before the family went on a trip to Cabo San Lucas, Mexico, when Kim called Kourtney to invite her to a dinner in Milan hosted by Dolce & Gabbana.
"I'm a little Dolce-d out, so I probably won't come," Kourtney replied. "I just don't think it's cool the way that particular thing happened." The two proceeded to rehash all the details from their previous fight, before Kourtney explained that her true issue was with how Kim behaved at her wedding, coupled with the timing of her Dolce & Gabbana collab.
"You're talking about the bullsh*t details 'cause it's all your egotistical, selfish mind can think about," Kourtney said. "You cannot stand someone else being the center of attention. You came to my wedding... you complained from the second you got there 'til the second you left. You couldn't be happy for me."
When Kourtney asked her to "dig deep," Kim rebutted, telling Kourtney to "figure out why you hate me so much" — and revealing their family had a side chat named "Not Kourtney" because they're all concerned about her. "You hate us, you're a different person, we all talk about it," she said.
"You are a narcissist," Kourtney said. "It's about you and about how it looks to the world about you. Take out my whole side of the episode, I don't give a f*ck what anyone thinks about me."
When Kim asked her sister if she was happy, Kourtney said, "The happiness comes when I get the f*ck away from you guys, specifically you." Kim then shot back, "I'm concerned, but I won't be, because I'm a narcissist, so I'm only going to think about myself and be concerned about myself."
The final straw came when Kim claimed that Kourtney's children had come to her with concerns, without getting into specifics. "Is that helpful?" Kourtney asked, seemingly starting to cry. "It's you and my friends and my kids and everyone against me. You're just a f*cking witch and I f*cking hate you."
Kim ended the call with a chilling, "K."
It didn't take long for fans on X (formerly Twitter) to take sides in their endless fight. Many viewers were Team Kim: One user said they've "never once seen Kourtney take accountability & apologize ever," while another remarked that they're "tired of watching Kourtney play a victim in her own made-up scenario."
But others saw Kourtney's side, with one fan saying the family's side group chat "is a different kind of nasty," and multiple viewers arguing that Kim saying Kourtney's friends and family speak poorly of her is "exactly what a narcissist would do."
Regardless of whose team they're on, many agree that the feud makes for high-quality entertainment — or as one user called it, "A++ reality TV."