Bill & Frank's The Last Of Us Episode Has Twitter Emotionally Wrecked
"So I'm just supposed to, what, like go to work tomorrow after episode 3 of The Last of Us?!"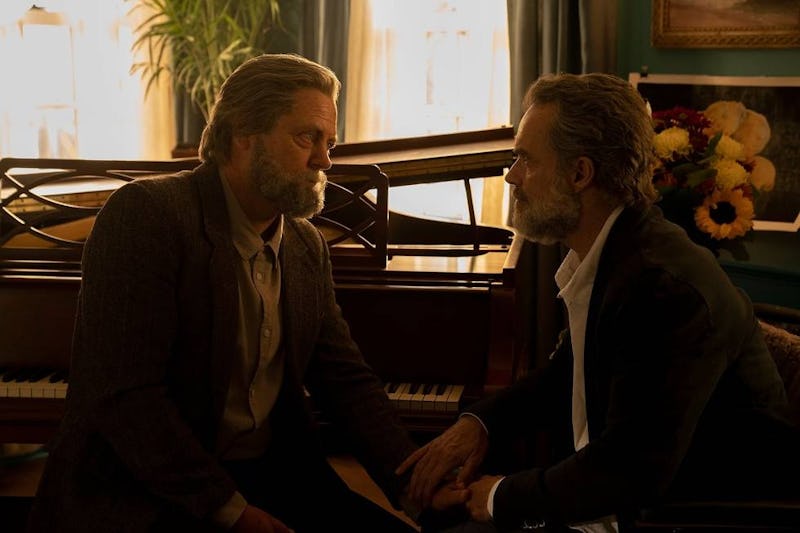 Courtesy of HBO Max
Warning: spoilers ahead for Episode 3 of The Last of Us. No one probably expects to be brought to tears while watching a zombie series. But add Murray Bartlett and Nick Offerman to a show, and you have the makings of a truly emotional episode — yes, even amid the apocalypse. In the HBO Max adaptation of The Last of Us, the uber-popular video game from 2013, the world is ridden with fungi zombies, and it's up to Joel (Pedro Pascal) to get Ellie (Bella Ramsey), aka the only known immune person, to safety. While the first two episodes of the series stayed close to the source material, the third episode, released on Jan. 29, was the first to diverge from the game by creating a backstory for Bill and Frank. And holy cordyceps, it brought Twitter to tears.
In Episode 3, when the government relocates the uninfected after the initial zombie attacks in 2003, Bill, a self-proclaimed "survivalist," manages to dodge their roundups. So he becomes the only one living freely in his emptied neighborhood — with singular access to the gas station, local hardware depot, and even the liquor store. Until Frank shows up.
Viewers then witness Bill and Frank's mid-apocalyptic meet-cute. Frank falls into a ditch near Bill's house and needs saving, a shower, and some food. So Bill invites him to his home and cooks him dinner, and the two then forge an intimate bond after a moment of playing on the piano. In succeeding scenes, fans see their relationship blossom through the decades. They even manage to make friends — with Joel and Tess. Ultimately, Frank gets sick, and after years of dealing with his incurable illness, he asks Bill to help him end his pain. In a twist no one sees coming, both of them die peacefully together by suicide. The episode is a deviation from the original source material in a major way, where only Frank dies by suicide before Joel and Ellie even reach Bill.
The show's creator Craig Mazin revealed the idea behind the change in the storyline which was approved by co-creator Neil Druckmann, the developer of the original game. "I loved that there was this hint of a relationship, and I suggested that we show something else," he said in a Jan. 29 interview with Entertainment Tonight. "I wanted to show what love looked like as the product of commitment. I wanted to show what it looked like to be middle-aged and to be in love. And I also wanted to show the passage of time and a conclusion that showed us both sides of what love is."
The romantic backstory had Twitter bawling, especially since most viewers expected zombies and got something entirely different.
One user wrote, "i have never felt more shock and unpreparedness than going into the last of us episode 3 thinking i'm ab to see some spooky mushroom zombies and father pedro and instead witnessing the most reverently romantic representation of gay love and tragedy i have ever seen."
Mostly, viewers took to Twitter to share just how gutted they were after watching the heartbreaking episode. One user tweeted, "just finished episode 3 of 'the last of us' and....i'm a mess. emotionally and physically."
Some joked about storming HBO's HQ for "emotional damage."
Meanwhile, the consensus is that the episode belongs in the TV hall of fame. Or should at least get an Emmy nod. A Twitter user wrote, "oh yeah the last of us needs an emmy off episode 3 alone cause wow."
Many even praised Offerman's acting specifically. "An incredible, heart-bursting episode 3. Nick Offerman deserves and Emmy for this ALONE," user nhimak posted.
Meanwhile, some already hailed the show as the best video game adaptation bar none. "Episode 3 of The Last of Us is better than any video game movie ever made. I said what I said," a user wrote.
BRB. *Grabs tissues*