Everything To Know About The Last Of Us Season 2
An HBO exec shared the earliest Season 2 could possibly arrive.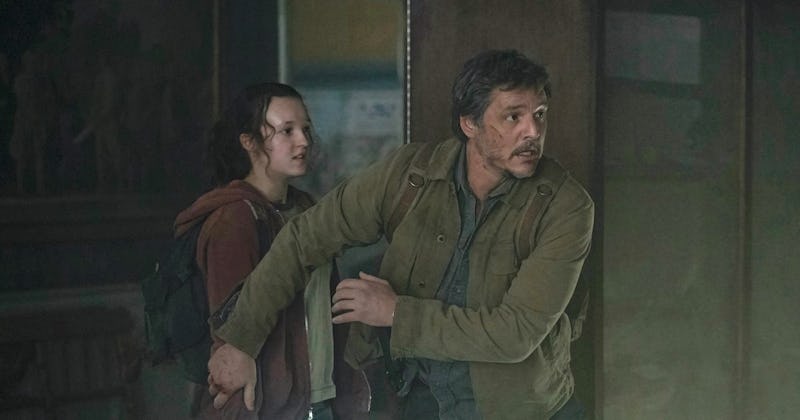 HBO/Sky Atlantic/NOW TV
It had a cult following amongst gamers before ever hitting our screens, but now HBO's TV adaptation of The Last of Us has given the franchise an even bigger fanbase. The hit show starring Pedro Pascal and Bella Ramsey is based on the popular video game of the same name, and is set in a post-apocalyptic world. While fans chew on the gripping twists and turns of Season 1, it has now been confirmed that The Last Of Us will indeed return for a second season.
Sharing his joy about Season 2 of the series, co-creator Neil Druckmann said on Jan. 27: "I'm humbled, honored, and frankly overwhelmed that so many people have tuned in and connected with our retelling of Joel and Ellie's journey. The collaboration with Craig Mazin, our incredible cast & crew, and HBO exceeded my already high expectations. Now we have the absolute pleasure of being able to do it again with Season 2."
And so, on that note, here's everything to know about The Last of Us Season 2.
The Last Of Us Season 2 Plot
In the first season, the protagonists of the video game Joel (played by Pascal) and Ellie (played by Ramsey) face a global pandemic. The show begins in 2003 when a mass fungal infection wreaks havoc, and following a 20-year time jump, viewers meet an immune teen named Ellie — the only one who can provide a Cordyceps vaccine. The first season traced the events of the first video game, and the second season will likely cover a portion of The Last of Us Part II.
In an interview with Consequence before the Season 2 announcement, co-creators Mazin and Druckmann said: "The amount of story that remains, that we have not covered, would be more than a season of television. So yeah, assuming we can keep going forward, the idea would be to do more than just one more season."
Mazin echoed that statement during a pre-finale virtual press conference during the week of March 6. "There is more The Last of Us to come. And I think the balance is not always just about within an episode, or even episode to episode, but season to season," he explained, also teasing that it's "quite possible that there will be a lot more Infected later — and perhaps different kinds."
Season 2's plot won't play out exactly like the game's did, though. "We will present things, but it will be different, just as this season was different," Mazin added. "Sometimes it will be different radically, and sometimes it will be barely different at all, but it's going to be different. It will be its own thing. It won't be exactly like the game. It will be the show that Neil and I want to make."
Spoilers ahead for The Last of Us Part II video game. Still, Naughty Dog's PlayStation game provides plenty of insight into what could happen in Season 2. Following a five-year time jump, Joel's lie to Ellie about what happened with the Fireflies in the Season 1 finale comes to light, causing a major rift between the duo. Early in the game, a former Firefly named Abby kills Joel, while a member of her crew forces Ellie to watch the fatal beating. It's revealed that Abby is the daughter of the surgeon Joel previously killed in Salt Lake City. Ellie vows to avenge Joel's death, and the majority of the storyline follows her quest to track down Abby, allowing gamers to play as either woman.
The Last Of Us Season 2 Cast
Following speculation that Ellie could be recast because of the time jump, Mazin and Druckmann confirmed in their joint press conference that Ramsey will return to the role. "We know what we're going to do in terms of her costume and makeup and hair," Mazin revealed, pointing out that Ramsey is 19 — the same age as Ellie in The Last of Us Part II. "But more importantly, we know the spirit and soul of the actor." Pascal, for his part, also seemingly hinted he'll be back as Joel, coyly telling Collider in February that "there is a chance" filming will kick off in 2023.
The drama's fandom is so far-reaching that internet sleuths have already predicted who else could star in a second season. According to some fan theories, actor Shannon Berry will play Abby, based partially on the fact that Druckmann follows her on Instagram. In 2020, Berry tweeted about the likeness between her and the character in a now-deleted post. "Ok I've seen too many people now say I look like Abby from The Last of Us and wow they're kind of right," the post read.
The Last of Us Part II also introduces Ellie's romantic partner, Dina. "There are a few bits with Ellie on her own, probably, but I like the fact that she also has [Dina] now," Ramsey told British GQ in February. Some eagle-eyed fans believe that Dina already made a sneaky cameo in Season 1's sixth episode. Per IMDB, Paolina van Kleef played the "staring girl" in the episode, though there has yet to be any confirmation that the same actor will appear in Season 2. On Feb. 19, Druckmann tweeted a screenshot that showed "Was that Dina?" was trending in the United States, writing, "Ahahaha. Love, y'all!"
The Last Of Us Season 2 Release Date
After confirming the new season in January, HBO has still not announced a release date for Season 2 yet. Filming for Season 1 took place between July 2021 and June 2022, per ScreenRant, ahead of a January 2023 premiere. If the second installment follows a year-and-a-half production timeline, fans shouldn't expect a return before early 2025.
Indeed, HBO exec Francesca Orsi told Deadline in May that the network was aiming for sometime that year; however, the Writers Guild of America strike that began on May 2 may change that timeline. Explaining that "everything at this moment is pencils down" until they "can come to terms," Orsi noted the standstill could affect programming meant to hit screens in 2024 and 2025.
"At this point, those shows that I'm looking to air wouldn't necessarily be ready if this strike last six to nine months," she said. "So yes, that's a big question for us, but I think we'll cross that road once we come to it."
This post will be updated as more The Last of Us Season 2 details become available.
This article was originally published on