The Last Thing He Told Me Book Ending & Plot Summary
It's another thriller from Reese Witherspoon's production company.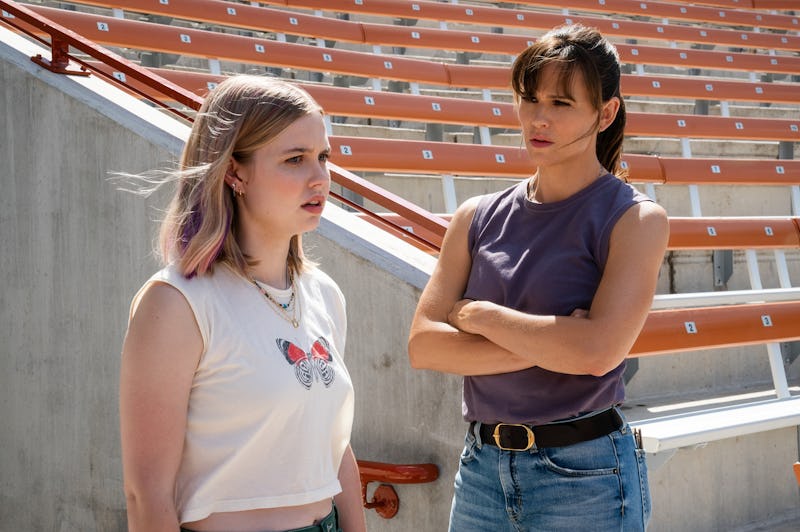 Apple TV+
Spoilers ahead for The Last Thing He Told Me book. After Little Fires Everywhere and Truth Be Told, Reese Witherspoon's production company tackles another thriller with The Last Thing He Told Me. The story follows Hannah Hall (played by Jennifer Garner), a wood sculptor from New York who moves to the Bay Area after she gets married to Owen Michaels (Nikolaj Coster-Waldau). But then Owen mysteriously disappears, leaving Hannah a note that just reads, "Protect her." Hannah knows the letter refers to her standoffish 16-year-old stepdaughter, Bailey (Angourie Rice). Together, they must learn to get along and figure out why Owen suddenly went missing. And as the FBI agents arrest Owen's boss and show up at their own home, Hannah and Bailey also have to reckon with the fact that maybe they didn't know who Owen really was at all.
It's based on The Last Thing He Told Me book by Laura Dave, who is adapting her story alongside her husband, Spotlight and The Post writer Josh Singer. As Dave explained to Variety in 2021, the idea first came to her in 2003, but she only started writing in 2012. She was inspired by the Enron scandal, which was an energy company that collapsed in the early 2000s because the leadership used off-the-books accounting practices to hide their mountain of debt.
"I was consumed with the Enron trial, the hubris behind the people that allowed that to happen," Dave said. "I saw an interview back then with Linda Lay, the wife of Enron CEO Kenneth Lay, in which she said, 'My husband's done nothing wrong. He's not guilty.' I had no idea if she believed that or not. I started thinking of a woman who found herself newly married to someone that the world is telling her is so paradoxical to her understanding of who her partner is."
While Dave said she was also inspired to write the story because of her love of true crime stories, The Last Thing He Told Me book ending does not feature any reveal that Owen is actually evil. "I wanted to write a thriller rooted in hope. What I mean by that is I didn't want the smoking gun to be that the husband turns out to be evil, or that the main character was wrong to trust herself, or that the story would hinge on betrayal," Dave told the Library Journal. She said she knew that is a signature of the genre, but that the focus of her novel is not a shocking reveal about the man but instead about the protagonist "finding herself becoming the hero of her own life."
If you want to know what happens before you tune into the show, the book revolves around the reveal that Owen is running from a crime syndicate. When the company he worked for got indicted for several white-collar crimes, he worried that scandal would blow his cover. Hannah eventually finds out that Owen's name used to be Ethan Young. He became Owen because he believed that Bailey's mom was killed by the gang after his father-in-law Nicholas, a lawyer, lost an important case for them. Owen also helped put Nicholas and the gang members behind bars, so he had to run away with Bailey.
Hannah realizes it's up to her to protect Bailey now, and she manages to broker a deal with Nicholas so that they're safe. Sadly, Owen is not included in the deal, so he remains on the run. The story ends with a time jump to a few years later, when Bailey and Hannah are living in Los Angeles. Owen discreetly shows up at Hannah's exhibition and implies he still loves her before disappearing again. Bailey then shows up with a new boyfriend and refers to Hannah as "mom."