Everything To Know About The Marvelous Mrs. Maisel Season 5
The final season of the Amazon comedy series premieres on April 14.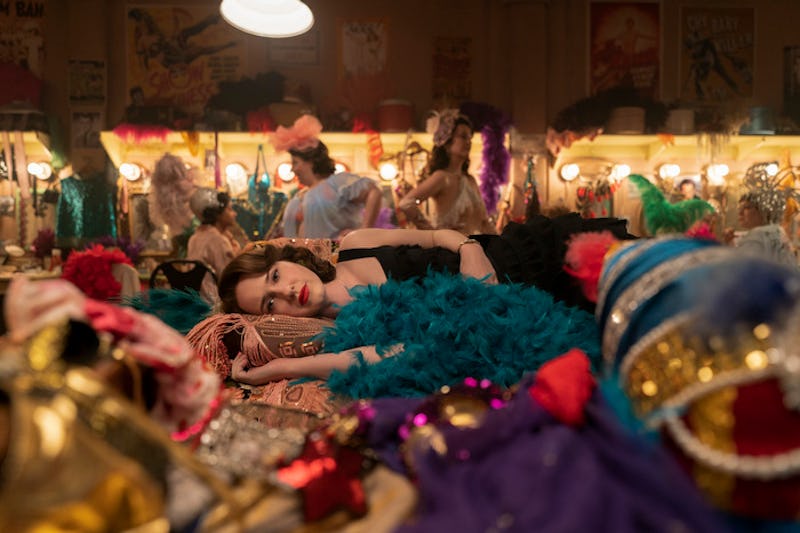 Christopher Saunders/Prime Video
Even before The Marvelous Mrs. Maisel Season 4 dropped on Prime Video, fans of Midge, Susie, and co. got some pretty exciting news: there's more Maisel on the way. But the renewal is bittersweet, as The Marvelous Mrs. Maisel Season 5 will be the show's final outing, Prime Video announced last year.
At the time, several of the show's stars took to social media to share the news. "Rest assured our tits are up and it's going to be a hell of a final chapter," Rachel Brosnahan wrote on Instagram. Alex Borstein posted a photo with the show's creator, Amy Sherman-Palladino — as well as a morbidly sweet caption. "I will spend the rest of my days following this woman right into both of our graves," she wrote. "We may even share one, who knows?"
Ahead, here's everything you need to know about The Marvelous Mrs. Maisel Season 5 production updates, release date, and more.
The Marvelous Mrs. Maisel Season 5 Cast
In addition to Brosnahan and Borstein, you can almost certainly count on all of your Mrs. Maisel faves to return for Season 5 — including Michael Zegen (Joel), Marin Hinkle (Rose), and Tony Shaloub (Abe). Given the big fight between Midge and Lenny Bruce (Luke Kirby) during the Season 4 finale, it seemed likely that Kirby would be reprising his role — and indeed, newly released photos from the season confirm he will be.
Reid Scott will also be back as late-night talk show host Gordon Ford in Season 5, returning as a new series regular. Milo Ventimiglia will return after playing a mysterious stranger in Season 4 after some reports spotted him with Brosnahan at a subway station.
The Marvelous Mrs. Maisel Season 5 Plot
There's a new synopsis for Season 5, but it's pretty vague — teasing that "Midge finds herself closer than ever to the success she's dreamed of, only to discover that closer than ever is still so far away."
While plot specifics haven't been announced yet, Jennifer Salke (head of Amazon Studios) seemed to hint at a satisfying series finale. "I can't wait for fans and our worldwide Prime Video audience to savor each moment as we embark on the culmination of this groundbreaking and unforgettable series," she said in a statement.
In a 2020 TVLine interview with Sherman-Palladino, the creator also teased a positive outcome for Midge on her climb toward comedy success. "Midge has a journey she has to take," she said. "It's the struggle that is fun [as opposed to] 'I'm sitting in a penthouse and I'm really rich and I've got a lot of chihuahuas.' We know emotionally where we want to end her and at what point we want to cut it off, we just don't know how many episodes it's going to take to get there." Now, it looks like one last season is the answer to that equation.
Season 4 ends with Midge storming outside of Carnegie Hall and into a blizzard after having an argument with Lenny Bruce. In the final moments of the season, we watch as her eyes peer up and look at the billboard for The Gordon Ford Show, which was the same series she'd turned down. All things considered, Season 5 might act as a bounceback for the down-on-her-luck comedian.
While we don't know exactly what'll happen with Midge, we do know that the real-life tragedy of Lenny Bruce's passing will likely be tackled. "We felt a bit of a kind of duty to sort of start touching on the aspects of Lenny Bruce's life that kind of led up to his dying young," Kirby told Us Weekly in February 2022. "I don't know how Midge will feel [when Lenny eventually dies in 1966]. Hopefully, she'll be really broken up about it, and then hopefully she will do the healthy thing and move on and make herself happy."
The Marvelous Mrs. Maisel Season 5 Trailer
Prime Video dropped a teaser on March 2.
Then, the streamer dropped the full trailer on March 20, teasing Midge's big break.
The Marvelous Mrs. Maisel Season 5 Release Date
Thanks to an Instagram post courtesy of Rachel Brosnahan, fans knew that The Marvelous Mrs. Maisel began filming in February 2022 — stirring speculation that the next installment would premiere in early or mid-2023. Fortunately, we're right on track: The Marvelous Mrs. Maisel Season 5 release date is April 14. The first three episodes will drop that day.
This post will be updated as more information on The Marvelous Mrs. Maisel Season 5 becomes available.
This article was originally published on