The Parents Of The O.C. Aren't As Rich As You May Think
Their finances changed faster than the Harbor School students' dating lives.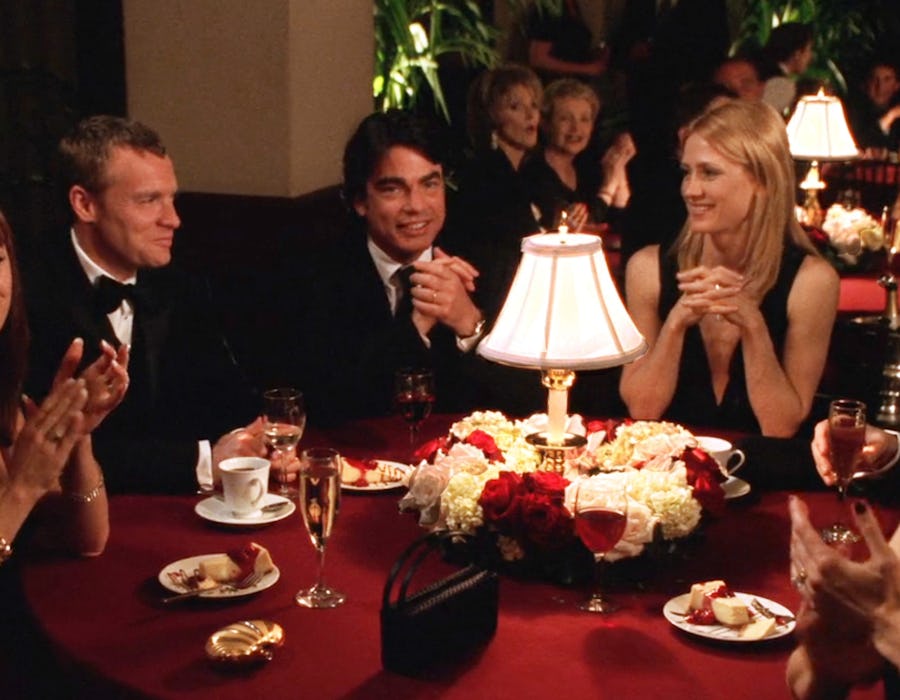 Warner Bros. Television/Max/screenshot
As an O.C. native, I'm qualified to say Orange County is the picture of suburban wealth, and many iconic TV series will prove that, from The Real Housewives of Orange County to Laguna Beach. But nothing probably embodies the southern California enclave more than The O.C. From the moment Sandy Cohen brought Ryan Atwood onto his family's doorstep, it was clear that he was entering rich territory, with the size of the neighborhood's houses alone inciting envy among viewers. However, Seth Cohen, Marissa Cooper, Summer Roberts, and, of course, Ryan, weren't always in the best place financially during the show's run, which all leads back to their infamous parents.
Unlike, say, Gossip Girl, The O.C. spent quite a bit of time focusing on the careers and business ventures of the Harbor School students' parents, whether they were thriving or heading downhill. The parents worked in the most typical, high-earning jobs you can imagine in Orange County, from real estate development and stock investments to fancy restaurants and plastic surgery, with only the great Sandy Cohen taking a real detour to fulfill his own passions.
Since the parents' financial well-being fluctuated faster than the kids' dating lives, it can be tricky for the average viewer to figure out just how rich everyone actually was, beyond the smoke and mirrors of their designer clothes and gorgeous mansions. But with the help of Reddit and using comparisons to real-life salaries, it's possible to make an educated guess. Below, read how much money The O.C. parents likely made and their estimated net worths on the series.
Jimmy Cooper: Broke
In The O.C. premiere, Marissa's dad, Jimmy Cooper, worked as a stockbroker and was one of the richest men in Orange County. But it only took a couple of episodes to undo everything after he was arrested for embezzlement and ordered to repay the clients he scammed, leaving his family bankrupt. His restaurant venture with Sandy Cohen made him rich enough to buy another Newport Beach home, but he then got caught up with money troubles again and started living on a boat off the coast of Maui, which indicates only one thing: He's broke broke.
Julie Cooper: $100,000-ish
Nobody jumped tax brackets more on The O.C. than Julie Cooper. Marissa's mom first became wealthy with Jimmy until his fraud dealings and divorce left her broke. Then, she became rich after marrying Caleb Nichol (Seth Cohen's grandfather), who she thought would set her up for life. But it turned out that Caleb had way less money than he led on, leaving Julie to live in a trailer park, and her plan to climb back up by marrying Summer Roberts' father and running a dating service with Kirsten didn't pan out either. Her earnings can't really be quantified, but Julie ends the series in a much better place, deciding to go back to college and provide for her family.
Sandy Cohen: $1-2 Million
Seth Cohen's trusty dad lowkey had the best life set-up of anyone on The O.C. For most of the series, he worked as a defense attorney and regularly took pro-bono cases to help underprivileged kids, which led to Ryan joining their family. But his wife's family and career allowed him to live among the Orange County elite and never worry about finances. Even their multi-million dollar house was built and paid for by Kirsten's father, Caleb. He may not have made as much money, but combined with his restaurant venture and extra income from his brief time at The Newport Group, he was still making enough to live the dream.
Kirsten Cohen: $5-10 Million
Kirsten was the true breadwinner of the Cohen family, a title that Sandy had no problem giving to his wife, but even most of that wealth came courtesy of her well-connected father. She worked with Caleb at The Newport Group, which earned her a sizable salary even as its fortunes went downhill. (She also started her own dating business with Julie, which went haywire.) Her net worth would be even higher if the Cohens had owned their home — and if her dad hadn't secretly been losing money.
Dr. Neil Roberts: $40-70 Million
Unlike the Coopers, Summer's dad was primarily focused on just two things: his job and Summer. This is why he was the least involved in Newport Beach society (aside from almost marrying Julie), and it's probably why he was one of the richest. Dr. Roberts worked as a plastic surgeon, and in Newport Beach, that's as in-demand as a person could be. If the net worths of popular OC surgeons like Terry Dubrow or Paul Nassiff of Botched are anything to go by, Dr. Roberts easily raked in the dough.
Caleb Nichol: $200-500 Million
Technically, by the end of The O.C., Dr. Roberts is the richest man in town. But during the show's first two seasons, no one could touch the almighty Caleb Nichol, who counts on this list because he was Marissa's stepdad at one point. As the head of the Newport Group, Caleb was easily worth hundreds of millions, given the scope of real estate development projects that he led. But he's proof that a high net worth doesn't always translate to healthy bank accounts, especially since his years of shady dealings were uncovered after his death in Season 2. (And he didn't even have the excuse of faking his death like Gossip Girl's Bart Bass.) Had they both played their cards better, Julie Cooper could've been a billionaire.