The Ending Of The Other Black Girl Book, Explained
Author Zakiya Dalila Harris made "a lot of people mad."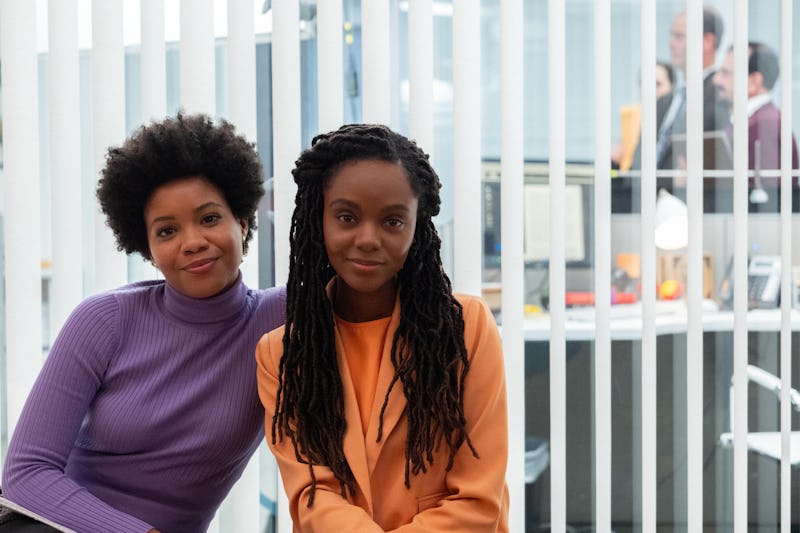 Wilford Harwood/Hulu
Spoilers ahead for The Other Black Girl. Even if The Other Black Girl author Zakiya Dalila Harris hadn't already revealed that she always knew how her June 2021 novel would end, the opening pages offer a major clue. The story follows Nella Rogers, a 26-year-old editorial assistant at the fictional Wagner Books who's tired of being the Manhattan publishing company's only Black employee. The psychological thriller — which is also now a Hulu series — picks up when the titular Harlem-born-and-raised Hazel begins working in the next cubicle. The first sign there was another Black woman in the office: Nella smelled her new co-worker's Brown Buttah hair grease.
Though their ensuing discussion about natural hair care regimens initially seemed to be little more than a bonding topic for the duo, the hair product plays a pivotal role in the novel's eventual twist. But first, Nella, who's fed up with the isolation and microaggressions within the office, has to learn that Hazel isn't the kindred spirit she'd hoped she would be, all while she begins to question her own sanity. Following an uncomfortable string of events that undermine Nella's upward job ascent, Hazel becomes the office darling. Soon, notes appear on Nella's desk — "LEAVE WAGNER. NOW" — and Hazel's sinister intentions come to light.
It's eventually revealed that Hazel is part of a long-running network of OBGs (other Black girls) that uses hair grease — yes, the same one from the prologue flashback — as a form of mind control. The formula, the book explains, makes Black people "amendable when it comes to working with white people and removes any guilt." As Hazel put it to Nella — who eventually gives in and lets the hair grease take hold — simply accepting her fate, rather than fighting it, would allow her to be "free" from the struggle of battling workplace racism. In fact, an epilogue reveals that not only does Nella accept the OBGs' cause, but she also becomes integral to the group's operation and appears to set her sights on the next target, Shani.
Harris, who based the New York Times bestseller on her own experience working as an assistant editor at Knopf Doubleday, has said that the thing people most comment on is the book's ending. "People want to know why I decided to write it that way, and I've had a lot of people mad at me," the author, who's also a co-writer on Hulu's adaptation, recently told The Hollywood Reporter. "I was proud of that response because it meant people wanted to talk about it."
She had her reasons, though. "I wanted my protagonist, Nella, to fail. I wanted the reader to care about her and root for her, but I also wanted to show the price of working in these white corporate spaces," Harris explained to Vulture in June 2021, admitting that she "did not nail the ending" on her first try. The author said she also "wanted to play around" with the idea that "Nella might fail but that her failure could be a kind of success, a way to finally be in control," too.
"I wanted the reader to understand why Nella would go under in the way that she did," she added. "I worked to make sure that we understood her insecurities and how Hazel stirs them up — about not being Black enough and about Nella's desire to be the next big Black editor. ... Many Black women see hair grease as this benign thing. It's such a part of us. It made the ending easier to write: What ultimately transforms her wasn't a pill Nella had to take."
But was Nella's decision to give in to the grease actually a conscious choice? Harris shared with Glamour that the answer lies in her own state of mind while working on the novel. "I was revising that scene last summer, which was when I had edits back at my desk. It was George Floyd, Breonna Taylor, and COVID-19, obviously. Everything was happening," she recalled. "I was in a particularly not great space. Mentally, I felt betrayed. I felt hopeless. I felt numb. I felt a lot of feelings about what was going on. So that scene where Hazel is telling Nella, "Don't you want to be free?" That scene was me taking my own personality and my own perspective of what it was like to work on my book and feel like it mattered when, on the other side of it, people are dying."
However, viewers might notice some differences between the Hulu series and the source material. In addition to giving the streaming version some updates to make it feel more current in 2023, the writers also left the door open for more seasons. "There's just so many places it could go if the story and the show were to [continue]," Harris teased to Glamour. "We've been talking about plans if it were to go past one season. Wagner Books is so rich for storylines."