Is The Syndicate Season 4 Based On A True Story?
The BBC One drama is back.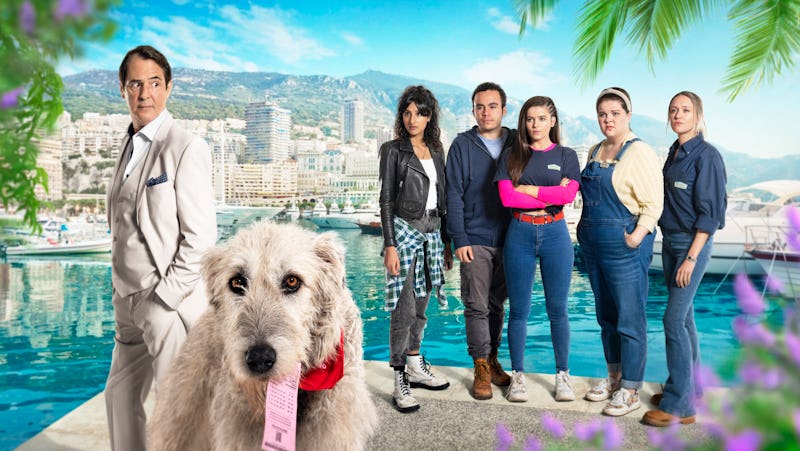 After a five-year wait, Kay Mellor's BBC One Drama, The Syndicate is back for a fourth season, with a brand new cast and transatlantic storyline. Starring quite a few recognisable faces, this year's syndicate are a motley crew of hard-up dog kennel workers who are soon out of a job. After winning the lottery the group is ecstatic, but of course, it's never as simple as that. The standalone series, airing tonight (March 30) at 9 p.m., is set between Leeds and Monaco – but, is The Syndicate season 4 based on a true story?
With a 'cat and mouse' plot that sees the characters jet-setting across Europe, it may come as little surprise that The Syndicate season 4 is not based on a true story. What you can expect from the six-part thriller is Mellor's much-loved signature style; each episode is filled with comedy, pathos, and high drama.
Speaking to The Yorkshire Post, Mellor said: "This series is a brand-new story about a syndicate of low-paid kennel workers who think they've won the lottery, but have been robbed of their ticket. The chase to confront the culprit takes us to the wealthy French Riviera, where the young syndicate find themselves well out of their depth."
Veteran actor Neil Morrissey plays one of the leads, Frank, a gambling enthusiast who works at the local newsagent owned by his fiancée, Cheryl, played by Gaynor Faye. The pair star alongside Joe Sugg, Mark Benton, Kym Marsh, Katherine Rose Morley, Taj Atwal, and Emily Head, among others, making for a pretty impressive roll-call.
The new series was originally confirmed in February 2020, however filming was setback due to the pandemic.
"I'm thrilled to be working with the BBC again," Mellor said, speaking to the BBC. "As ever, it's a brand-new Syndicate... I couldn't resist setting this series in a dog kennels either. I have a Shihtzu myself and love animals – they say you should never work with kids or animals, but I'm a sucker for a challenge."
The Syndicate airs from Tuesday, March 30 on BBC One at 9 p.m.