The Rig's Explosive Finale Leaves Fans On Tenterhooks
But will the Prime Video series return for Season 2?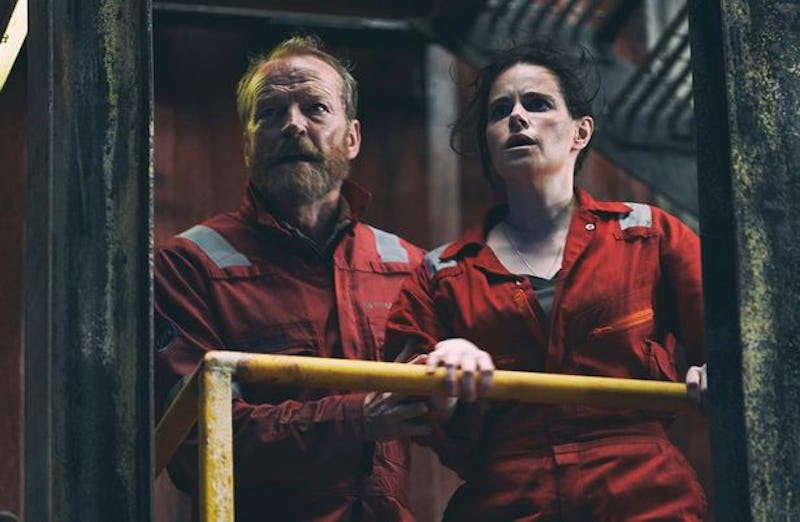 Prime Video
Season 1 of Prime Video's The Rig has proven to be a hit. The series challenges viewers to think about the climate crisis through an advisory story of what could happen if there is continued damage to the environment. Season 1 ended with a cliffhanger, leaving viewers on the edge of their seats as, spoiler alert, the rig was destroyed. But will there be a Season 2 in the future?
Currently, there is no official announcement concerning The Rig being confirmed for a second season. The finale left it open for many characters to return such as Mark Bonnar, Emun Elliott, and Cameron Fulton. Line Of Duty's Martin Compston's character Fulmer Hamilton also managed to escape in the end. But the future of Calvin Demba's Baz, is a bit more ambiguous. It looked like Baz had faded into the spores of the ancestor at the end of S1, as he remained on board the now-destroyed rig.
The Rig is heavily inspired by the climate change crisis. The series' writer David Macpherson said: "Unfortunately, we are in a situation now where climate change is not a future issue; it's a now issue. It's already started. It's something that we need to get ready for and take seriously." Equally, though, he reassures viewers that The Rig "is not meant to be a lecture."
Filmed in Scotland, The Rig revisited a hot spot location that previously featured in Marvel's Avengers films. Should the show come back for a second round, it'll likely make use of Scotland's filming opportunities once more.