The Tourist S2 Will Take Jamie Dornan To An Exciting New Setting
After that explosive S1 finale, here's what you need to know about the next instalment.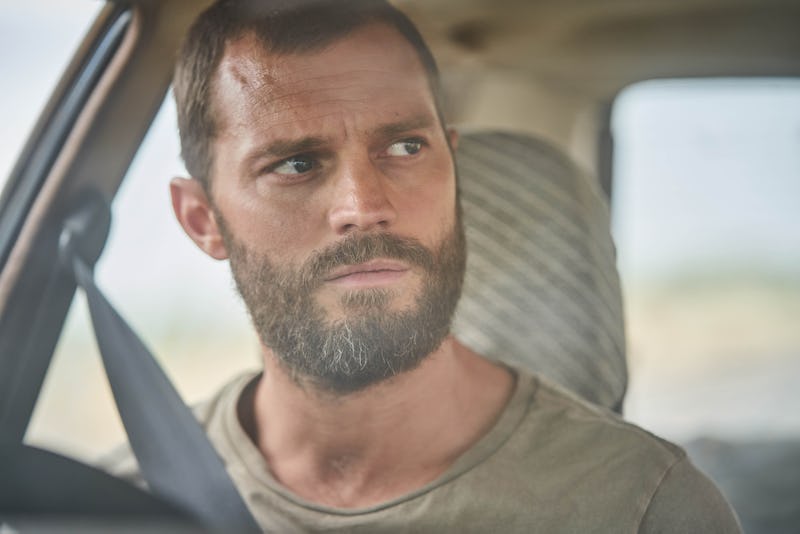 BBC/Two Brothers Pictures/Ian Routledge
Bursting onto our screens with a bang in January 2022, The Tourist gripped fans from the very beginning. The BBC One comedy-action series starred Jamie Dornan as a British man (known simply as "The Man") who, after an epic cat-and-mouse car chase that pushes him off the road in the desert, wakes up in a rural Australian hospital with no idea how he got there, or who he is. After such an explosive start to the series, it's no wonder fans are asking if there will be a Season 2 of The Tourist?
Thanks to the immense popularity of the series once it came to an end, the BBC drama was renewed for a second season in March 2022. "In its first 30 days, 12 million people watched The Tourist — that's twice as big as the largest show, Stay Close, on Netflix," BBC's Chief Content Officer Charlotte Moore told Radio Times following the announcement. "The power that the BBC has to reach millions of people is far greater than we perhaps realise."
And in Feb. 2023, BBC confirmed that Dornan will be reprising his role in the second season and will be accompanied by Daniel Macdonald, who plays the part of constable Helen Chambers. In the highly-anticipated second instalment takes the adventurous duo away from the Australian landscape to Dublin, Ireland, where Elliott is inevitably dragged into dangerous parts of his past life. Speaking of the series Dornan said, "I'm incredibly excited to continue the story with The Tourist. Harry and Jack Williams are brilliant writers, and I can't wait for audiences to see how well Ireland and its characters are utilised to keep them guessing as the tale progresses."
Additionally, the logline explains that as Elliot encounters his past, Helen will be met with pieces of a "larger mystery, forcing them both to confront foes, old and new." MacDonald was equally thrilled about his return to the thriller, "I'm so excited to team up with Jamie again and return for another wild adventure with an amazing cast and crew. Jack and Harry Williams are brilliant story tellers and it's exciting to see what their minds will come up with next." As Two Brothers Pictures continue on production, Fergus O'Brien will direct the six-part season that is set to begin filming in April. While it is yet to be confirmed when the second season will be released and who else from the previous instalment will return, the show featured a star-studded ensemble cast in the past.
The Tourist's protagonist Dornan has always been eager to reprise the role. "It's difficult to talk about without spoiling the ending of Season 1, but all I'll say is there's an appetite for it," he told Radio Times in Dec. 2022. "There are conversations about how you continue the story — is it set before or after what we've already seen? It's definitely all up for discussion. I really like playing the character and I think there's more to explore."
Dornan previously told the magazine that the team "had good plans for it" and wanted it to succeed "but the response to it, as you know, has been insane and the amount of people [who have] watched it, and the love for it is very real," Dornan said in January.
The six-part Season 1 featured a star-studded cast, including Shalom Brune-Franklin (Our Girl, Line of Duty) as Luci, a waitress who The Man meets on his journey, Bird Box's Danielle Macdonald as Helen Chambers, a probationary constable, Icelandic-American actor Ólafur Darri Ólafsson (True Detective), Alex Dimitriades (The End) and Damon Herriman (Mindhunter, Justified) as Detective Inspector Lachlan Rogers.
The Tourist Season 1 is available to stream on iPlayer.
This article was originally published on