Everything To Know About The Ultimatum: Queer Love
The upcoming reality show spinoff has a new host.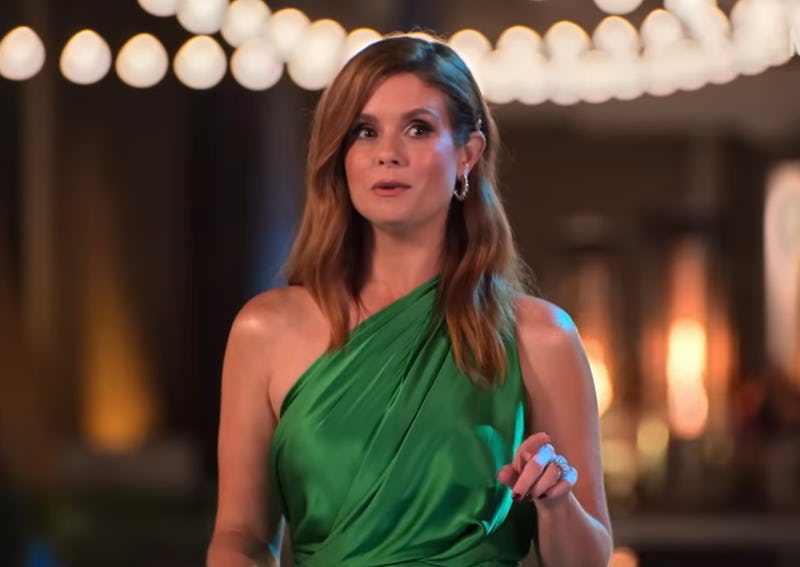 Netflix/screenshot
In its debut season, Netflix's dating experiment, The Ultimatum: Marry or Move On, put a ticking timer on love. The series followed six couples in which one partner was ready for marriage, while the other wasn't. Across eight weeks as the couples decided if they were ready to get engaged or break up, they go on dates with members of the other couples to help make their decision. Much like Love Is Blind, the series took the idea of marriage and commitment and upped the stakes — and it was a compelling enough premise to warrant a spinoff: The Ultimatum: Queer Love, which features a cast of women and non-binary people.
Before The Ultimatum Season 1 even aired, Netflix was already banking on the show's success, greenlighting a second season in tandem with the first. In May 2022, Chris Coelen, one of the series' producers, spoke to Variety about the show's potential. "It's based in a very real relatable conversation and situation for many, many people — either you've been in that situation or you've known people who are in that situation," he said of the show's premise. "For the participants, it's incredibly powerful. It does teach them something, I think, at the end of it. It's full of emotion and hope. I'm really proud of it."
The Ultimatum: Queer Love will serve as one of the streaming service's first major dating shows that isn't focused on straight contestants. As Coelen also revealed, there were preliminary plans for a season of Love Is Blind to be conducted with an entirely gender fluid cast. "I love to tell stories. All kinds of people have all kinds of interesting stories. To be able to tell as many different kinds of stories as we can, I think is great and something to aspire to," he said, also mentioning the logistical difficulties for a show like Love Is Blind. "You wouldn't be hanging out in the lounges with people because those people could be possible love interests for you. So certainly, I've thought about it."
Here's everything we know about The Ultimatum: Queer Love so far.
The Ultimatum: Queer Love Trailer & Premiere Date
Netflix debuted the first teaser trailer for The Ultimatum: Queer Love during the Love Is Blind Season 4 reunion on April 16, announcing that the new iteration will premiere on May 24. Following a nearly identical format, the reality series will center on five new couples, made up of women and non-binary people, who are at a crossroads in their relationship, per the streamer. "I don't even want to say her name anymore, she's like Voldemort to me," one cast member says in the sneak peek, while another person later warns, "If you don't like my dog, you can get the f*ck out."
The Ultimatum: Queer Love Cast
Though fans got a sneak peek at the new cast in the teaser, Netflix has yet to reveal details on the couples. Real-life couple and Love Is Blind hosts Nick and Vanessa Lachey will continue to co-host The Ultimatum: Marry or Move On, but JoAnna Garcia Swisher is stepping in to fulfill the hosting duties for The Ultimatum: Queer Love.
Season 1 utilized a cast largely based in Austin, Texas, which would probably eliminate that city from being used a second time. In interviews, the Love Is Blind producers replied to fan feedback about having more inclusive contestant pools, and the casting of The Ultimatum: Queer Love seems to be the answer. Eagle-eyed Instagram users uncovered the Season 1 cast after The Ultimatum official account followed all of the cast members, so if you're interested in learning where Season 2 will take place, keep up with the show's Instagram.
LGBTQ+ Dating Shows To Watch In The Meantime
LGBTQ+ reality dating shows are still a rarity in 2023. It's one of the main criticisms of the genre, which tends to focus on heterosexual narratives. But that's not to say there aren't any queer-focused dating shows out there that will get you primed for The Ultimatum: Queer Love.
The gay Bachelor-esque series Finding Prince Charming ran for one season on Logo, and MTV has a few seasons of reality romance shows that featured LGBTQ+ contestants, including Ex On The Beach and Are You The One? One of the most interesting options is not even a competitive reality show: Netflix's Dating Around feels more like a docuseries following a single person as they go on five blind dates. The dates could be of any race or gender identity, which allows the series to openly discuss these dating preferences.
This post will be updated with more details about The Ultimatum: Queer Love as they are released.
This article was originally published on