Everything To Know About The Vanderpump Rules Season 10 Reunion
Raquel attended the reunion in person, after filing a restraining order against Scheana.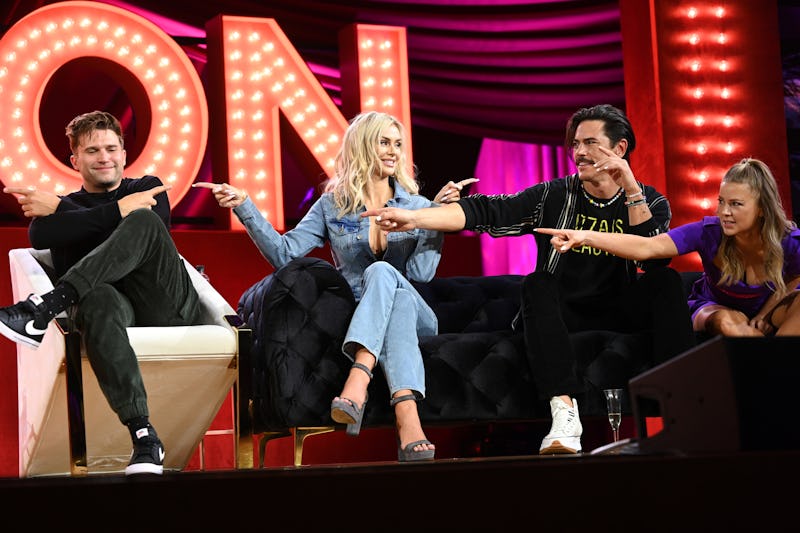 Bravo/NBCUniversal/Getty Images
Going into Vanderpump Rules Season 10, fans knew the Bravo series would SURve plenty of drama. From Tom Schwartz and Katie Maloney's divorce aftermath to scandalous hookups and blowout arguments, the trailer teased exactly what viewers could expect. But nobody — including Bravo — could have predicted Tom Sandoval's cheating scandal with co-star Raquel Leviss that led to his split from girlfriend of nine years, Ariana Madix.
Producers didn't want to wait until the Season 10 reunion to capture the fallout, though. "We have resumed filming on [Pump Rules] and this story will be unfolding on camera," Bravo revealed in a March 6 Instagram post, showing James Kennedy — aka Raquel's ex-fiancée — behind a slate with a "Scandoval" hashtag, on set and ready to film a new confessional.
That's not to say Bravo execs weren't also looking ahead to the end-of-season Pump Rules cast sitdown, though. "How many parts is too many parts for the [Pump Rules] reunion???" host Andy Cohen tweeted on March 3, prompting The Real Housewives of Beverly Hills alum and VPR boss Lisa Vanderpump to reply, "Ummm one…I'm not sure my heart is up to it." But Andy had a solution, joking back, "You have time to get a pacemaker because I NEED YOU."
Exactly how much time did LVP have, though? Here's everything to know about the Pump Rules Season 10 reunion.
When Is The Vanderpump Rules Season 10 Reunion?
The three-part Pump Rules reunion begins on May 24, concluding on June 7.
Andy previously confirmed on Instagram that the reunion taped on March 23 in New York City, later teasing that Peacock subscribers will be able to stream extended versions of the episodes.
Will The Vanderpump Rules Season 10 Reunion Address Sandoval & Raquel's Cheating Scandal?
Because the network already revealed that they're filming cast reactions to Sandoval and Raquel's cheating scandal in real time, the drama was all but guaranteed to come up at the reunion — even though the cast already had plenty to say on the matter. Among the Pump Rules stars who immediately supported Ariana both publicly and privately were: Katie, James, Scheana Shay, Lala Kent, and Bravo alum (and Sandoval's ex) Kristen Doute.
Though Ariana took some time before publicly commenting on #Scandoval, Lala revealed on social media that Ariana gave her permission to "torch" Sandoval and Raquel — and she promised not to hold back either. Sandoval, for his part, issued an Instagram apology on March 4, asking fans to leave his family, friends, and Schwartz & Sandy's employees and business partners out of the drama. After insisting that Schwartz — whom fans will see hooking up with Raquel during Season 10 — "only found out about this very recently" and "most definitely did not condone" his actions, Sandoval added, "I need some time to address everything else. Sorry for everything."
What Happened Between Scheana & Raquel After WWHL?
Since the entire cast already seems to have jumped into the fray, Ariana likely wasn't the only one with a major bone to pick at the reunion. Because Scheana had just filmed a joint appearance with Raquel on Bravo's Watch What Happens Live with Andy Cohen on March 1 when she found out about the cheating, she reportedly already confronted her co-star. Though Raquel's sister seemed to confirm that Scheana punched her in the face, allegedly resulting in a black eye, several sources only described a "heated confrontation" when the two went to a New York City bar for drinks after WWHL.
"At one point in the night, Scheana lost Raquel and then found her outside of the bar on the phone with Ariana, who Scheana could hear was bawling," an insider claimed to Page Six. "A heated confrontation ensued following the revelation. They went back to the hotel separately and haven't seen each other nor spoken since."
On March 7, Raquel's attorney petitioned the Los Angeles Superior Court for a restraining order against Scheana, according to court documents obtained by People. Per TMZ, a judge granted Raquel a temporary restraining order after she alleged that Scheana shoved her against a brick wall and punched her in her left eye. Raquel also reportedly included photos of her bruised eye and cut face in her court filing. The protection order stipulated that Scheana stay at least 100 yards away from Raquel, her home, and her workplace, making it seem nearly impossible for them both to attend the reunion.
In a statement to Us Weekly on March 9, Scheana's attorney, Neama Rahmani, denied Raquel's assault claims. Calling the case "a fabrication," Rahmani claimed that the "supposed dark markings around her left eye have been there for months." The statement continued, "Neither Scheana nor other cast members want anything to do with Raquel going forward. The judge has only heard a one-sided account of what happened, and we look forward to presenting the full and true story at the March 29 hearing."
Did Raquel's Lawyer Send The Vanderpump Rules Cast Cease & Desist Letters?
That's not the only legal action Raquel has taken. Though Bravolebrities are notorious for coming prepared with reunion receipts, the reported "inappropriate" video that Ariana found on Sandoval's phone was likely off the table. According to People, the video in question is a screen recording of a FaceTime call between Raquel and Sandoval that Ariana reportedly forwarded to herself upon its discovery. The magazine reviewed a March 7 legal notice sent to cast members that named Sandoval as the person who "illegally" recorded the video "without the permission" of Raquel.
In the cease and desist letters, her attorneys ordered that anyone with access to the recording delete it from their phones, the cloud, or "any other manner or method in which the recording may exist." Lala confirmed receipt of the letter in her personal email, via her Instagram Stories, expressing anger that Raquel's attorney sent it directly to her, rather than to her legal representation. The rant resulted in the already-viral line, "Send it to Darrell!" referring to entertainment lawyer, Darrell D. Miller, per Page Six.
Did Sandoval Stop Filming Vanderpump Rules?
When Bravo cameras began rolling again in March, Sandoval reportedly filmed scenes with both Ariana and Raquel. "Tom wasn't happy with how the scene went with Raquel and felt like it was going to paint him in a negative light. He told producers he'd like to re-film the scene, but producers weren't having it," a source revealed to Entertainment Tonight on March 7. "Tom told production that he would no longer shoot Vanderpump Rules if they don't listen to him." However, a production source claimed to ET that they still had plans to shoot more scenes with Sandoval later in the week.
Will Raquel Be At The Vanderpump Rules Reunion?
Given Raquel's temporary restraining order against Scheana, fans had questions about which cast members are even allowed to show up at the reunion. Scheana's attorney explained to People that the reunion could be difficult, if not impossible, to film with both women. "The temporary restraining order, as it stands now, currently prohibits Scheana from being within 100 yards of Rachel so they can't both be physically present at the reunion," Rahmani said. "Potentially, one of them could Zoom in and appear virtually but Scheana still can't communicate with Rachel either directly or through an intermediary."
However, on March 22, Raquel confirmed to E! News, "Yes, I will be attending the reunion in person," posting the same announcement to her Instagram Stories. Days earlier, Scheana revealed on her Scheananigans podcast that she's also "fully intending on being there in person." Rahmani also confirmed in a statement to Bustle that the reunion Scheana would, indeed, be present for the March 23 reunion shoot.
"Scheana intends to follow the law, but she wants to be part of the reunion. If Rachel attends, Scheana and Vanderpump Rules will make sure that Scheana remains 100 yards away to comply with the restraining order," the Los Angeles-based attorney explained on March 23, using Raquel's legal first name. "There is no real way for the temporary restraining order to be dropped, so it will remain in effect until the permanent hearing on March 29 and then it will just lapse if Rachel doesn't pursue it. And if Rachel does pursue it, Scheana intends to call witnesses and present evidence to disprove her false accusations."
How Will The Vanderpump Rules Reunion Work?
During the April 3 episode of his SiriusXM show, Andy Cohen Live, the host explained that he started the day by filming separate one-on-one interviews with Tom, Ariana, and Raquel, though he re-asked several of the questions in front of the whole group. "I had my own concerns. I had my own things that I wanted to confront them about, things that I had noticed, so I got to do that," Andy said. "So it was a real reckoning. If you are looking to hear their story, you will. If you are looking for them to be confronted to their face about what they've done in what I would say an aggressive manner, a confrontational manner, you will get it. . . . We shot a long time with the group, so I do feel like you're going to get what you're looking for."
The day of the reunion taping, Bravo also shared two different reunion seating charts — one including Raquel and another swapping in Scheana — revealing that both were happening. Bravo later revealed the Pump Rules cast's reunion looks on April 3, and Ariana certainly made a sartorial statement in a racy, red cut-out number.
What Is The Status Of Raquel's Restraining Order Against Scheana?
After the reunion taping, Raquel and her attorney failed to show up for their scheduled March 29 hearing, and the judge dismissed her restraining order, according to Entertainment Tonight. "My team tried to work with Scheana on a mutually beneficial agreement hoping to get the [temporary restraining order] dropped earlier so we could film [the reunion] together," Raquel told the outlet in a statement. "The [temporary restraining order] was intended to provide a cooling-off period after I was punched but I didn't want to continue with the permanent [restraining order] nor did I want to cause Scheana further agony and stress."
However, Scheana's attorney denied these claims, revealing that Raquel had Andy "serve" Scheana with a document that had "no legal meaning" during the reunion. "It was a request to dismiss a complaint or a civil lawsuit, but Rachel had requested a permanent restraining order, which is something completely different," Rahmani told ET. "There is no way for Rachel to 'drop' the temporary restraining order before [the March 29] hearing. This is California law and even on the court's website."
Is There A Vanderpump Rules Reunion Trailer?
Bravo dropped the Vanderpump Rules Season 10 reunion trailer on May 11, teasing that Andy would uncover the whole story of the "scandal that changed everything" during the "explosive" cast sit-down. Following several heated confrontations — including Ariana calling Raquel "diabolical, demented, subhuman" — Sandoval, who almost comes to blows with James, is put in the hot seat to answer if he is "in love" with Raquel. Add to that, Andy "serving" Scheana legal papers, Schwartz getting his timelines mixed up, and a Sandoval-Raquel sitdown, and much more. Phew.
With so much to unpack, Andy likely did need to consider how many parts were too many for the reunion. But fans now know they'll have to settle for three.
This post will be updated as more Vanderpump Rules Season 10 reunion details become available.
This article was originally published on