Everything To Know About The White Lotus Season 2
Join Jennifer Coolidge and Aubrey Plaza in Sicily on Oct. 30.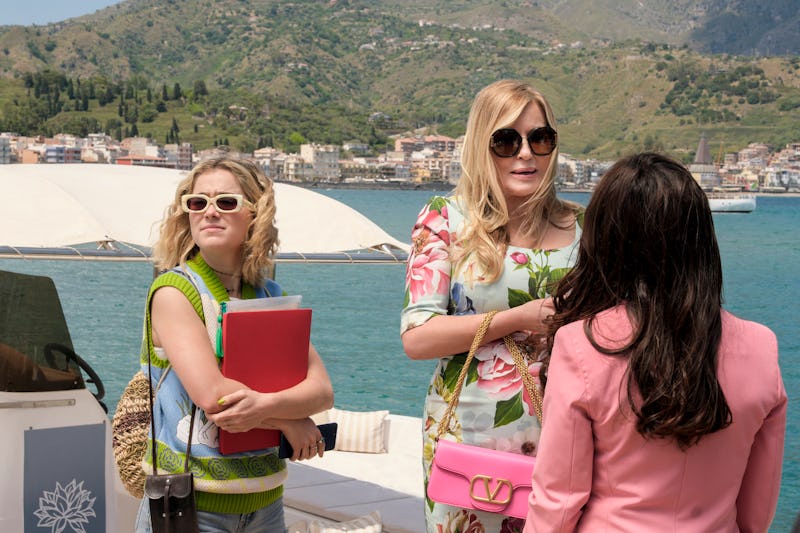 Fabio Lovino/HBO
The vacations of The White Lotus Season 1 may have ended in collective disaster — but the show itself fared pretty well at the 2022 Emmys. In fact, it was the leading title in its category with 20 nominations — and won 10 of them, including Outstanding Limited or Anthology Series. (It was also tied with Ted Lasso for the second-most nominated title at this year's ceremony.)
It's easy to see the appeal of The White Lotus, of course. While Season 1's idyllic Hawaiian resort was home to plenty of beauty, there was a distinct dread lurking beneath each blissfully sunny day since the premiere episode, when we learned someone would die by the time the guests' stay was over. It's that delicate balance between satire and mystery that made fans so eager for more — and that's exactly what they'll get, now that The White Lotus Season 2 is officially on the way.
With Season 1 creator Mike White returning to helm the HBO miniseries, here's everything we know about the second season of The White Lotus, including which fan favorite is set to return and which remote island the show's vacationers will be basking — or committing crimes — in.
The White Lotus Season 2 Premiere Date
HBO announced The White Lotus Season 2 officially entered production the week of March 1. Knowing that White put Season 1 of the show together amid quarantine, getting it from his initial idea to the end of production in the span of a few months, there was speculation that we would see a second season sometime in 2022.
And indeed, we will. On Sept. 23, HBO announced that The White Lotus Season 2 will premiere Oct. 30.
The White Lotus Season 2 Story & Location
According to HBO, the series' second installment will leave Hawaii and follow "a different group of vacationers as they jet to another White Lotus property and settle in temporarily amongst its inhabitants."
On Feb. 10, Deadline reported the new sunny destination is in the Mediterranean Sea. Unofficially dubbed The White Lotus: Sicily, it's likely the show will maintain the structure of the first season, charting the vacation of a group of well-off guests as they charm and challenge the hotel staff. (The first season was filmed at the Four Seasons Resort Maui, and for Season 2, the crew will take over another one of the hotel chain's properties, the Four Seasons San Domenico Palace.)
The White Lotus Season 2 Cast
White has spoken about how an anthology approach will allow him to introduce new actors — and since all the Season 1 actors had only one-year contracts, he'll need to figure out "who is even available." Still, he's more interested in opening up the world of The White Lotus and building out the broader ethos of the show than he is in bringing back fan favorites.
"I don't think you can credibly have [all the Season 1 guests] on the same vacation again," he told TVLine. "But maybe it could be a Marvel universe type thing, where some of them would come back."
White has said he wrote The White Lotus at least partially to give Jennifer Coolidge "something that allows her to show the person that I know, not the 'character,'" so it's only fitting for Coolidge's Tanya, a wealthy, middle-aged woman seeking companionship and direction, to return. Rumors of Coolidge reprising her role have swirled since October 2021, but HBO officially confirmed the actor's involvement in Season 2 on March 1.
Season 1's star-studded cast included Connie Britton, Molly Shannon, Natasha Rothwell, Sydney Sweeney, Murray Bartlett, Alexandria Daddario, Steve Zahn, and Lukas Gage. But there's no news yet on whether anyone else from last season will make an appearance in Season 2.
Official cast announcements for Season 2 began rolling out in early 2022, with Michael Imperioli (The Sopranos) revealed as one of its stars on Jan. 5 via Variety. The following week, the publication reported Aubrey Plaza (Happiest Season, Parks & Recreation) will appear as main character Harper Spiller, who vacations at a White Lotus property with her husband and his friends.
Even more vacationers have been added to the roster as of Feb. 10. Per a Deadline report, Will Sharpe (Flowers) will play Plaza's on-screen husband, Ethan Spiller. The two will travel with friends and fellow married couple Cameron and Daphne Babcock, played by Theo James (Divergent) and Meghann Fahy (The Bold Type). Meanwhile, Leo Woodall (Cherry) will play solo traveler Jack, described as a "magnetic guest" at the hotel. HBO's official Twitter account also shared the news and wrote, "Get ready for a memorable stay."
According to Deadline, Haley Lu Richardson will be playing Tanya's employee, Portia. F. Murray Abraham, Imperioli, and Adam DiMarco will be playing three generations of Di Grasso men on vacation, while Tom Hollander portrays an English expat named Quentin.
The outlet also reported that one more familiar face from last season will, indeed, be back — Tanya's new boyfriend, Greg (Jon Gries), who she met during Season 1.
The White Lotus Season 2 Trailer
The White Lotus Season 2 teaser dropped on Aug. 30, teasing the name of the new resort, Blossom Circle, for which Tanya apparently does commercials now. "So few brands have meaning anymore," she says in the teaser. "But whenever I stay at any of the White Lotus properties, it's always a memorable experience. Always."
On Oct. 6, HBO released the full White Lotus Season 2 trailer — which teases unhappy marriages, affairs, and (in true White Lotus fashion) a dead body.
This post will be updated as more information becomes available.
This article was originally published on