Tiger King Star Joe Exotic's Divorce Situation Just Got Confusing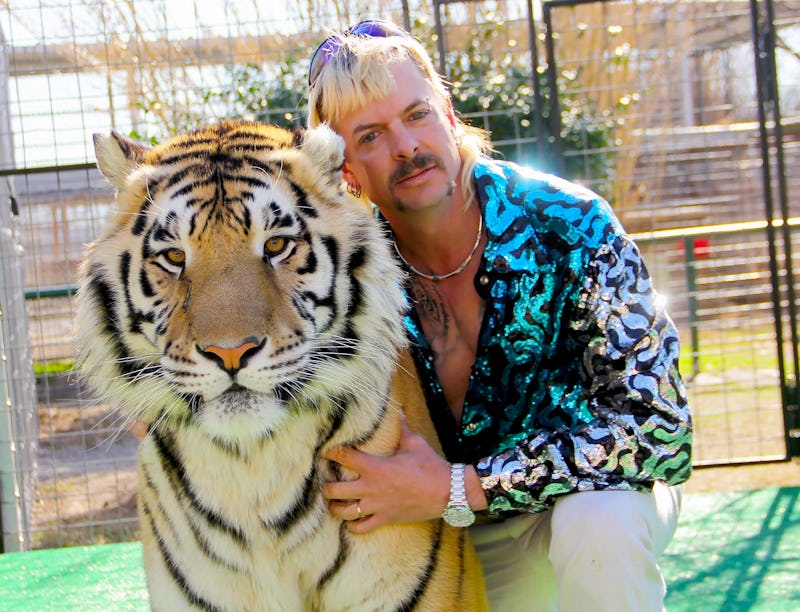 Netflix
Happily ever after is over for Joe Exotic and his husband — or maybe not. The so-called "Tiger King" (real name: Joe Maldonado-Passage) and Dillon Passage addressed a possible divorce in a recent social media exchange, and though it looked like the decision had been made, TMZ reports that the former zoo owner has convinced his husband of three years to reconsider. As was clear in their emotional Instagram posts, the 22-year prison sentence Maldonado-Passage is currently serving after being convicted in 2019 on animal abuse and murder-for-hire charges has been hard on their marriage.
The pain appeared to be very fresh in the eccentric exotic animal collector's March 25 post. He placed the blame on Passage, saying that his partner had promised to stand by him "for better or worse to only abandon [him] near the end" of his legal journey. (Maldonado-Passage is seeking a new trial, as the New York Post reported in early March.)
"Dillon thinks having to sleep alone and not have me out there is so rough and hard to deal with to the point he has to leave me," he wrote in part. "All I ever wanted was to mean something to someone. Why is that so much to ask?"
Responding in the comments, Passage said he would "much prefer to handle personal matters personally, and not on social media," but that he would share a post of his own the following day. And as promised, he did. After first reiterating that he didn't feel it was "the healthiest way to handle private matters between two people," he wrote that the couple were indeed "seeking a divorce."
"This wasn't an easy decision to make but Joe and I both understand that this situation isn't fair to either of us," Passage added. "It's something that neither of us were expecting but we are going to take it day by day. We are on good terms still and I hope it can stay that way. I will continue to have Joe in my life and do my best to support him while he undergoes further legal battles to better his situation."
Passage also reflected on better days, noting that they met in November 2017 and his husband supported him in a "difficult time" in his life. However, he noted that his infamous partner's arrest came "just 9 short months" into their relationship and they've now been apart for more than two years. "I've always stood by his side and will continue to always love and support him," he added.
However, in the day since he posted his March 26 statement, Passage may have changed his mind. His husband's lawyer Francisco Hernandez told TMZ that Maldonado-Passage sent him an email that evening indicating that he'd gotten Passage to rethink the split. "We are not going to get in a hurry and get a legal divorce," the Tiger King star reportedly said. His lawyer John M. Phillips also issued a statement that same day, saying, "Our firm is reviewing options with our client, Joe Maldonado Passage, regarding separation and divorce. We have no comment at this time and request privacy."
As seen in Netflix's much-marathoned documentary series Tiger King, which premiered in March 2020, the couple's relationship progressed quickly. They met shortly after the tragic death of Maldonado-Passage's late husband Travis Maldonado and were married within two months. Passage became Maldonado-Passage's fifth husband, though only he and two others were featured on the show. For now, it's unclear whether or not he'll remain Joe Exotic's husband in the long run, but it looks like one or both will keep us updated.