Tiger Woods Got Called Out For His Tampon Joke During A PGA Tournament
"Why would needing a tampon insinuate you are the weaker athlete?"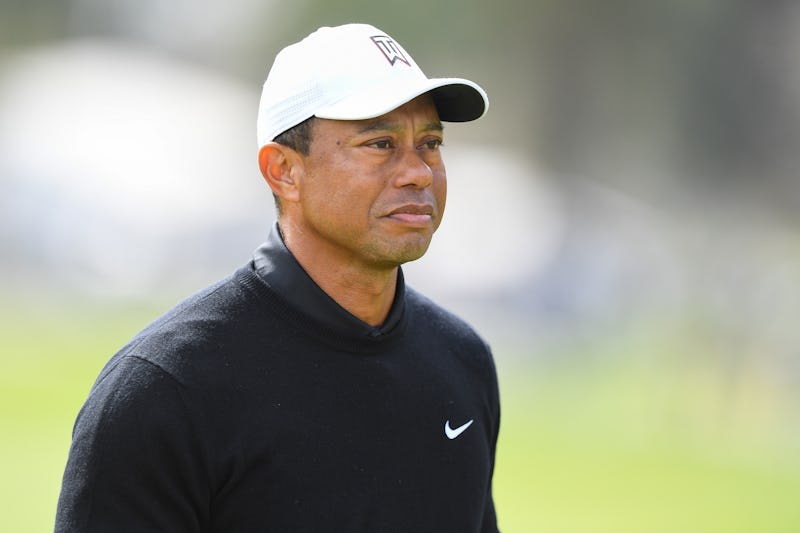 Icon Sportswire/Icon Sportswire/Getty Images
You can't avoid tampon jokes in a middle school sex-ed class — and it turns out you can't always avoid them while watching golf, either. Tiger Woods sparked online backlash after slipping a tampon into his opponent's hand while playing in the first round of the Genesis Invitational on Thursday, Feb. 16. The criticism led Woods to apologize during a press conference the next day, saying, "It was all supposed to be fun and games."
The veteran golfer had just outdriven playing partner Justin Thomas on the ninth hole when he made his move, per CNN. Thomas could be seen quickly dropping the tampon he'd passed him, and then the two athletes shared a laugh as they continued on. Meanwhile, viewers quickly started to react to the exchange on Twitter, and many critics called Woods' move "sexist," "unfunny," and "immature."
"Tell me you're chauvinistic without telling me you're chauvinistic," wrote Dr. Jenn Conti, host of The V Word postcast. "Why would needing a tampon insinuate you are the weaker athlete? ⁦@TigerWoods ⁩, yet again."
Alex McDaniel of USA Today's For the Win also weighed in and highlighted the extra challenges athletes who menstruate face: "if tiger spent three months a year bleeding and coping with period pain, they'd make a whole-*ss documentary about how champions overcome insurmountable obstacles."
Other Twitter users pointed out that Woods is both a 47-year-old man and a father of "a sports-playing teenage daughter." "It's an immature prank that school boys used to think was funny," one wrote.
Even among critics, there was a range of responses. One who noted they did not feel personally offended but found it "weird" wrote, "I think he just confirmed that he's an immature misogynist." Meanwhile, another called it "pure misogyny" and "a grotesque gesture that demeans female athletes."
Woods did have supporters, of course. Some were "confused" by the criticism and felt it was "a small joke." One blamed the "woke sports media" for having "no sense of humor at all."
For his part, Woods said he hadn't intended to cause anyone offense. "It was supposed to be all fun and games and obviously it hasn't turned out that way," he said, per ESPN. "If I offended anybody, it was not the case, it was just friends having fun." He added that he and Thomas "play pranks on one another all the time" and "this did not come across that way."
The golfer, who made it into the third round of the PGA event, will presumably refrain from passing out any other tampons he may have stashed away during the remainder of the tournament.