Everything To Know About Netflix's Addams Family Spinoff Series, Wednesday
The series premieres on Nov. 23, which is, well, a Wednesday.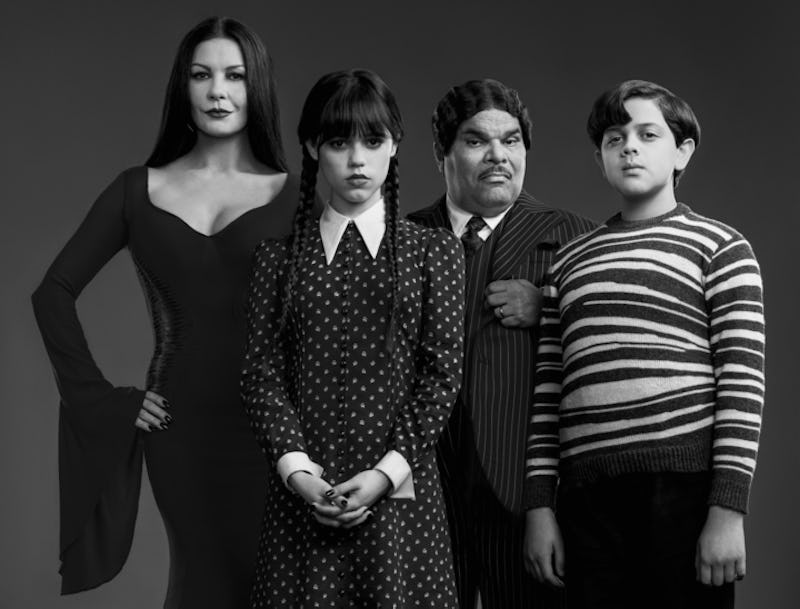 Courtesy Of Netflix
The eldest Addams daughter is ready to reclaim her narrative. After stealing scenes and terrorizing communities in several movies and TV shows, Wednesday Addams is getting her own solo spinoff series. She's bringing her monochromatic wardrobe and devious plans for world domination to a live-action Netflix show from Tim Burton, Deadline reports. The eight-episode project, titled Wednesday, will chronicle her time as a student at Nevermore Academy.
On June 6, as part of Netflix's 2022 #GeekedWeek, the Netflix Twitter account shared a first look at Jenna Ortega as a teenage Wednesday Addams. "Netflix woefully presents ... a twisted new story from the mind of Tim Burton," text on the video says as Ortega walks broodingly into frame and adjusts her collar before Thing appears on her shoulder to snap along with Wednesday.
Ahead of the series premiere, here's everything we know about Netflix's Wednesday.
The Wednesday Plot
While in school, the teen will embrace her "sleuthing, supernaturally infused mystery charting" abilities for a new adventure, according to Netflix's description of the series. "That's where she attempts to master her emerging psychic ability, thwart a monstrous killing spree that has terrorized the local town, and solve the supernatural mystery that embroiled her parents 25 years ago — all while navigating her new and very tangled relationships." This also means other members of the Addams clan, including Morticia and Gomez Addams will appear in the show.
The Wednesday Trailer
Netflix released the trailer for Wednesday on, well, Wednesday, Aug. 17. The two-minute clip features Wednesday getting kicked out of her high school, and her parents subsequently transferring her to Nevermore Academy. Naturally, mayhem ensues as Wednesday settles in at her new school.
The Wednesday Cast & Production Team
In addition to executive producing the series, Burton will also direct and serve as showrunner alongside Smallville creators Al Gough and Miles Millar. Gough and Millar are also set to write the Netflix series. Teddy Biaselli, Netflix's Director Original Series, said in a statement that the writers "nailed the tone, the spirit, and the characters, but gave us a fresh way into this story," with their initial Wednesday pitch. As for Burton's involvement, "Tim has had a history of telling empowering stories about social outsiders like Edward Scissorhands, Lydia Deitz and Batman," Biaselli continued. "And now he brings his unique vision to Wednesday and her spooky classmates at Nevermore Academy."
Ortega, who played the extremely wise and unsupervised teen named Ellie in You, will be taking on the lead role and announced her new role by posting a picture of her holding the script. Ortega told Entertainment Weekly that she was equally excited and nervous to play Wednesday, and was especially excited to see the character aged up. "We've never seen her as a teenage girl ... I've never had the opportunity to play an iconic character before. I know she's well-loved and well-respected and I just don't want to mess her up."
Previously, Wednesday Addams has been immortalized in several adaptations of the Charles Addams cartoons. Christina Ricci famously depicted the character in both 1991's The Addams Family and 1993's Addams Family Values. Krysta Rodriguez brought the role to life on stage for Broadway's The Addams Family: A New Musical in 2010. Most recently, Chloë Grace Moretz voiced Wednesday in 2019's animated movie The Addams Family.
As for Wednesday's kooky parents, on August 9, 2021 Netflix announced via Twitter that the two iconic roles have been filled. Playing the red lipstick-donning matriarch Morticia Addams is Catherine Zeta-Jones (Queen America, Chicago). The witchy role was previously brought to life by Carolyn Jones, Charlize Theron (in the animated movie), and, perhaps most notably, by Anjelica Huston in the movie adaptations. Meanwhile, Luis Guzmán (Narcos, We're The Millers) is set to play Morticia's husband, Gomez. Actors Raul Julia, John Astin, Tim Curry, and Oscar Isaac all previously brought the cigar-puffing mustached patriarch to life.
A first look at the main cast was revealed on August 16, 2022 with Zeta-Jones, Guzmán, and Isaac Ordonez as Pugsley appearing beside Ortega's Wednesday. Gough told Vanity Fair that Burton's influence was key to the characters' styling. "He wanted the silhouette to look more like the Charles Addams cartoons, which is Gomez shorter than Morticia, versus the kind of suave Raul Julia version in the movies," Gough said about the visual differences in their version of the story. Millar added, "That's something that was very important to the show—that it didn't feel like a remake or a reboot. It's something that lives within the Venn diagram of what happened before, but it's its own thing. It's not trying to be the movies or the '60s TV show. That was very important to us and very important to Tim."
On August 27, 2021, Netflix revealed the rest of the series' regular cast, which includes Hunter Doohan (Your Honor, Truth Be Told) as Tyler Galpin, an unlikely friend of Wednesday's who has a strained relationship with his sheriff father. Georgie Farmer (Treadstone, The Evermoor Chronicles) is set to play Ajax Petropolus, an awkward and shy Nevermore Academy student with high-strung nerves toward eye contact — who happens to also be a Gorgon. Moosa Mostafa (Nativity Rocks!, The Last Bus) will portray quirky Nevermore student Eugene Otinger, who runs the school's beekeeping club. Emma Myers (Girl in the Basement, Taste of Christmas) will appear as Wednesday's upbeat Californian roommate Enid Sinclair, who comes from a pack of San Francisco werewolves. Portraying one of the school's cool kids is Naomi J. Ogawa (Skylin3s) as Yoko Tanaka, "a vampire with Harajuku-inspired Goth flair," per Netflix.
Additionally, Joy Sunday (Dear White People, The Beta Test) will play one of Nevermore's most popular students, Bianca Barclay, who comes from a family of Sirens with incredible persuasion powers. Percy Hynes White (The Gifted, Pretty Hard Cases) will step into the role of the wealthy and supernaturally artistic Xavier Thorpe, whose father is a celebrity psychic. Thora Birch (Ghost World, The Walking Dead) is set to portray Wednesday's dorm mother, Tamara Novak, the school's only on-staff "Normie" with a knack for plant care. Riki Lindhome (Knives Out, Another Period) will play a local therapist named Dr. Valery Kinbott, who works in sleepy Jericho and is particularly interested in Wednesday, her newest patient. Finally, Jamie McShane (Mank, Bloodline) rounds out the cast as Jericho native Sheriff Donovan Galpin, who takes issue with Nevermore Academy and has a vendetta against former student Gomez Addams.
Gough and Millar also hinted to Vanity Fair that Uncle Fester might be stunt cast, and that his presence on the show will remain a mystery. "We have no comment on Uncle Fester," Gough said. "Watch the show."
The Wednesday Release Date
An official release date for Wednesday has been announced. On Sept. 23, the streamer revealed the series will premiere on Nov. 23 (which, of course, is a Wednesday). Fans will be eagerly waiting in the meantime for this unsettling icon to wield her mighty axe of destruction on Netflix.
This post will be updated with the trailer, release date, and additional plot and cast details as more information on Wednesday becomes available.
This article was originally published on