Bling Empire: New York's Tina Leung Has A Superhero Alter-Ego
The reality star is a bonafide fashion icon.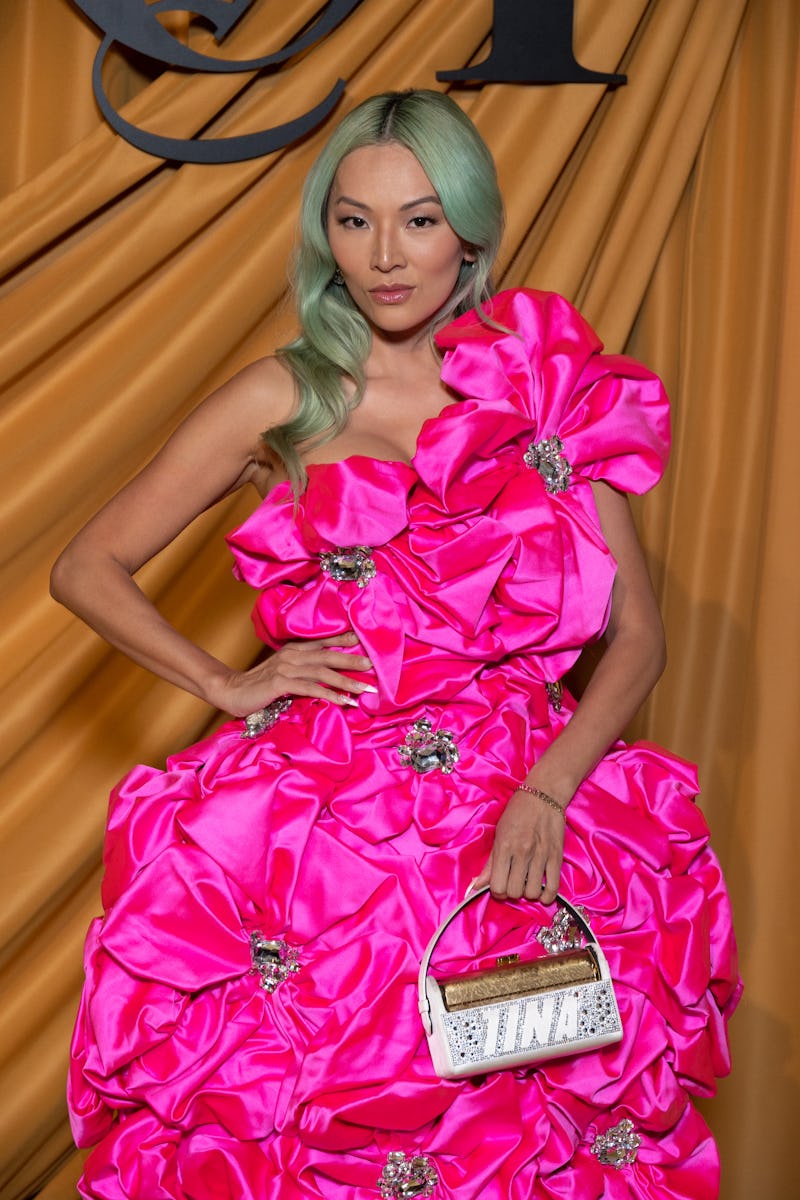 Marc Piasecki/WireImage/Getty Images
With Bling Empire: New York, the latest installment in Netflix's Bling Empire franchise, get ready to meet a new slew of uber-wealthy Asians. The show stars Rich Kids of Beverly Hills alum Dorothy Wang, as well as new faces in the reality show circuit. But one cast member may already look familiar to fashion savants: Tina Leung.
The 40-year-old may be new to reality TV, but you've likely seen her making the rounds on Instagram as one of the fashion industry's beloved influencers. A street style star and front-row staple at Fashion Weeks, Leung is known for her chic and eccentric style (she recently sported a Hello Kitty clutch) and for her always-dyed locks in fun, bold hues.
On the show, Leung will showcase her life as an influencer and as a friend, and viewers will even get to see her wade into the dating world. With Bling Empire: New York dropping on Jan. 20, here's everything to know about Tina Leung including her job, her net worth, and her stylish group of friends.
What Is Tina Leung's Job?
Leung is one of the OG bloggers-turned-Instagram influencers. She launched her now-defunct site, Tina Loves, in 2010 and it catapulted her to It girl status. As a fashion influencer with over 330,000 Instagram followers, Leung works with top-tier brands like Valentino, Loewe, Gucci, Tod's, and Roberto Cavalli, collaborates on shoe designs with the likes of Keds and Topshop, and jet sets around the world to attend events and sit front row at Fashion Weeks.
Leung graduated with a drama degree from the University of Bristol in 2004 but ended up pursuing a career in fashion. After bagging a styling certificate from the Fashion Institute of Technology in New York, Leung got her start in fashion after briefly moving back to Hong Kong, where she was born, and working in Prestige Magazine as a stylist and writer. She's since moved back to New York.
What Is Tina Leung's Net Worth?
There's not a lot of information on how much Leung is paid for her brand deals, so Leung's net worth is difficult to pin down. However, some tabloids like Buzz Learn estimate the range from $1 million to $5 million.
It's unknown how much Netflix is paying Leung to be on the show, but it likely will increase her net worth especially after it drops. Per a Glassdoor report, the base salary for Netflix actors is around $158,158 per year. Though according to a Business Insider, that number could differ significantly for reality TV stars. "For those docu-ensembles, especially if they're nobodies, per episode it ranges from low-end, like $1,500 an episode, to $3,000 at the high end," a TV agent told the outlet, adding, "And then, after three years of success, it can go up to $7,000 to $10,000 an episode."
Who Is Tina Leung's Family?
Unlike the rest of the cast, not much is known about Leung's family. But Leung spoke about her childhood in a 2016 interview with Legend Magazine. "Well, I was born in Hong Kong and moved to Orange County. Tiny, tiny little suburb," she said of her move when she was just two. "My father was away a lot so it was just me and my sisters mostly."
Leung is the eldest of four women, and her sisters Katrina, Alda, and Tawny make the occasional appearance on her Instagram feed.
Who Are The Slaysians & What Is House Of Slay?
Aside from Bling Empire: New York's main cast, Leung's friend group, aka The Slaysians, also features on the show and they're comprised of five Asian tastemakers in the fashion industry, including entrepreneur Ezra J. William, designers Prabal Gurung, Phillip Lim, who both have eponymous labels, as well as Laura Kim, a co-creative director for Oscar de la Renta and Monse Maison. In a 2016 interview with E!, Leung said that she formed the initial bonds with some members of her Asian squad "through our love of food."
In 2021, in response to the uptick in anti-Asian hate crimes, the group of five came together to create House of Slay, a comic webtoon in which each of them has a superhero alter-ego. Per the logline, "After five friends from New York's fashion world are granted superpowers by a mysterious ancient deity, they become the House of Slay." The webtoon, which features a myriad of other BIPOC characters and "bold and diverse stories," is currently in its second season.
House of Slay also became an Instagram community that celebrates and spotlights diverse stories and talents. In Nov. 2022, the House of Slay community was presented with the Positive Social Influence Award by the Council of Fashion Designers of America (CFDA).
"HOUSE OF SLAY was created from our love for each other and our community. We will continue to uplift, empower, and create space for underrepresented voices from all walks of life. Everyone is welcome at the HOUSE OF SLAY," the group's Instagram post read. Individually, each Slaysian member also continues the fight against anti-Asian sentiment and a more inclusive fashion industry. Gurung was most notably recently named vice chair of the CFDA.