Toheeb Jimoh Is Ted Lasso's MVP
On a show packed with fan-favorite breakouts, the British-Nigerian actor has become "the leader of the team."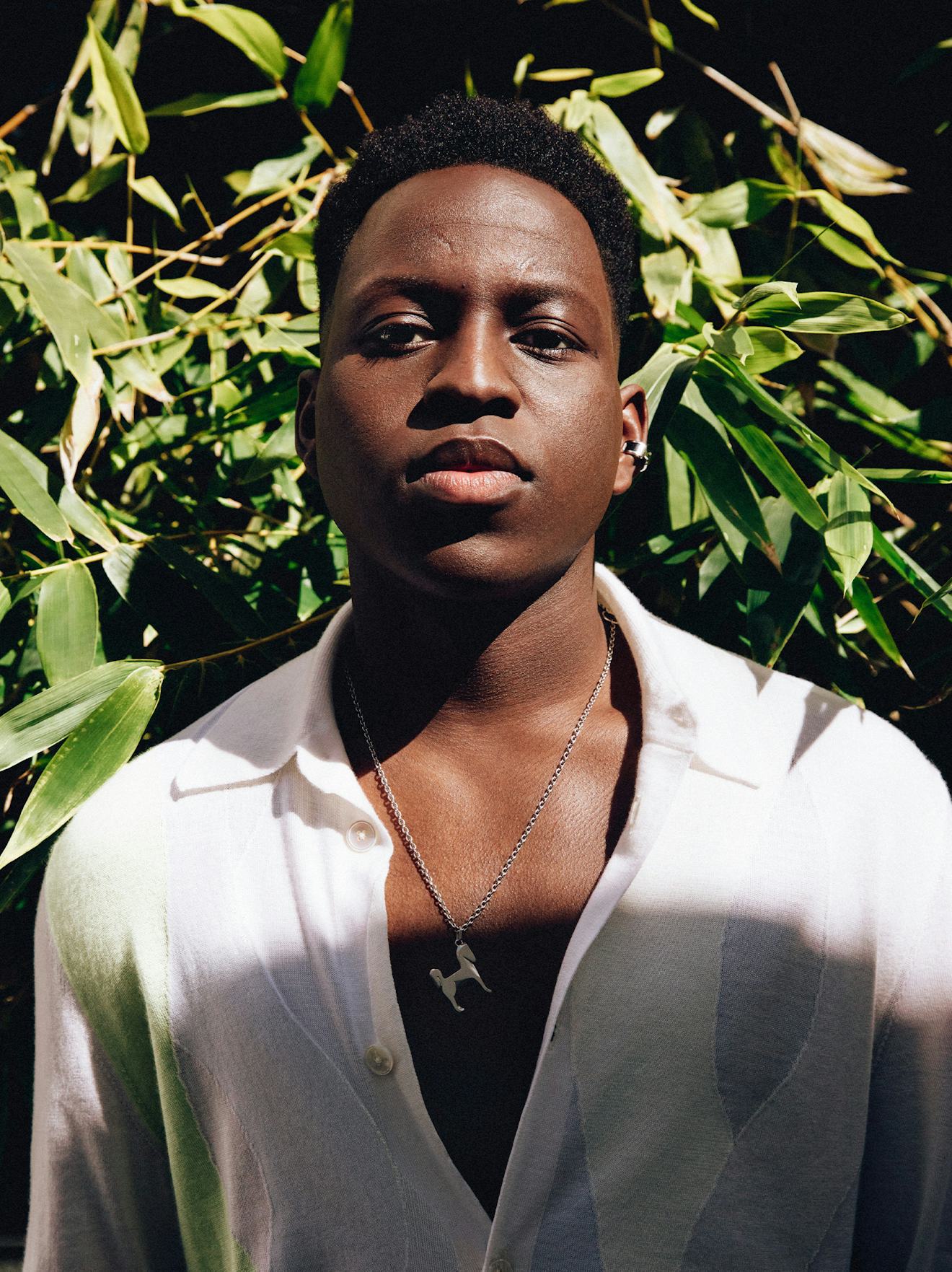 Toheeb Jimoh suddenly peers out from behind the wooden door of a Spanish-style home in West Hollywood. "What's the password?" he asks. "Football," I answer. He nods his head solemnly and swings the door open, allowing me into the house doubling as a set for today's photo shoot. "I also would have accepted soccer," he says. We settle down in the backyard where, over the course of our interview, a large bird of paradise plant will start to jab him in the back. But if Jimoh is uncomfortable, it doesn't show: Between his broad, bright smile and his unbreakable eye contact, being in Jimoh's presence feels like staring directly into the sun.
Jimoh is in town for the launch of the third and presumably final season of Ted Lasso, new episodes of which are premiering weekly on Apple TV+. The 25-year-old spends most of his time in London, where he recently moved into a new flat with his brother and cousin. "I'm trying to furnish it, but we are three very tasteless boys who are determined to destroy this house with terrible furniture," he says. "We've been in this place for a month, and we literally just have beds, a TV, and stools." As he ferries back and forth between L.A. and London, he is growing more comfortable with the idea of one day decamping to the West Coast. "When I first came here, I was like, 'OK, this is a fake, pretend land filled with very strange people,'" he says. "But there's also a lot of heart and culture to it, and it took me coming here a couple of times to start to get a sense of that."
Starring on Ted Lasso as Sam Obisanya, AFC Richmond's resident sweetheart, Jimoh is still getting used to attention from Hollywood. He was so surprised by his 2022 Emmy nod for outstanding supporting actor in a comedy series that he hadn't even bothered tuning into the announcements. "My brother and I were watching Incredibles 2, and my agent calls me and she's like, 'You just got nominated for an Emmy,'" he recalls. (He was nominated alongside co-stars Brett Goldstein, who ultimately won, and Nick Mohammed.) "Then I called my mom who was in Nigeria at a party. I'm video calling her, and she's dancing with my aunties, and I'm like, 'Mum, I just got nominated for an Emmy!' And she's like, 'I can't hear you,' and she hung up on me."
In a series with no shortage of breakout characters and stellar supporting players, Jimoh has become an unexpected center of gravity on the show, carrying some of the show's weightiest storylines. "Toheeb has grown to be the leader of the team. He has that effortless charm that just means everyone loves him (how annoying…)," Phil Dunster, who plays Sam's onetime antagonizer Jamie Tartt, writes me in an email. "Toheeb never tries to 'win' a scene. He's not one of those actors."
In Season 2, Sam threw down against the team's fictional airline sponsor, Dubai Air, over the environmental havoc it wreaks in his native Nigeria. "He's going to have to wrestle with some of the tough decisions that he's made," Jimoh says of what's in store. Sam also struck up a May-December romance with the team's owner, Rebecca (Hannah Waddingham), and Jimoh teases that "the book definitely isn't closed" between them. "Whether that flame reignites or whether they just continue to root for each other platonically, they're always going to have that soul bond."
Jimoh is good-natured, easy to talk to, and describes everything as "dope," though he jokes that he is nothing like his wholesome character. "I'm terrible. A monster," he deadpans. Being part of such a beloved show, especially one celebrated for its feel-good warmth, can be an intimidating responsibility: "People will run into me and see me — and see Sam — as a really close friend. Sometimes it's a lot of pressure [to play] one of the nicest people ever. But I'm also just really happy that I could be a part of something that really means this much to people."
His castmates are as enamored with Jimoh as viewers are. He refers to Waddingham as "H. Wads" and says "she was one of the first people to call me screaming 'I told you!' on the phone" after his Emmy nomination. Jimoh also shows me his phone's lock screen, a photo of him and Goldstein, who plays the foul-mouthed Roy Kent and has a similar picture of Jimoh for his lock screen as well. "I'm not changing it until he changes his," Jimoh says. "We're going to get married and [we'll have to tell] our partners, 'I'm sorry, but I can't change it. You should've been there on Ted Lasso — but you weren't.'"
Jimoh was born in London, but he spent much of his childhood in his parents' native Nigeria, and he considers the country home as much as anywhere. A theater kid who grew up watching and performing in plays, Jimoh always thought his career would favor dramatic roles. After graduating with an acting degree in 2018, he broke out in the BBC TV movie Anthony and booked a part in Wes Anderson's The French Dispatch alongside theater work. He still loves the stage: This summer, he'll star in a London production of Romeo and Juliet.
At times, Sam's journey on Ted Lasso has felt familiar to his own. Last season, Ghanaian tech billionaire Edwin Akufo (Sam Richardson) tries to woo Sam to join his African football club over traditional Nigerian meals and visions of family. "That was the one that really hit home with me the most because I know the feeling of wanting to go back. But his decision was a really significant one for any immigrant, or anyone who's felt that pull back home" Jimoh says. Sam ultimately declines the offer — leaving Edwin to deliver one of TV's most memorable exits of late — and remedies his homesickness by opening a West African restaurant. "I'm glad that he chose to stay. I'm glad that I stayed in the U.K., because you can find home away from home and find a way to bring your culture into it."
He's doing just that with Ted Lasso and the Amazon Prime series The Power, in which he plays another Nigerian character, an amateur journalist named Tunde. "I wanted to scratch the itch of playing a Nigerian — and then suddenly my career launched off the back of that," he says. (Ted Lasso's Sam was originally written as Ghanaian, but the creative team changed his background to match Jimoh's after he was cast.) "It's a really fulfilling arc for me, because a Nigerian accent is how I grew up speaking. To go back to that professionally is super poetic," he says, adding, "It's what 13-year-old Toheeb would have wanted."
The Power, premiering March 31, is a sharp turn from the locker rooms of Ted Lasso: An adaptation of Naomi Alderman's novel of the same name, it's a sci-fi drama about what happens when teen girls all over the world suddenly develop the ability to shoot electricity from their hands. Tunde, one of the few male characters on the show, takes it upon himself to cover the phenomenon and realizes the world's new gender power dynamics aren't as utopian as he hoped. "It's a bit naive," Jimoh says. "He does believe that [the world will] be a much better place. But he starts to learn that power corrupts, regardless of gender or class, race, whatever."
Bouncing between a show that interrogates the male psyche and one that imagines a brutal matriarchal society has led Jimoh to wrestle with his own evolving definition of masculinity. "The conversations around [the topic] are completely different from the conversations when I was growing up," he says. "I'm in a place now where it can be more fluid. Masculinity can look like whatever I want it to look like — it's mine to define. That can show itself in how I dress or how I speak, how I carry myself. It feels like there are a lot more options."
"I can also be euphoric and ecstatic and sad and flamboyant and colorful," he adds. "Masculinity back in the day has been strong and rigid and stiff. That's really counterproductive to art." And thankfully, with Ted Lasso awards buzz and a growing list of meaty roles under his belt, Jimoh is getting to show all sides of himself. "I can't say that I don't want to do a horror film or a rom-com or go and do theater for a couple of years or do indie films," he says. "I want to do everything."
A publicist soon appears to whisk him away — he's got more promo obligations ahead of the Ted Lasso premiere that night. He tells me he's planning on wearing a "dope" suit (Dior, his publicist quickly clarifies) as he heads out the door. Before long, though, he's turned back in search of his missing hotel keycard. I open the door a crack and poke my head out. "Password?" I ask him.
"Soccer."
Photographs by Max Hemphil
Talent Bookings: Special Projects