At 28, Toni Collette Was Filming About A Boy With A "Jaded" Hugh Grant
Fresh off her first Oscar and Tony nominations, the actor was finally coming into her own.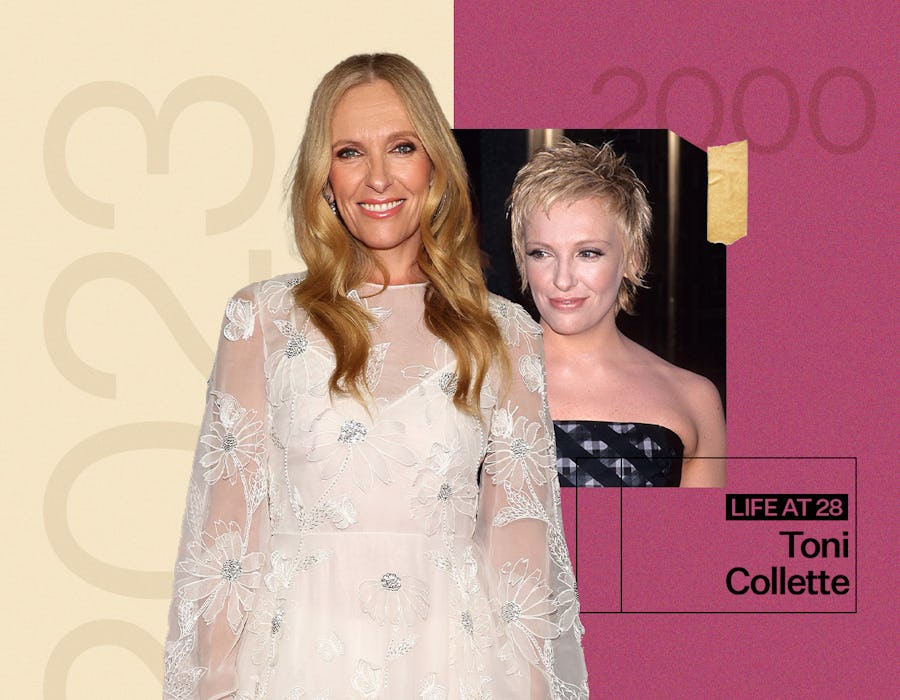 Caroline Wurtzel/Bustle; Jim Spellman, Dia Dipasupil/Getty Images
Toni Collette is a consummate shapeshifter, equally believable as Hereditary's tormented, grieving mother and Knives Out's fraudster with vocal fry. In her most recent turn she transforms yet again, this time into an unwitting mob heiress in Mafia Mamma; soon, she'll try a whole new role on for size, making her directorial debut with an adaptation of Lily King's novel Writers & Lovers. But back in 2000, a 28-year-old Collette was just beginning to find her power.
She'd already made it a long way from her childhood home in a suburb of Sydney, Australia. "I was a tomboy, out climbing trees and riding bikes and making billy carts and throwing water bombs and jumping around on my trampoline," Collette tells Bustle. "But I did have this real fascination for movies and for old musicals, and I always watched the Oscars on TV." By 28, she'd become one of the Oscar nominees she'd once watched from afar (for her turn in The Sixth Sense), and was soon to earn more acclaim. For part of that year, the young actor was living it up in Manhattan, sharing a Broadway stage with Eartha Kitt and Mandy Patinkin in the Tony-nominated The Wild Party; later, she'd be on set filming now-classics like The Hours and About a Boy. It was everything she'd dreamed of, and now that it was real, she just had one thing left to do: enjoy her success.
Easier said than done. While Collette, now 50, has since learned to let herself be happy, her 28-year-old self could have benefited from a little pep talk. Something like, "It's okay to be good at something. It's all okay. Stop questioning, stop trying to control everything, stop trying to protect everyone," Collette says, audibly exasperated. "Just enjoy your life."
Below, Collette looks back on partying at Pastis and working with a young Nicholas Hoult on About a Boy.
Take me back to 2000, when you were 28. What did your life look like?
I was living in Manhattan, working on a Broadway musical [The Wild Party] and nominated for an Oscar [for The Sixth Sense] at the same time. It was just so bonkers. I just felt so excited to be alive. I couldn't believe what was happening.
What was a typical night out in Manhattan like for you?
I partied a lot more than I do now. That was around the time that the original Pastis opened... I remember on Saturday nights, I used to go to watch Saturday Night Live, and then we'd all go and hang out and we'd end up in some bar or some restaurant.
There would be a lock in and we'd all hang out until we'd go home in the daylight in the morning. I'm romanticizing it a bit probably, but it really was very fun. I had a bunch of friends in the city and it just felt like everyone moved around in groups. Bunches of us would hop in cabs and go from one venue to the next, to the next.
Do you have a lot of friends who you've stayed close with from that time?
The friends that I had at that age, there are some who have fallen by the wayside, but predominantly I'm still friends with them. I think 28, that's your Saturn return. Twenty-eight astrologically is such a profound time where people — it's like, you sh*t or get off the pot. You really have to face yourself to some extent and you start to really figure out who you are and live the life that you're meant to live, or not.
What did you learn about yourself and the life you wanted to live?
I think I just became a little more aware that it was okay to pursue [acting]. I've never been particularly ambitious. I often felt really embarrassed to say that I was an actor. I come from a very working class family on the other side of the world in Australia, and it all just seemed a little bit ridiculous and a little bit indulgent and a little bit embarrassing. And also in Australia, people who work in sports, professional athletes, are just so revered and they can get up and they can talk about how hard they work and how they deserve it and how they're number one and how proud they are. And even my parents are like, we don't feel like we're allowed to celebrate you because it feels like we are just — it's too indulgent or too, I don't know, gilding the lily.
But at that age, I was very clearly gaining some success in terms of how other people saw me. I think it gave me the confidence to realize that this was something that I could really continue to do and that it didn't have to be uncomfortable. I could actually celebrate it. I could actually enjoy it.
So it has taken me a long time, but I'm there now. I feel very balanced and I feel much more comfortable in myself. I think it had to do with just how comfortable I wasn't in myself, actually. It was the beginning of learning to be open to knowing myself in any real deep way. Because I think, in order to have a good life — a deep life, a rich experience of life, a healthy life, a balanced life, a life of love, a life that's in any way rich — you have to go into yourself.
There's no avoiding yourself. And I think up until then, maybe I was trying to do that. At work, I could dabble in emotional experiences that felt close to me and where I could really engage and feel it, but it was still one step removed. It wasn't me, and so it was safe in that way.
That year, you filmed About a Boy. What was that set like?
I just felt ripped off. I was like, what? Everyone else is having fun here; I'm the suicidal lady. What the f*ck? But I knew it was a really great film. I really enjoyed working with [the directors] the Weitz brothers, with little Nick [Nicholas Hoult], who's so beautiful. I love him. He's so talented. I love watching him grow and become who he is and get better and better at what he does. He's such a sweetheart.
And with Hugh [Grant], at the time, Hugh was so jaded. He just did not enjoy filmmaking at all. He found it torturous, and now I watch him and I can tell he's fallen in love with it again. Watching him dance in Paddington 2 — honestly, when I saw that, it made me so happy.
What do you think your 28-year-old self would think of you now?
I think she'd be pretty happy. I'm pretty happy. I mean, I feel really more content than I've ever felt. I know myself, I like myself, I even love myself, so I don't think you can ask for more than that in life.
This interview has been edited and condensed for clarity.