Travis Kelce Calls Taylor Swift "Ballsy" On His Latest Podcast
"How does it feel that Taylor Swift finally put you on the map?"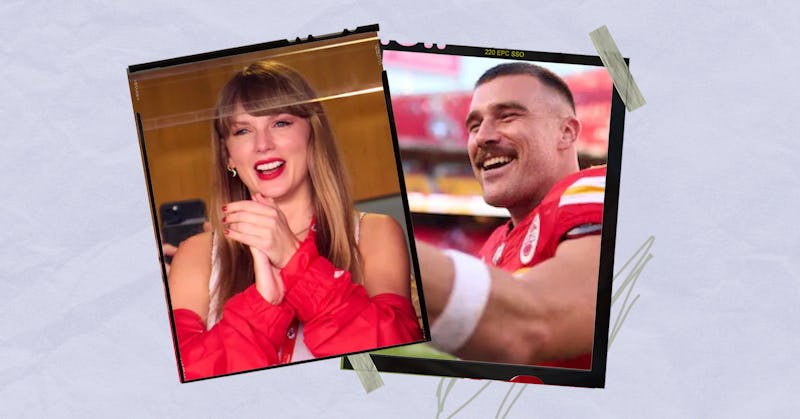 Cooper Neill/Getty Images Sport
Football fanatics and pop music stans alike went wild when Taylor Swift attended Travis Kelce's football game on Sunday — further fueling speculation that the pair were dating. Now, Kelce's finally opening up about those romance rumors.
On the Sept. 27 episode of his podcast New Heights, the Kansas City Chiefs tight end discussed Sunday's game with his brother, fellow football player Jason Kelce. Jason was eager to get down to business, and launched into the conversation with a joke: "How does it feel that Taylor Swift finally put you on the map?" he asked, causing his brother to laugh.
Kelce said it was a game he'll never forget. "Shoutout to Taylor for pulling up," he said, adding that it was "pretty ballsy" of her to accept his invite to watch from a private box alongside his friends and family members, including his mom, Donna Kelce. "I just thought it was awesome that everyone in the suite had nothing but great things to say about her, the friends and family. She looked amazing. Everybody was talking about her in great light."
Kelce also expressed that he loved seeing Swift bond with his mom in the suite — and seeing how excited fans were when they realized the pop star in the stands. "To see the slow-motion chest bumps, to see the high fives with mom... that sh*t was absolutely hysterical," he said.
He went on to mention how the two left the stadium together in a convertible with a clever Swiftian reference. "And then we just slid off in the getaway car at the end," he said, nodding to her 2017 Reputation track, "Getaway Car."
He also took a beat to reflect on the newfound attention he's received from connection to Swift, joking that his personal life "isn't so personal" anymore. "I know I brought all this attention to me," he said. "I am the one who did the whole friendship bracelet thing and told everyone how [hurt] I was I didn't get to meet Taylor."
By "the whole friendship bracelet thing," Kelce was referring to how he courted Swift publicly after attending her Eras Tour show in Kansas City in July. At the time, he said on his podcast that he'd hoped to give her a friendship bracelet with his phone number: "I was disappointed that she doesn't talk before or after her shows because she has to save her voice for the 44 songs that she sings," he said, adding that it was "an unbelievable show."
Just a couple of months later, rumors swirled that Swift was "quietly hanging out" with Kelce. But even after Swift attended Sunday's game, the two are reportedly not official and still getting to know each other.
"They're having fun," a source told People. "This was Taylor's first time meeting his mom and dad, and everyone was enjoying themselves."
For now, Kelce is keeping quiet about the status of his relationship with Swift. "I think what's real is that it's my personal life, and I want to respect her life," he said. "She is not in the media as much as I am doing this show every single week and having fun during the NFL season on other guys' shows."