12 Celebs You Completely Forgot Were On TRL
MTV's Total Request Live wasn't only for the music superstars.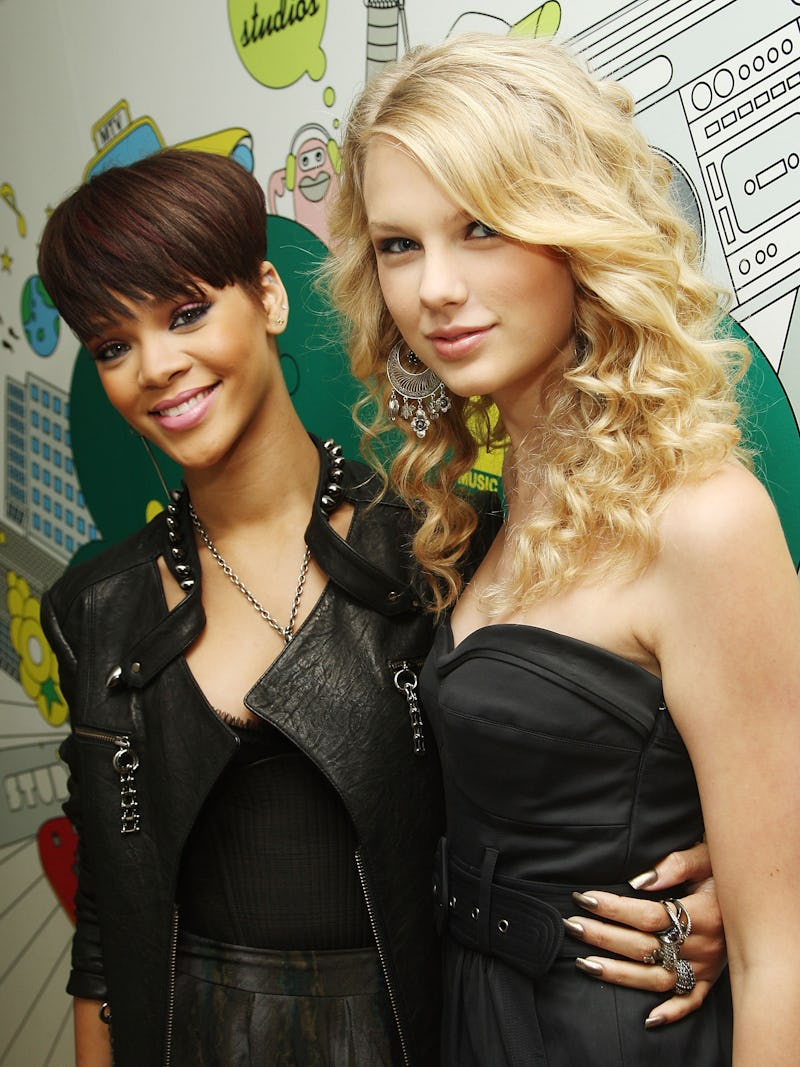 Stephen Lovekin/Getty Images Entertainment/Getty Images
Remembering Total Request Live, better known as TRL, no longer exists is enough to age all millennials 10 years. But this month, the iconic MTV series will celebrate the 25th anniversary of its debut in September 1998, making us all feel truly ancient. Before the emergence of YouTube and streaming platforms, TRL was one way to watch music videos featuring our favorite artists from the late '90s to early 2000s and track how popular their new music was getting, with a number-one spot on the fan-voted Top 10 countdown indicating a certified hit.
TRL played a huge part in the rise of music icons like Britney Spears, Beyoncé, Christina Aguilera, and virtually every member of boy bands like *NSYNC and Backstreet Boys. But it was also a surprising hotspot for A-list actors who stopped by the scenic MTV studios in New York City's Times Square to plug whatever film or TV show they were starring in at the time — many of which have been forgotten in TRL lore. Towards the end of its decade-long run, the show also helped break out many Disney stars and teen icons into the mainstream, proving how the power of TRL approval never faded even on its last leg.
To celebrate the legacy and history of the beloved show, here are 12-plus celebrities you completely forgot were on TRL during its glory days, from today's biggest country-pop sensation to the casts of your favorite movies and TV shows. (And no, we aren't including that 2017 reboot.)
Taylor Swift
It's easy to forget that Swift was a TRL star because she only started appearing at the end of the show's run, but she quickly made herself a part of its legacy. In fact, she was a part of the star-studded "Total Finale Live" special.
Miley Cyrus
There's a reason why Cyrus is a VMAs icon: She laid down the groundwork early. The singer was a regular presence on TRL in the years leading up to its end, guesting with fellow Disney Channel alum Ashley Tisdale and premiering her "7 Things" music video there.
Brad Pitt & Angelina Jolie
Mark Mainz/Getty Images Entertainment/Getty Images
Scott Gries/Getty Images Entertainment/Getty Images
OK, Pitt and Jolie never actually went on TRL together (which was a missed opportunity to promote Mr. & Mrs. Smith), but they did appear on the series separately to mixed reception. Pitt was met with fangirls (who overlooked his pose in this photo, apparently), while the audience members sitting behind Jolie looked bored out of their minds. The audacity!
Gisele Bündchen
Yes, Bündchen appeared on TRL when she was a Victoria's Secret model in 2006. I couldn't tell you why she was gardening in the studio, but she was on the show nonetheless, which is all that matters here.
John Travolta
Nothing says "how do you do, fellow kids?" quite like the sight of Travolta (specifically dancing in this photo) on TRL, which actually happened twice in the span of one year.
Sandra Bullock
The Oscar winner was clearly inspired by 2000s red carpet fashion icon Ashley Tisdale while visiting the TRL studios. That's just the truth; I don't make the rules.
Matthew McConaughey
McConaughey was probably on TRL to promote whatever movie he was in at the time, but he gets extra props for remembering that MTV is focused on music first and playing some bongos in the studio with a lucky fan. Maybe MTV should take a hint.
The Harry Potter Kids
TRL never had any guests more adorable than a teenage Emma Watson and Daniel Radcliffe, who appeared in 2004 to promote the third Harry Potter movie. Watson also wore this exact same outfit when she and Radcliffe appeared on TRL UK with the last member of their trio, Rupert Grint. Yes, TRL UK was a thing that actually existed at one moment in time.
Keanu Reeves & The Matrix Cast
Reeves showed up in 2003 with his Matrix castmates in tow, including Jada Pinkett-Smith and Laurence Fishburne. Everyone was way too formally dressed for the TRL studios, but what else would you expect from the Matrix crew?
Natalie Portman
Portman showing up to the TRL studios isn't too shocking. What's more surprising is the Oscar winner being on TRL with a buzzcut and more angst than any rock band featured on the video countdown. (It was to promote her 2005 action film V for Vendetta, but still).
The Gossip Girl Cast
Michael Loccisano/FilmMagic/Getty Images
George Napolitano/FilmMagic/Getty Images
Spotted: Serena van der Woodsen, Blair Waldorf, and Lonely Boy canoodling and scheming at the TRL studios. OK, it was actually the actors who played them, but close enough. Regardless, the queen bees of Constance Billiard would be proud.
Ariana Grande
OK, Grande was technically never on the original TRL. But she did bring the show back in 2014 for a one-night-only special dubbed Total Ariana Live in 2014 to premiere her "Break Free" video, perform a stripped-down version of her hit "Problem," and answer fans' questions in the studio like it was 2005 again. She may not have been a part of the TRL generation, but she would've fit right in.