Tweets About Maggie Leaving Grey's Anatomy Are All Over The Place
"Omg it's just person after person."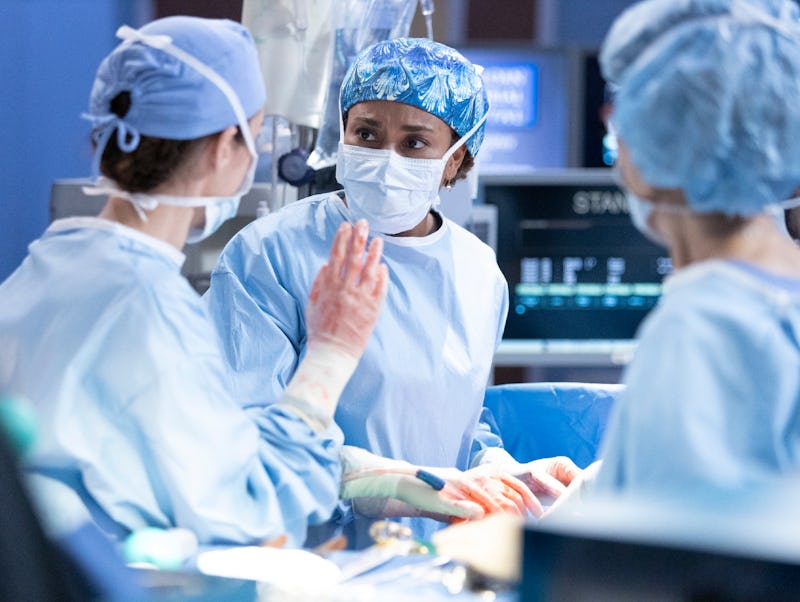 Liliane Lathan/ABC
Fans have had to say a lot of hard goodbyes to beloved Grey's Anatomy characters over the medical drama's 19 seasons, and they may have finally hit a breaking point. Amid a season that already saw Ellen Pompeo's Meredith Grey leave Grey Sloan Memorial Hospital behind, longtime star Kelly McCreary announced she's on her way out, too. That spells the end for her character, Maggie Pierce, so naturally Grey's die-hards on Twitter have much to say on the topic.
McCreary revealed her impending exit on March 17, calling her nine years as Maggie "one of the true joys of [her] life," per Deadline. On Instagram, she recalled some of the highlights from her 200 episodes, including "scores of heroic surgeries," "2 gorgeous weddings," and "1 high-speed chase." "What a ride!" she noted.
In light of her departure plans, numerous fans seemed fed up with the slow, seemingly endless exodus. "Omg it's just person after person," one wrote, in part. McCreary's plans to leave were apparently a final straw, because they called for the end of the show itself. "HANG IT UPP Greys!" one of the many like-minded users tweeted. Yet another fan suggested Maggie leaving is a sign Grey's Anatomy is "going down."
A particular sticking point for some is losing both the titular character, Meredith Grey, and now her sister (even though Maggie is a Pierce, not a Grey). One fan asked, "how is greys anatomy gonna continue now that meredith AND maggie have left[?]"
McCreary's announcement was hard for a lot of her fans to take. "PLEASE STOP TIME," one person requested afterward, while yet another demanded, "pls no one talk to me."
Although most fans on Twitter seemed sad to say goodbye to Maggie, some of them never warmed to the character. "While I respect and like Kelly McCreary, I am so f*cking glad Maggie is leaving Grey's she does my head in," one tweeted.
Theories about Maggie's farewell also started popping up on Twitter. Fans had a lot of ideas about what could happen to her marriage, her family members, and her career.
Maggie's final episode will air on April 13, according to Deadline, so fans will see how her story wraps up then. Hopefully her sendoff will be more satisfying to the legions of Grey's devotees than Meredith's seemed to be.