Bachelorette Fans Threw So Much Shade At Clare During Tayshia's First Night
Nothing but respect for *our* Bachelorette.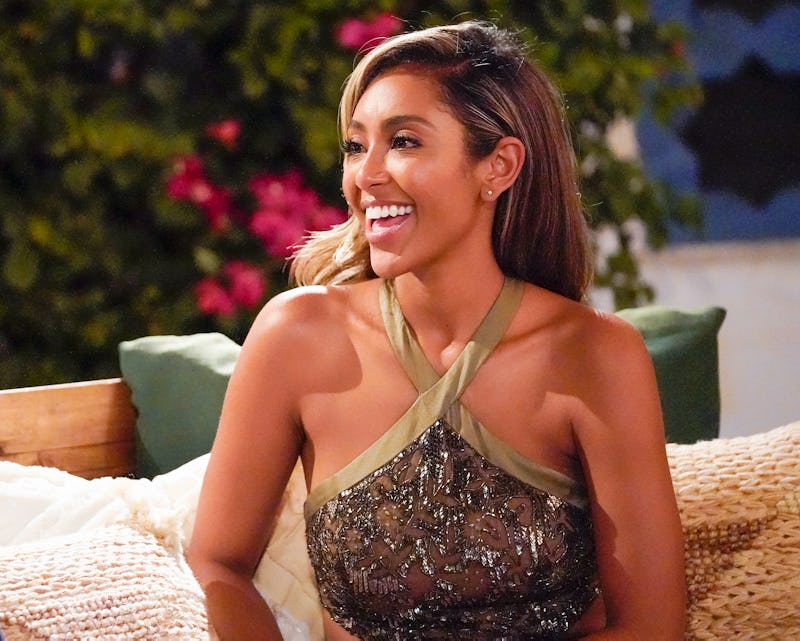 ABC/Craig Sjodin
Five weeks into the season, The Bachelorette has introduced a new leading lady. And based on all of the tweets about Tayshia as the Bachelorette, fans couldn't be more excited for a fresh start.
Within the first half hour of her first episode as the Bachelorette, Tayshia not only won over all of the remaining men in the house, but also all of the viewers. "Tayshia's just amazing. It's just her energy and her presence," Ivan told the cameras, later telling the guys that he already had a stronger connection with her than he did with Clare. "This gave me new life, man."
Fans immediately echoed those sentiments on social media, wasting no time in throwing some shade at Clare in the process. Their reaction isn't surprising: despite only being the show's lead for a few weeks, Clare received a great deal of backlash and criticism. In addition to constant speculation that she and Dale may have talked before they started filming (which they once again refuted during a mid-episode interview with Chris Harrison), fans didn't like the way that Clare handled herself. In particular, many were upset with the fact that Clare seemed so fixated on Dale during her time on the show, to the point that she even spent an entire group date asking all of the other men about her now-fiancé and what he was like when she wasn't around.
"On most days, she's feeling really down about the things that people are saying about her online and the editing of the show," Clare's friend and former Bachelorette DeAnna Stagliano said about the backlash during an appearance on The Ben and Ashley I. Almost Famous podcast. "I just feel bad for her because I feel like in a period of time where this should be really joyful for her — and this should be a really great experience and probably one of the most exciting things that she will go through — it has not been that for her."
Harrison also defended Clare during a separate appearance on the Almost Famous podcast, where he explained that "nothing that Clare has done ... deserves anger and for her to be vilified. Why are you mad that this woman found the love of her life and got engaged?