New Girl Is Leaving Netflix & Fans On Twitter Are Not Coping Well
"netflix is making the biggest mistake."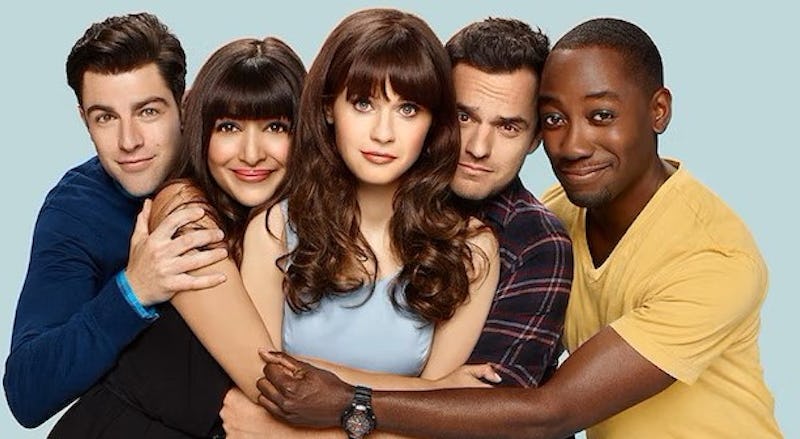 Fox
Almost a dozen years ago, when New Girl was still in its first season, a wallowing Nick refused to leave a photo booth after seeing his ex Caroline at a wedding. "This is my home now," he told Jess. "It's got everything that I need!"
That scene is now as relatable as it's ever been. It perfectly sums out how fans are feeling after learning that New Girl is leaving Netflix on April 9 after almost 10 years on the streaming service. Though the beloved comedy will have not just one but two new streaming homes — thanks to a joint deal with Hulu and Peacock, per Deadline — countless tweets show the big emotions people are feeling. Saying goodbye to Jess, Nick, Winston, Schmidt, Coach, and Cece is bringing up every stage of grief.
New Girl aired on Fox from September 2011 to May 2018, and then it arrived on Netflix in mid-2013, per Variety. It went on to become such a Netflix staple that numerous fans can't seem to imagine not having it available on the platform anymore. "The last day to watch New Girl on Netflix happens next month and I want to cry," one wrote. Another (hopefully mostly jokingly) said that "life has lost all meaning" now that the show is leaving. Still another fan tweeted that they're "bouta lose [their] sh*t." Meanwhile, it's time for "therapy as a replacement" for someone else.
The development has also confused a lot of people, plus at least one canine, it seems. Tweeting directly at Netflix, a fan wrote, "why are you getting rid of new girl??? it's my dogs favorite show to watch while i'm at work." Their question was echoed by countless others who wanted answers or were simply in disbelief.
As common as cycling through different stages of grief seemed to be, others decided to take action. The show's April 9 departure date gave several fans a deadline to get through the entire series. For at least one person, it was the push they've been needing to start for the first time. "new girl is leaving netflix which means that it's time for me to finally watch it despite knowing most of the key plot points," they tweeted.
The end of New Girl's Netflix run may also spell the end of some Netflix users' subscriptions. Several fans made sure to let the streamer know they'll be leaving along with the comedy. One simply noted, "netflix is taking off new girl?? i'm out."
New Girl will still be on Netflix until April 9. Once it moves to Hulu and Peacock on April 17, the marathons can begin again.