Twitter Can't Believe The Madonna Biopic Is Scrapped
"what i actually need is a documentary on the madonna boot camp cause that was just bonkers"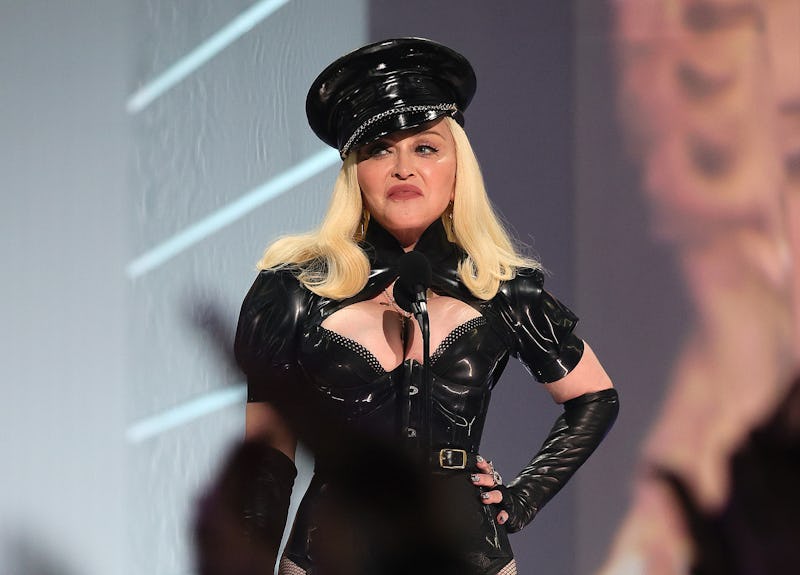 Theo Wargo/Getty Images Entertainment/Getty Images
It seems like playing Madonna in a biopic — directed by the Queen of Pop herself — is the role of a lifetime. Even if the audition process entails a grueling boot camp. The 64-year-old icon announced the project in 2020. "No one's going to tell my story, but me," she explained on her site, especially not "misogynistic men."
The chance to play and work with the "Like a Virgin" singer sparked the interest of several Hollywood heavyweights including Florence Pugh, Alexa Demie, and Julia Garner, as well as singers Bebe Rexha and Sky Ferreira. To prove their mettle, the auditionees had to go through what's now dubbed "Madonna Bootcamp," a rigorous months-long audition process that included readings and singing auditions per The Hollywood Reporter. It also infamously included intense choreography sessions with Madonna or her choreographer that lasted up to 11 hours. Inventing Anna's Garner finally landed the highly coveted role in August 2022.
But on Jan. 24, Variety announced that the biopic is no longer in development. Madonna will be busy anyway — her Celebration Tour will hit 35 cities beginning July through December. And Twitter cannot believe the actors went through all that hassle for nothing. "Julia garner realizing she went through the madonna boot camp for nothing," one tweet begins.
It's not just the Ozark star that Twitter feels sorry for. User marykatecarr_ wrote, "The participants of the madonna bootcamp need to unionize."
Some users are poking fun at the entire boot camp process, implying that Madonna planned that all along. "Something tells me Madonna wanting a biopic of herself, only to be canceled by her was never really about the movie but an experiment to see if people truly cared for her; [thus her] canceling it and announcing the tour with 10k tickets," user omgklayton posted.
While there's no hope of seeing Garner play Madonna, another user pointed out that Evan Rachel Wood in the Weird: The Al Yankovic Story "remains the only cinematic portrayal of madonna exactly."
But never mind that the biopic may not see the light of day. What Twitter really wants is for the boot camp to be aired. "What i actually need is a documentary on the madonna boot camp cause that was just bonkers," one user wrote. And the petition for a boot camp to be aired — in either documentary or series form — seems to be the consensus.
Or, at the very least, give fans a Hollywood Reporter Roundtable.
The Rebel Hearts — aka Madonna's fans — have spoken. The boot camp is "what the people really want."