JoAnna Garcia Swisher Explains Why She's Hosting The Ultimatum: Queer Love
The Sweet Magnolias star is a longtime LGBTQIA+ ally.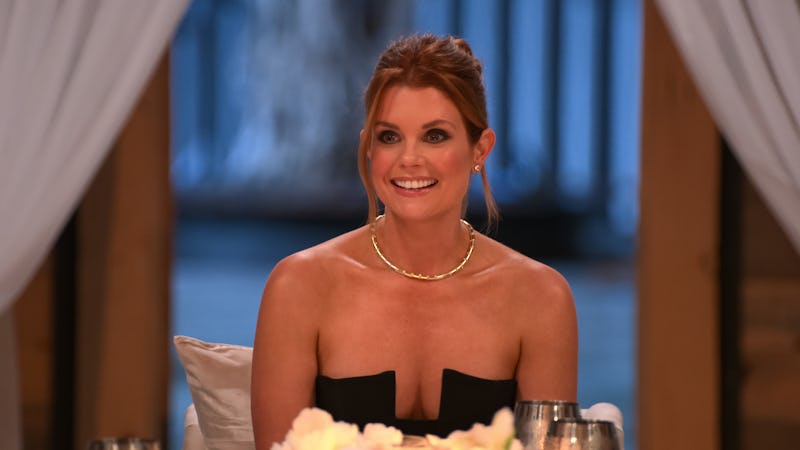 Netflix
When The Ultimatum: Queer Love host JoAnna Garcia Swisher met the cast for the first time, one of the reality show's stars, Vanessa Papa, correctly pointed out that she is not queer. So why did the 43-year-old actor want to take the lead? "I am a longtime ally of the LGBTQIA+ community, and I just feel so strongly about celebrating love," Garcia Swisher explains to Bustle. "These stories are really, really special, and the people who were part of this show were so generous and vulnerable and beautiful. I just felt really honored to be a part of it."
In addition to describing herself as someone "who really believes in love and relationships," she also brings with her the lessons she's learned throughout her 12-year marriage to former New York Yankees star Nick Swisher, with whom she shares daughters Emerson, 9, and Sailor, 6. "I felt like where I had value to offer them was just the advice, for whatever that was worth," she says. "I also hope everyone felt heard. That was my job there. This is the first time I've ever done anything like this, and I just wanted to show up for everyone who was a part of this show."
Indeed, this is Garcia Swisher's first hosting gig, though she's hardly a stranger to TV. Following her six-season starring role as teen mom Cheyenne Hart-Montgomery in The WB/The CW's Reba, the Tampa, Florida, native went on to appear in such shows as The CW's Gossip Girl, Fox's The Mindy Project, ABC's The Astronaut Wives Club, and Once Upon a Time. Already a member of the Netflix family, she is currently playing Maddie Townsend in the streamer's romantic drama, Sweet Magnolias, which is heading into its third season.
After going through the experience, Vanessa saw something else Garcia Swisher brought to the table. "I think it's really cool that [JoAnna] is religious, she's married to a man, she doesn't have a gay bone in her body, but she's there supporting us, trying to get to know the community," says the Season 1 cast member. "She was asking a lot of questions when the cameras weren't filming. She's able to accept us and embrace us, and hopefully, if there are people watching who are having a hard time relating to the queer cast, they can at least relate to her and her ability to empathize with us."
That empathy will surely be useful as she helps the couples navigate the difficult decision of whether or not to commit to marriage or break up. Though Garcia Swisher "would have loved to have seen everyone come out happily ever after," she learned that some cast members weren't necessarily looking for that ending. As she sums up, "Sometimes it was more valuable than their intuition — that nagging feeling that something was just not right — was validated. So, obviously, this is a journey, but I found that to be as valuable as the happy ending."