Twitter Is Already Planning Usher's 2024 Super Bowl Halftime Show Setlist
"I'm stressed thinking bout the songs that won't make the cut!"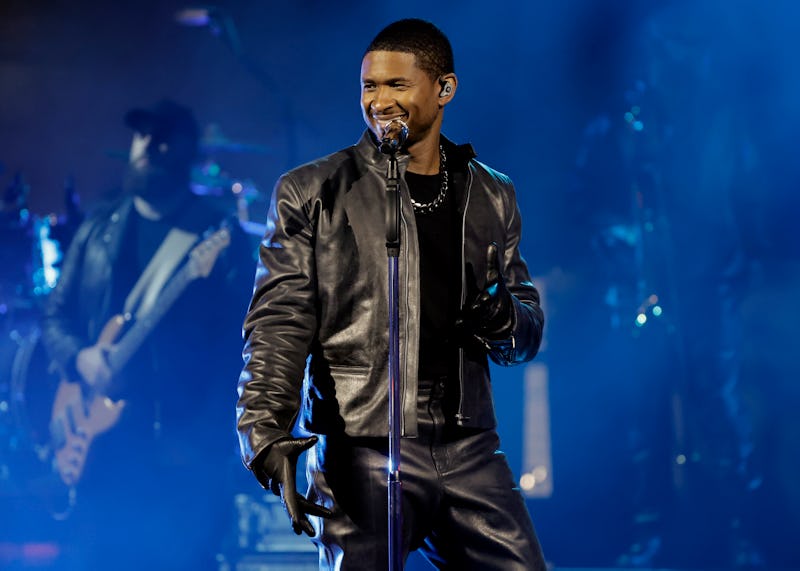 Kevin Winter/Getty Images Entertainment/Getty Images
Using his classic "Confessions, Pt. II" music video for inspiration, Usher announced that he's headlining the 2024 Super Bowl Halftime Show with a little assist from Kim Kardashian. "I finally got the answer to those rumors, it's not about me. It's about you," Kardashian tells him in the Sept. 24 video that sponsor Apple Music shared on X, formerly Twitter. "You're doing the Super Bowl." Cue the R&B star's recycled response, "Quit playing with me, man."
As was also the case when he first recorded the clip in 2004, the phone call rocked Usher's world. "It's an honor of a lifetime to finally check a Super Bowl performance off my bucket list," he said in a statement, confirming he'll headline the February 11, 2024, set near Las Vegas, Nevada. (The Roc Nation-produced performance will air live on CBS.) After sharing more versions of the skit featuring NFL stars Deion Sanders, Odell Beckham Jr., and Marshawn Lynch, Usher opened up more about the honor in an interview with Apple Music 1's Zane Lowe.
"This is the most grand stage to ever play on. Those 13 minutes mean everything. It's been on my bucket list for a long time," said the eight-time Grammy winner, who will also release his ninth album, Coming Home, on Super Bowl Sunday. Having previously performed alongside the Black Eyed Peas during the group's 2011 halftime show, Usher also addressed whether he'll bring out any of his own special guests. "Well, one thing I can say is I've collaborated with a lot of incredible artists throughout the years," he teased, after revealing Roc Nation founder/chairman Jay-Z is the one who called him with the big news.
The singer didn't have to name names, though, because X users already started coming up with their own dream collaborations and setlist entries. "Truthfully, the halftime show time slot ain't long enough for all the hits Usher could perform. I'm stressed thinking bout the songs that won't make the cut!" one fan posted. Still, the most frequently named star — Beyoncé — is no stranger to the Super Bowl, and fans are ready for her to make a comeback with Usher. "When Usher brings out Beyoncé during the 2024 Super Bowl Halftime show to perform "Bad Girl!" one person wrote, sharing the same throwback clip as several others, as inspiration. Other popular song selections included "OMG," featuring will.i.am, "Yeah!," featuring Lil Jon and Ludacris, and "My Boo," with Alicia Keys, while Keke Palmer, Plies, and Justin Bieber were also mentioned on several cameo wish lists.
After the news broke, several fans called out haters who doubted Usher could carry a halftime show on his own, using his viral "watch this" meme. "Where are all them people who said Usher could never do the Super Bowl because he doesn't have enough hits and doesn't appeal to "everyone"?" one user posted, while another added, "Imagine someone saying aloud on Diana Ross' internet that Usher Raymond tha Fourth don't have enough bops for the Super Bowl. Gurl…" As someone else pointed out, he does have a diamond album, after all.
Ultimately, most seemed to be in agreement that Usher was a deserving and overall solid choice, on the heels of Rihanna's record-breaking 2023 show. "How he's navigated this stage of his career is legend stuff," journalist Jemele Hill wrote. As another fan chimed in, "Usher gaining the coveted Super Bowl spot is so overdue, years overdue actually. But this timing is excellent — his undeniable Vegas dominance, his Tiny Desk, small chart resurgences as of late. It's time for Usher's reclamation. And above all a celebration of legacy."
As Usher put it himself in his Apple Music 1 interview, "It is definitely going to be a moment to remember."