The Vanderpump Rules Cast's Net Worth May Actually Benefit From #Scandoval
Season 10 stars make way more than the OG cast members, who each made $5,000 for Season 1.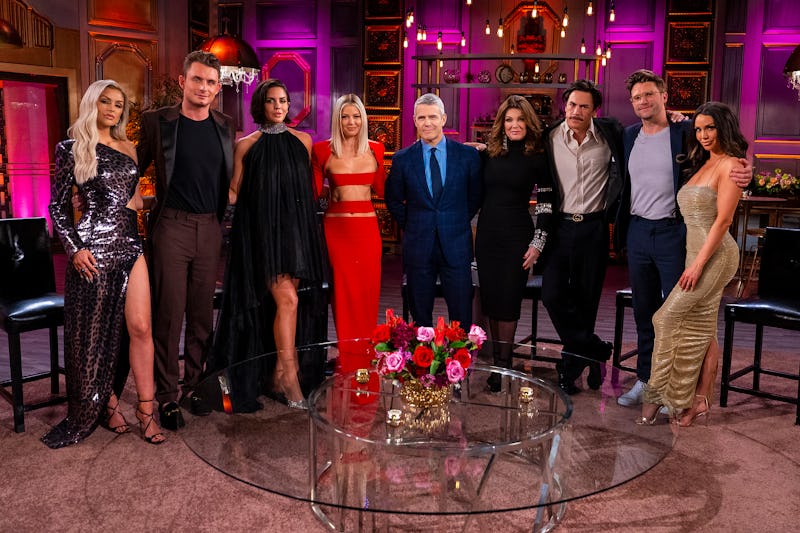 Bravo/NBCUniversal/Getty Images
You know that it's our time, these are the best days of our lives — and for the stars of Vanderpump Rules, the words to their theme song hold true. The cast of Bravo's series, which will end its tenth season on May 17 prior to a three-part reunion, have all gone from servers, hosts, and busboys at Lisa Vanderpump's West Hollywood eatery SUR into millionaires in their own right.
When the show premiered in 2013, the OG cast, including Scheana Shay, Katie Maloney, and Tom Sandoval, reportedly only earned $5,000 each for the entire first season. As the series grew in popularity, so did their salaries, jumping to $3,000 per episode in Season 2 and $5,000 per episode in Season 3. According to The Hollywood Reporter, the cast made roughly $25,000 per episode in 2017 and 2018, making for an estimated $600,000 for a 24-episode season. It's likely their paychecks have only gotten bigger since then, given how none of them work at SUR anymore and solely rely on the show and their own businesses for income.
Vanderpump Rules has been on everyone's minds and headlines thanks to #Scandoval, which unfolded after Ariana Madix split from longtime boyfriend Sandoval after discovering that he was cheating with their close friend and castmate Raquel Leviss. The lasting impact of the debacle is so deep that it may even affect some of the cast's net worths in the near future, making it the perfect time to recap just how rich these former SURvers are ten years after the show's premiere.
Read on for the net worth of every current Pump Rules cast member.
What Is Tom Sandoval's Net Worth?
The primary force behind #Scandoval is also one of the show's richest cast members. While Sandoval had a history of modeling and small acting gigs before Pump Rules, the show's paycheck and related business endeavors is likely keeping his net worth high. Sandoval is a five percent co-owner of West Hollywood eatery TomTom and owns an unknown higher percentage of his second restaurant Schwartz & Sandy's. He's also the frontman of his new cover band Tom Sandoval & The Most Extras, but given how they've had to sell half-price tickets to their post-Scandoval shows, it's likely that they're not bringing much dough in.
What Is Tom Schwartz's Net Worth?
Like his business partner Sandoval, Schwartz also has a higher estimated net worth than the rest of the cast thanks to his ownership in TomTom and Schwartz & Sandy's. He also has a more extensive modeling portfolio, as seen in previous seasons of the series.
What Is James Kennedy's Net Worth?
Along with Schwartz and Sandoval, Kennedy is one of the wealthiest stars of Vanderpump Rules. One of his first storylines on the show was growing from SUR's busser into its resident DJ, with his subtly named "See You Next Tuesday" gig still continuing today. Thanks to the show, his DJ career has blossomed, releasing several singles and performing at EDM events like Imagine Music Festival under his name.
What Is Lala Kent's Net Worth?
Since joining the show in Season 4, Kent has consistently given them Lala, making her ascend the ranks of OG cast members in wealth. She founded her beauty brand Give Them Lala in 2017, which has since expanded to baby products, skincare, and more. In 2021, Kent published her first book, which she also titled Give Them Lala, and also hosts her own podcast with the same name.
What Is Katie Maloney's Net Worth?
Maloney has amassed her net worth from Vanderpump Rules and various side projects that have spawned from the show, including her former podcast and recently relaunched "Witches of WeHo" wine line. However, her net worth is likely to be on the rise thanks to her upcoming Something About Her sandwich shop, which she's set to open with co-star Ariana Madix in the coming months.
What Is Ariana Madix's Net Worth?
Before joining Vanderpump Rules, Madix made guest acting appearances on series like Dads and Anger Management, and during the show, she used her bartending skills as a launchpad for her own brand, writing the recipe book Extra AF Cocktails and releasing a DIY cocktail-making kit. As devastating as #Scandoval was for her, her net worth may actually increase from the debacle, as she's since landed a role in an upcoming Lifetime movie, an Instagram modeling campaign with Bloomingdale's, and even a reported spot on the upcoming season of Dancing With the Stars.
What Is Scheana Shay's Net Worth?
Shay may not be the richest former SURver, but her net worth is still "Good As Gold." Aside from her Pump Rules paycheck, Shay has amassed her wealth from her long-running podcast Scheananigans and her year-long stint performing in a Las Vegas production of Sex Tips for Straight Women From a Gay Man. Her cult-classic hits like "Good As Gold" and "What I Like," as heard on the show, couldn't have hurt either.
What Is Raquel Leviss' Net Worth?
The net worth of Leviss, the other half of #Scandoval, is currently unknown, but she may be raking in the dough. According to Money Inc, Leviss may be worth an astounding $30 million, while other sources place her at a more modest rumored $1.5 million net worth.
Leviss had no prior TV experience before joining Vanderpump Rules, only competing in pageants like Miss California. As a result of the show, she racked up some endorsements and worked with Kent on a makeup collaboration, both of which have come to an end. And since she only joined the show as a full-time cast member in Season 8, it's not likely that she commands the same salary as her long-tenured co-stars.