The Ultimate Vanderpump Rules Cheat Sheet
The show's chaotic timeline of cheating scandals stretches far beyond "Scandoval."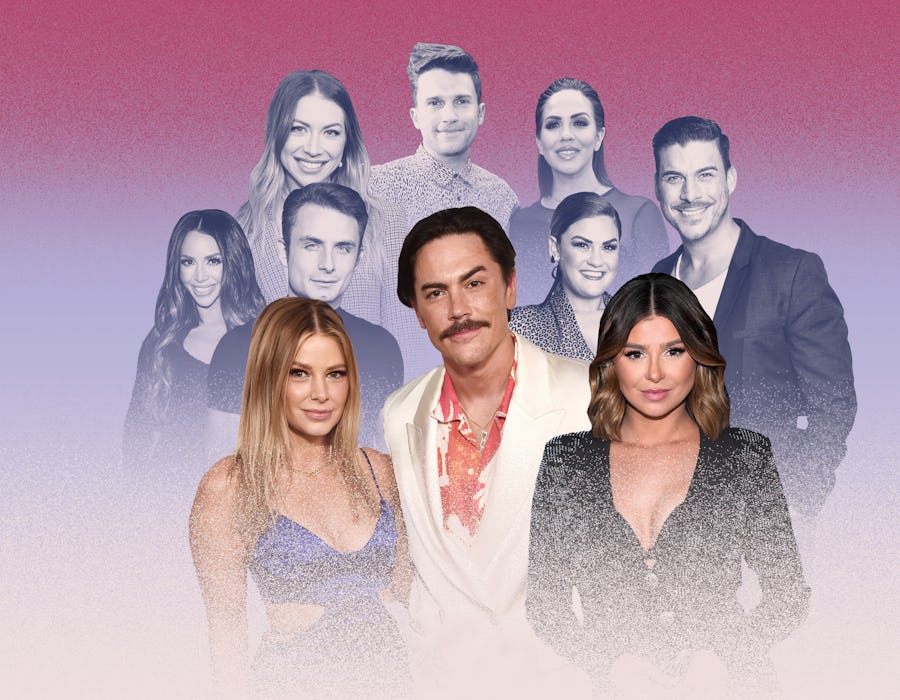 Unless you've been living completely off-the-grid recently, chances are the Vanderpump Rules "Scandoval" cheating drama has made its way onto your timeline. Bravo enthusiasts are likely clued up on the newly-coined phrase and its dramatic origins. But, for anyone wondering what it all means, allow us to quickly fill you in. On March 3, TMZ reported that Vanderpump Rules stars Tom Sandoval and Ariana Madix had split after nine years of dating after he allegedly cheated with their co-star, Raquel Leviss. The revelation subsequently rocked the Bravo fandom and beyond, creating a viral storm that led to public statements from those at the centre of the drama.
"I want to apologise for my actions and my choices foremost to Ariana, and to my friends and the fans so invested in our relationships," Leviss wrote on Instagram. "There is no excuse, I am not a victim and I must own my actions and I deeply regret hurting Ariana."
On March 8, Sandoval also issued an apology to Ariana and everyone he "hurt through this process," writing: "I made mistakes, I was selfish, and made reckless decisions that hurt somebody I love. No one deserves to feel that pain so traumatically in public."
As longtime fans know, "Scandoval" is far from the first infidelity drama to feature on the hit reality show, which follows the (mostly former) employees of Lisa Vanderpump's West Hollywood hotspot SUR (Sexy Unique Restaurant).
Discover the full, chaotic timeline of Vanderpump Rules' biggest cheating scandals, below.
Scheana Shay & Eddie Cibrian's Affair
Despite taking place before the Bravo spin-off's 2013 debut, Scheana Shay's highly-publicised affair with actor Eddie Cibrian (the now ex-husband of Real Housewives Of Beverly Hills alum Brandi Glanville) is often credited with launching Vanderpump Rules in the first place — as Shay's infamous RHOBH sit-down with Glanville is what first put the SUR crew on our radar.
Jax Cheats On Stassi — Season 1
The very first season of Vanderpump Rules was mostly dominated by Jax Taylor's tumultuous relationship with Stassi Schroeder, and during the jaw-dropping finale, everything came to a head when Jax finally admitted to cheating on Stassi in Las Vegas following weeks of accusations.
As per Us Weekly, Stassi revealed years later that she had also cheated on Jax with her SUR co-worker, Frank Herlihy.
Kristen Cheats On Sandoval With Jax — Season 2
Kristen Doute and Tom Sandoval's up-and-down dating life was a core source of drama throughout much of Season 2. It all started with the bombshell rumour that Kristen had cheated on Sandoval with their Pump Rules co-star Jax. After vehemently denying the accusations (and taking a slap to the face) Kristen admitted during the tense finale that she did cheat on Sandoval — who wound up punching Jax in the middle of Scheana's engagement party.
Meanwhile, Kristen also had growing concerns that Sandoval and Ariana Madix had become more than just friends after she stumbled upon a suspicious text message chain between the pair — who, you've guessed it, denied Kristen's allegations before finally admitting they were indeed an item at the Season 2 reunion.
Sandoval Accused Of Cheating On Ariana — Season 3
Following a messy break-up with Kristen, Season 3 followed the early days of Sandoval and Ariana's relationship. However, rumours that Sandoval had cheated on his new girlfriend with a mystery woman named Annemarie (aka "Miami Girl) soon came to light. To make matters worse, Kristen later invited "Miami Girl" to confirm the rumours in front of Sandoval and Ariana at SUR, but to no avail.
Speaking to Us Weekly years later, Sandoval, who never admitted any wrongdoing, described the "Miami Girl" drama as one of his biggest regrets from the show. "I wish I would have just never even engaged in that at all," he said.
Schwartz Cheats On Katie — Season 3
Tom Schwartz and Katie Maloney's relationship is one of the longest-standing in Vanderpump Rules history. The former couple — who divorced in 2022 — first began dating in 2011 and tied the knot on camera in an emotional 2016 ceremony. Although, like all Pump Rules pairings, Schwartz and Katie endured a lot of ups and downs.
In Season 3, Tom was accused of being intimate with multiple women, including one of Scheana's close friends. Schwartz eventually came clean, and speaking to Us Weekly years later in 2021, said he was "so embarrassed" by his actions. "I don't even know how that happened and it's so regrettable," he added.
James Cheats On Kristen — Season 4
Shortly after the demise of her relationship with Sandoval, Kristen moved on to British newbie James Kennedy in Season 3 — and their relationship remains one of the most volatile Pump Rules partnerships. After some phone sleuthing in Season 4, Kristen stumbled upon an incriminating Uber receipt that indicated James had likely been unfaithful. SUR's resident DJ dismissed Kristen's claims, denying he had ever cheated. However, speaking in a confessional during the same episode, he told viewers that he and the woman in question were "definitely boning."
"At this point, I'm just lying to Kristen for her own good because I know if I tell her the entire truth, it's just going to devastate her," James said during one episode, before eventually coming clean.
Jax Cheats On Brittany With Faith — Season 6
Jax's relationship with Brittany Cartwright appeared to signify a new, faithful era for the notorious Pump Rules lothario. However, Season 6 kicked off with a bang when fellow SUR employee, Faith Stowers, disclosed that she had slept with Jax. After a string of denials, Jax later admitted to cheating on Brittany — and so the infamous "rawt in hail" moment was born.
Things worked out in the end, however, as the pair later married on camera and welcomed their first child together, son Cruz Michael Cauchi, in 2021.
Schwartz Admits To Cheating On Katie (Again) — Season 6
Infidelity continued to be the running of theme of Season 6 when Lala disclosed to the group that a newly-married Schwartz had kissed one of her friends while "hammered" in New York. Unlike in Season 3, Schwartz promptly fessed up, later describing the incident as "embarassing."
"I think it's not that big of a deal in the big scope of things, but it's still completely unacceptable and really douchey," he told Us Weekly in 2018.
James Is Accused Of Cheating On Raquel — Season 7
Raquel entered the Pump Rules chat back in Season 5 after linking up with James. Two years later, the DJ was accused of being unfaithful to the former pageant queen with several SUR employees — but Raquel stood by her man, despite being told to "wake up" by the likes of Lala.
In Season 10, more than a year after James and Raquel called it quits, Lala revealed to both Katie and Raquel that she and James "definitely hooked up" during a 2016 trip to Chicago, confirming the DJ was cheating, after all.
Sandoval & Raquel's Affair — Season 10
What is perhaps the most shocking Pump Rules cheating drama of all is yet to air on TV. However, Bravo has confirmed that cameras are still rolling for the currently airing Season 10, and the first shocking details of the "Scandoval" fallout have begun to emerge.
Speaking on her Sex, Love, And What Else Matters podcast, the now-former cast member Kristen revealed that Ariana became aware of Sandoval and Raquel's reported seven-month affair after coming across a revealing facetime recording. That same night, Pump Rules co-stars Scheana and Raquel appeared on Watch What Happens Live with Andy Cohen, and the bombshell cheating allegations took over social media shortly after the live taping.
As mentioned, both Sandoval and Raquel have publicly addressed the cheating scandal — and, although Ariana is yet to make a statement, we're sure to see it all play out on camera in the coming months.
This article was originally published on