Everything To Know About Vanderpump Rules Season 11
One cast member has confirmed their departure from the show.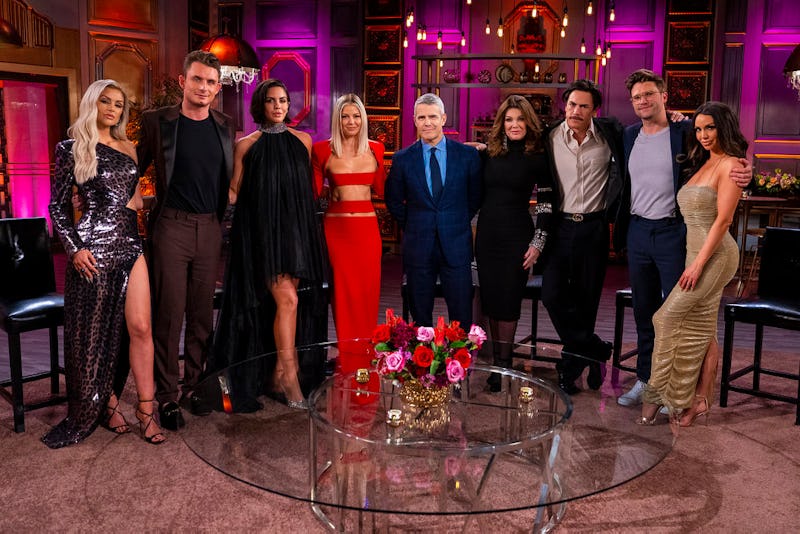 Nicole Weingart/Bravo
It's all happening — again. As the "Scandoval" aftermath continues to play out, Bravo confirmed on May 9 that Vanderpump Rules will return for Season 11. Though the network did not reveal any further details, the cheating scandal involving cast members Tom Sandoval, Ariana Madix, and Raquel Leviss certainly captured mainstream national attention. Not only was Scandoval a topic of conversation at the 2023 White House Correspondents' Dinner, but even celebs such as Jennifer Lopez, Kaley Cuoco, Chrissy Teigen, and Nicola Coughlan have weighed in with their takes.
The Vanderpump Rules Season 10 reunion was filmed on March 23, but the drama continued to spill over into interviews and on social media, even after the season officially ended with June 14's "Secrets Revealed" episode. Bravo surely didn't want too much to unfold outside of the show, though: Lala Kent announced during a June 26 Amazon Live Q&A that Vanderpump Rules Season 11 filming is slated to begin on June 28.
"It's giving me anxiety," she said. "I'm just like, 'Oh, we're really in it again.' We usually have so much time to process — things change a lot — but nope. This is the first time it was: 'Film a season. Oh wait, something really crazy happened. Pick back up cameras. Here's nine episodes to watch by tomorrow, before the reunion. Oh, and by the way, you only have X amount of weeks to chill before we start again.'" (Season 10 had already wrapped when the affair news broke, and so Bravo reassembled the cast and resumed filming to capture the immediate fallout and cast reactions.)
"I'm not complaining, though," Lala continued. "I sit here like, 'I'm so tired. I don't know what it's gonna be like. I'm nervous. I need a break.' But I like to work. I thrive off of a schedule because I'm a Virgo."
Here's everything to know about Vanderpump Rules Season 11.
The Vanderpump Rules Season 11 Cast
Despite his precarious position with the rest of the cast, Tom Sandoval has been filming Season 11 alongside ex-girlfriend Ariana Madix, Lala Kent, Scheana Shay, James Kennedy, Katie Maloney, Tom Schwartz, and Lisa Vanderpump. Following weeks of speculation regarding her potential return, Bravo confirmed on Aug. 17 that Raquel (aka Rachel) Leviss will not be back for the new season.
"Rachel will not be returning for season 11 of Vanderpump Rules. There was a possibility up until recently she'd be returning for the new season, but ultimately decided against it," a source revealed to Entertainment Tonight. "Rachel is focused on her mental health journey and knew going back to the show would open her up to trauma she's been working on healing. Rachel is looking forward to what the future holds for her."
Lala revealed on the Sofia With an F podcast in late April that nobody was speaking to Sandoval or Leviss, but producers had been in touch to take the cast's temperature on potentially filming with the pair. "I was never close with these two, I've never liked these two, so it wasn't some tremendous loss," Lala said, sharing that she didn't care whether they stayed or left Pump Rules. "It's actually a gain for me 'cause I finally don't have to pretend to get along with them for the sake of the group."
Ariana echoed those comments in a New York Times interview that the newspaper published the same day. "I have nothing to say to either of them," she said of the possibility of filming with Sandoval or Raquel, noting they have no chance of redemption in their friend group. "Our show is very real and follows a real group of friends, and neither of them are in the group of friends, so, good luck."
The Vanderpump Rules Season 11 Potential Premiere Date
Pump Rules typically films in the summer, and that remains true for Season 11. "It's definitely a balancing act, because we don't want too much time to elapse," Baskin told Variety. "We can also, as we've proven, get cameras up if we need to. If Tom and Ariana happen to move, we're up. ... But I think that we need enough time to pass that we're not just caught in this vortex." Based on past patterns, fans can reasonably expect new episodes to begin dropping sometime around the end of 2023 or the beginning of 2024.
This post will be updated as more Vanderpump Rules Season 11 details become available.
This article was originally published on