Video Of Lady Gaga Helping A Photographer Who Fell At The Oscars Goes Viral
"Notice how she didn't even think about it — it was in her reflex to help him," one viewer tweeted.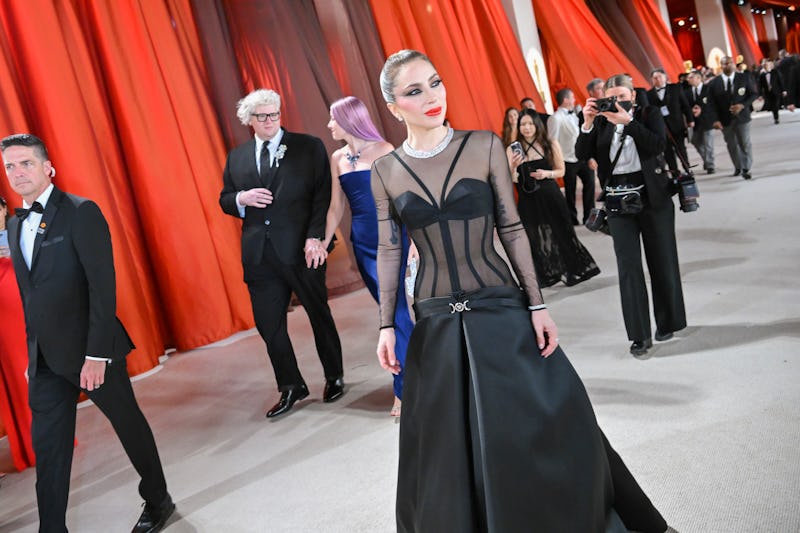 Michael Buckner/Variety/Getty Images
Lady Gaga didn't just perform at the 2023 Oscars — she also came to the rescue on the red carpet. As captured in viral videos, Gaga was walking on the Academy Awards champagne-colored carpet on March 12 when a photographer walked by her and fell to the ground, landing on his back with an audible thud. The Oscar winner's first instinct upon hearing the commotion was to immediately turn around — in a floor-length Versace gown and heels — and run to help the unknown man, who was thankfully fine and got back up.
In responses to clips posted on Twitter, fans praised Gaga for her kindness and instant reflex to help others, with one person noting how she has "a genuine human decency" and another even calling her "the Mother Teresa" of the music industry. Another tweet pointed out how Gaga was the only person who went out of her way to help the photographer. "Notice how she didn't even think about it — it was in her reflex to help him, she's just genuinely sweet and kind," another fan wrote. Even Dove's Twitter account (yes, the soap brand) couldn't help but gush about Gaga, replying with happy-cry and heart emojis.
This is not the first time that Gaga has been praised for her kindness. At the 2022 Oscars, Gaga made headlines when she presented Best Picture with Liza Minnelli, who remained seated in a wheelchair for a rare public appearance. Viewers praised how kind she was to the legendary star, stepping aside to let Minnelli soak in the standing ovation then gently guiding her as they presented. Gaga was even caught on her mic quietly reassuring her, "I got you," to which she responded, "I know, thank you."
Just a week later, at the 2022 Grammys, Gaga went down on the floor to help SZA when the long train of her dress got caught in her crutches, before carrying the train as she walked up the stage to accept her Grammy. Making the moment even sweeter, SZA beat out Gaga for that award, winning Best Pop Duo/Group Performance for her Doja Cat collaboration "Kiss Me More" over Gaga's Tony Bennett duet "I Get a Kick Out of You," but it didn't make a difference to the 13-time Grammy winner.
Perhaps the red carpet moment influenced Gaga's remarks prior to her surprise last-minute Oscars appearance. In lieu of a presenter, the singer introduced her performance of her Best Original Song-nominated "Hold My Hand" from Top Gun: Maverick by explaining the song's inspirations and alluding to kindness. "We need a lot of love to walk through this life, and we all need a hero sometimes," she said. "There's heroes all around us, in unassuming places, but you might find that you can be your own hero even if you feel broken inside."