Conrad Roy's Family Is Ready To Put The Girl From Plainville Case Behind Them
Hulu's new limited series revisits the controversial texting suicide case.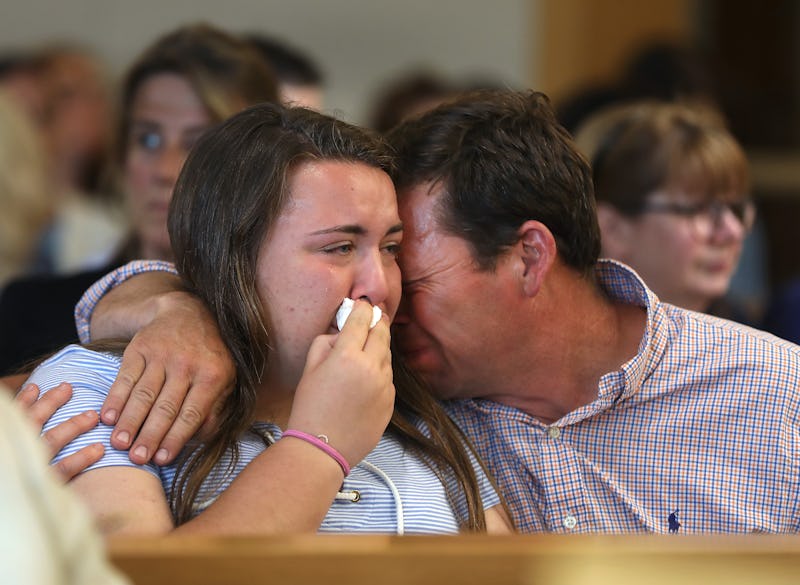 Boston Globe/Boston Globe/Getty Images
Content warning: This post includes discussion of suicide.
The new Hulu limited series The Girl From Plainville retells the heartbreaking true story surrounding Massachusetts teenager Conrad Roy's suicide. Following Roy's death in July 2014, police investigators uncovered text messages from his girlfriend Michelle Carter repeatedly encouraging him to die by suicide in the days and weeks leading up to his death. When Roy expressed doubts about going through with his plan on the night of his death, Carter allegedly encouraged him to continue. She also failed to inform the police or his family about his death. In 2017, she was convicted of involuntary manslaughter in a verdict that was later upheld by the Supreme Judicial Court of Massachusetts.
In an interview with People shortly before The Girl From Plainville's premiere, Conrad Roy's mother Lynn St. Denis said she hadn't seen the show but was concerned with its focus on Carter over her son, worrying that "there may be an attempt to defend some of [Carter's] needless and evil actions." More of Roy's family members spoke to the press a little over two years ago, when Carter was released from prison. Though Carter had been sentenced to serve 15 months in prison, she was released on good behavior after serving about 12 months of her sentence. She remains on probation until August 1st, 2022.
At the time, Roy's family released a statement expressing their disappointment about Carter's sentence being shortened, but also made it clear that they are "ready to move on" from the case. "While we are disappointed that she was not required to serve her full sentence it doesn't change that Conrad is forever gone," the family wrote. "We will continue to remember him and honor him. We will also continue [to] raise awareness for suicide prevention in the hopes that no other family has to face this kind of pain."
Roy's mother also released her own statement around the same time saying that she's ready for a "new chapter." "It is now time to focus on the positives in my life," Lynn Roy wrote, per Boston.com. "I will continue to honor my son every day, keeping his memory and spirit in my memory, and to find ways to help others who may be experiencing what I have experienced." She also told People that she hopes The Girl From Plainville will draw attention to her work with Massachusetts lawmakers to pass a bill that would criminalize suicide coercion — or pressuring another person to die by suicide — in the state. The proposed legislation would carry a penalty of up to five years in prison, but is envisioned by the Roy parents as more of a deterrent than a punishment. The bill is called Conrad's Law.
If you or someone you know is experiencing suicidal thoughts, call the National Suicide Prevention Hotline at 1-800-273-8255 or text HOME to the Crisis Text Line at 741741. You can also reach out to the Trans Lifeline at 877-565-8860 or the Trevor Lifeline at 1-866-488-7386, or to your local suicide crisis center.