Where Are The Mangrove 9 Now?
The protests and resulting trial are a crucial part of Black British history.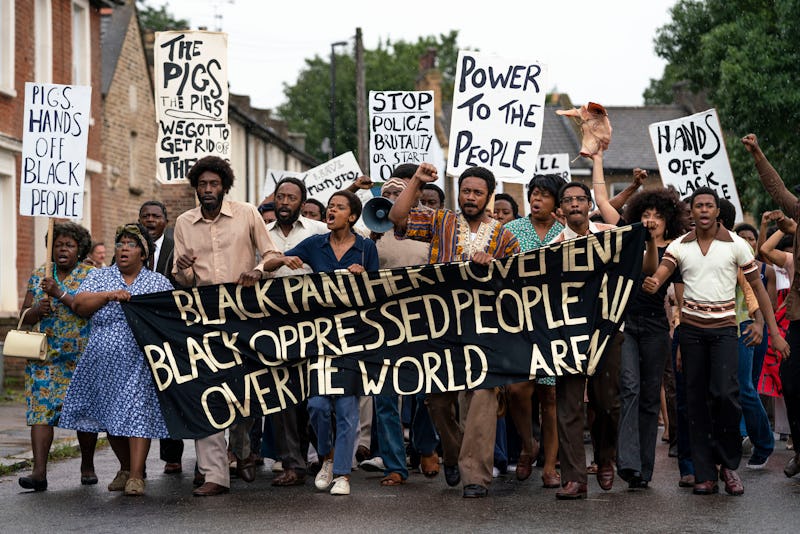 BBC/McQueen Limited/Des Willie
As part of the BBC's small axe series, award-winning director Steve McQueen is bringing to light one of the most important events in British Civil Rights history. Mangrove tells the true story of the Mangrove Nine, a group of Black activists who were arrested protesting against institutional racism in the police 50 years ago.
Decades before the events of this summer, Black people were protesting against the discrimination they faced at the hands of the police in the UK. The Mangrove was an all-night Trinidadian restaurant in Notting Hill which opened its doors in 1968. It soon became a hub for Black people in the local area and caught the attention of the police, who began to repeatedly raid the Mangrove under the pretence of drug searches.
The local council, Kensington and Chelsea withdrew the all-night cafe licence. Owner Frank Crichlow organised a peaceful protest starting outside the restaurant against racist attacks on the Mangrove. Police arrived and wrongly arrested nine people for incitement to riot.
Five were acquitted of all charges against them and four received suspended sentences for lesser charges. The trial was landmark for a variety of reasons, but in particular, because it led to racial discrimination by police being acknowledged for the first time in UK law. The group also managed to get two Black people appointed as members of the jury, so they would get a fairer hearing.
But what did the Mangrove Nine go on to do after and where are they now?
Mangrove premiers on BBC One and BBC iPlayer on Sunday, Nov. 15.