Here's Exactly When RHUGT Season 3 Was Filmed
Peacock's spinoff opens with plenty of drama to unpack.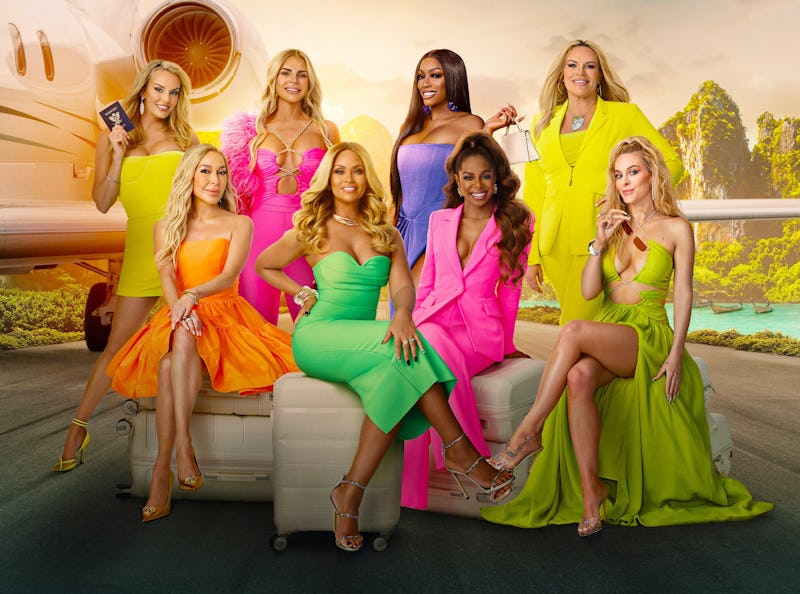 Peacock
An all-star cast of Bravolebrities is bringing the heat — and the shade — to Thailand in The Real Housewives Ultimate Girls Trip Season 3. Featuring several ladies from The Real Housewives of Potomac, The Real Housewives of Miami, The Real Housewives of Salt Lake City, The Real Housewives of New York City, and The Real Housewives of Atlanta, the Peacock spinoff documents off-season drama between established co-stars, while piling on brand-new issues between new cross-franchise friends. The women start unpacking the drama about as fast as they do their luggage, though, so here's some context on when RHUGT Season 3 was filmed and how production fit into the larger Housewives timeline.
The new group — RHOP's Candiace Dillard Bassett and Gizelle Bryant; RHOM's Alexia Nepola and Marysol Patton; RHOSLC's Heather Gay and Whitney Rose; RHONY's Leah McSweeney; and RHOA's Porsha Williams — traveled to Thailand in mid-July 2022. Bravo and Peacock jointly shared the first cast photo on July 20, showing the 'Wives posing in front of two elephants. Within about a week's time, the "10-day anxiety trip," as Candiace later described it, had ended, and the women were already back stateside with their loved ones.
Several of the RHUGT Season 3 cast members confirmed their returns on social media. On July 28, Alexia shared an Instagram photo with her husband, Todd Nepola, writing, "Came back from Thailand missing my baby… Seeing the world is not the same without you." Days later, Porsha shared her "date night" reunion with then-fiancé Simon Guobadia at an ATL Kendrick Lamar concert.
When RHUGT began production in Asia, most of the women had just finished filming their respective Bravo series. RHOM Season 5 and RHOP Season 7 wrapped at the beginning of July, and RHOSLC viewers will recall seeing Heather accompany Jen Shah to New York City, where the latter changed her plea to guilty in her fraud and money laundering case on July 11. Leah and Porsha were the only outliers because RHONY hadn't aired since 2021, and Porsha announced her RHOA exit the same year.
Though RHUGT might fill in some blanks, the series won't necessarily include the most up-to-date information regarding the statuses of friendships, including between former BFFs Heather and Whitney. That's because the RHOSLC Season 3 reunion taped in NYC on Dec. 16, with the RHOM and RHOP end-of-season cast sitdowns following suit shortly afterward in late January 2023. Given that Candiace questioned the timeline of Porsha and Simon's relationship in the RHUGT Season 3 trailer, it's also worth noting that the couple walked down the aisle in November 2022 — about four months after Peacock wrapped filming in Thailand.
"We had literally wrapped the season, two weeks later, we're on the way to Thailand," Candiace recently explained to Entertainment Tonight of how the RHUGT filming timeline coincided with her and Gizelle's RHOP beef. "I had not seen any Season 7 of Potomac. . . . We had not shot the reunion, I had known nothing. All I knew was what I saw, that Gizelle and I had talked about in scenes and moments on the show. So, I didn't know she was concocting these whole stories about Chris being all these different things, and telling different versions of the story, I didn't know any of that."