Friends Claim Tom Sandoval & Raquel's Relationship Shifted During Pump Rules Filming
The Season 10 timeline, explained.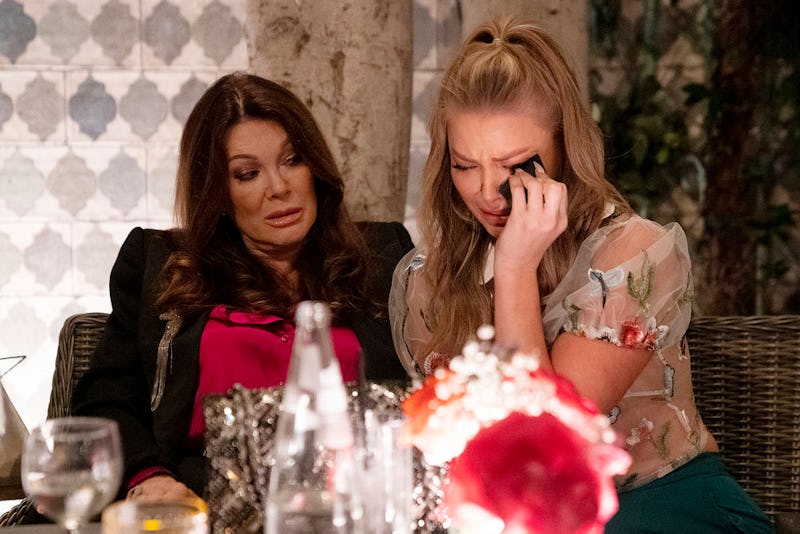 Nicole Weingart/Bravo
Several months before filming began for Vanderpump Rules Season 10, Tom Sandoval predicted that it "would "be a sh*t show as usual." Though he was referring to the cast breakups between Tom Schwartz and Katie Maloney, as well as James Kennedy and Raquel Leviss, in the March 2022 E! interview, Sandoval and then-girlfriend Ariana Madix would also split within a year's time. Still, when Pump Rules started filming in July 2022, he and Madix were still on solid ground — at least as far as anybody else seemed to know.
When the alleged affair between Sandoval and Leviss went public in early March 2023, the timeline fell under more scrutiny than ever. According to cast member Lala Kent's Instagram Stories, Season 10 filming was officially underway on July 13, and Bravo cameras were also rolling at the Schwartz and Sandy's grand opening party on July 19. While the cast was filming together at Scheana Shay and Brock Davies' wedding in Cancun, Mexico on Aug. 23, Schwartz and Leviss even reportedly hooked up.
Pump Rules premiered on Feb. 8, and though Season 10 had already wrapped, filming resumed in the wake of the #Scandoval cheating scandal that resulted in the end of Sandoval and Madix's nine-year relationship. "This story will be unfolding on camera," Bravo revealed in a March 6 Instagram post, showing Kennedy ready to film a new confessional.
Currently, the Season 10 reunion is reportedly slated to tape on March 23, but that date could change. The reason? On March 7, the Los Angeles Superior Court granted Leviss a temporary restraining order against Shay, according to court documents obtained by People, and the hearing is scheduled for March 29. Per Leviss' petition, Shay allegedly shoved her against a brick wall and punched her in her left eye after learning of the affair while the duo was in New York City for a Watch What Happens Live with Andy Cohen appearance on March 2.
Shay's attorney, Neama Rahmani, denied Leviss' claims, explaining to the magazine that the reunion could be difficult, if not impossible, to film with both women. "The temporary restraining order, as it stands now, currently prohibits Scheana from being within 100 yards of Rachel so they can't both be physically present at the reunion," Rahmani said. "Potentially, one of them could Zoom in and appear virtually but Scheana still can't communicate with Rachel either directly or through an intermediary."
Though Andy Cohen said on his SiriusXM radio show that he suspects Sandoval and Leviss' affair could have been going on during NYC's BravoCon 2022 in October, others have suggested that it began even before then. During the March 14 episode of the Jamie All Over podcast, Shay's friends Jamie Lynne and Kael Ramsey Ackerson recalled how Sandoval and Leviss' relationship began to change with cameras rolling. "[Raquel] basically just told me [it happened] seven months ago and after the Las Vegas trip," Kael explained, referring to the March 15 Pump Rules episode. "And she was like, '[After the boys night] is when we got closer.'"
Lynne, for her part, also shared some behind-the-scenes details from the episode, which included Leviss joining Sandoval, Schwartz, and Kennedy on an outing in August 2022. "Next episode of Vanderpump Rules is boys night. You and I were there. Afterwards you went home and I went to Saddle Ranch with Raquel, Sandoval, and [Schwartz and Sandy's manager] Brett. You were there because Raquel had just gotten back from Vegas and was very upset and asked you to come out that night," she detailed. "It somehow just ended up being the four of us going to Saddle Ranch after and Raquel and Tom were super into deep conversation at the bar."
After the friend group left the bar, Lynne said she witnessed an "intimate" conversation between Leviss and Sandoval outside of the West Hollywood hotspot. "I didn't realize that at the time like how close they were talking or how intimate it actually looked," she continued. "So I start filming the two of them talking. We're so clueless that we have no idea what's actually transpiring. . . . I thought I'm not posting this because this looks way too intimate and I don't want Ariana to feel a certain way about this."
Hindsight is 20/20, though, and viewers will certainly watch Season 10 through a new lens now, knowing what might have been secretly happening while filming took place.