Where Is Reece Oliver from ITV's Britain's Tiger Kings Now?
The Nottingham-based animal keeper owns two lions and a puma.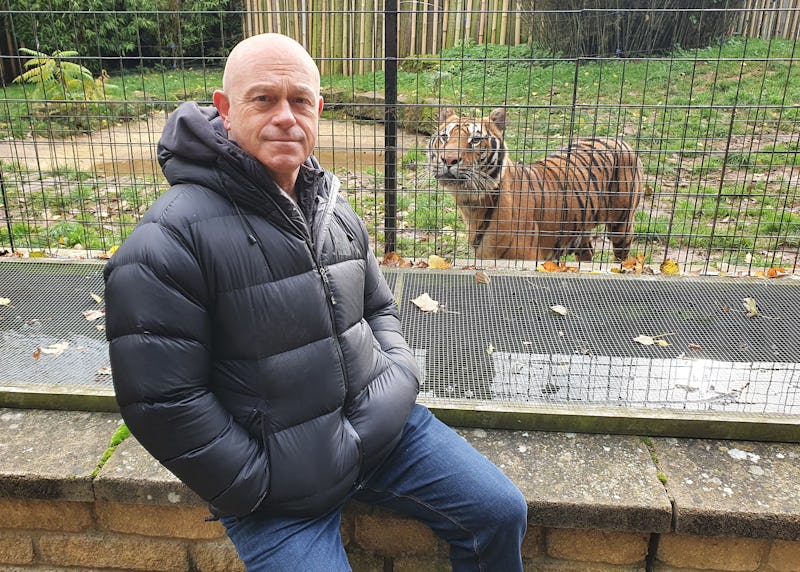 ITV / Honey Bee Media
Following the success of Netflix's Tiger King, Ross Kemp will explore Britain's captive exotic cats in a two-part documentary for ITV. One of the owners featured is Reece Oliver, a former show jumper and now fully licensed keeper who owns lions, a puma, and other wild animals in his garden in Nottingham. But where is Reece Oliver now, and what happened to his exotic cats?
As of March 20, Oliver is still overseeing the Strelley Wildlife Conservation Facility, which also houses penguins, kangaroos, and wombats. He recently got planning permission from his local council to extend the lion enclosure and has said it'll be one of the biggest enclosures in the U.K. In an interview with ITV News, Oliver explained how he wanted to give his lions, Rocky and Rora, "the best life possible" while in captivity.
When asked why the animals couldn't be released back into the wild, Oliver replied that because the lions are "captive and hand-reared" it wouldn't be possible to release them back into the wild as "they wouldn't survive." Instead, he and his team "are trying to generate a sort of habitat" that would reflect their natural setting and to give them "the best enrichment for them as animals."
Oliver obtained the lions after they were rescued from a circus in Eastern Europe where their mother died of abuse and they were going to be euthanised. Oliver is licensed by the local council to have the exotic animals and has several permits in order to keep them. You can also see Oliver's Canadian puma, Rogue, surveying its enclosure throughout the interview.
However, not all the residents of Strelley are keen on the exotic animals being kept in their village. In August 2020, a 16-year-old stable hand was attacked by the puma. Luckily, the girl only walked away with bites and scratches, for which she received treatment at hospital. However, it left the locals on edge.
Kemp's documentary was seemingly filmed a couple of months after this incident, per Nottinghamshire Live, so it'll be interesting to see how it is covered — especially since Oliver is still caring for the puma as of March 2021.