The True Story Of Candy Montgomery From HBO Max's New Crime Series, Love & Death
After being acquitted of murder, she moved away and became a mental health therapist.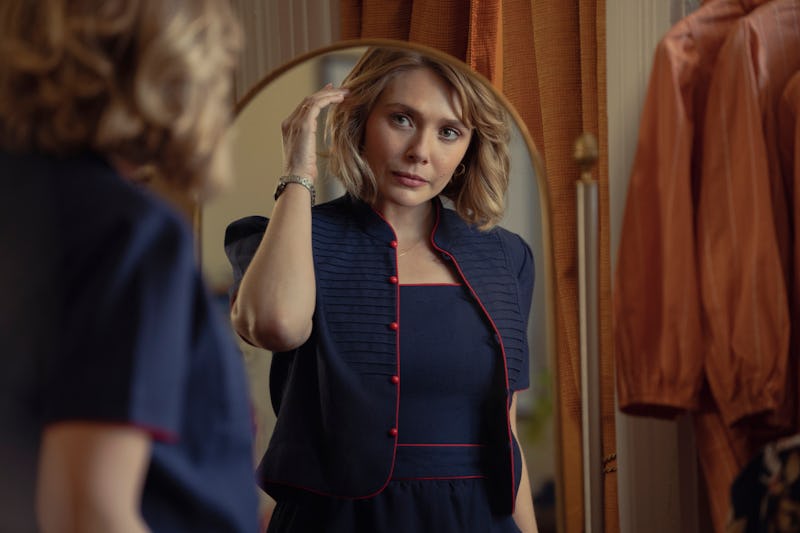 Jake Giles Netter/HBO Max
Almost a year after Jessica Biel played Candy Montgomery in Hulu's Candy miniseries, Elizabeth Olsen is putting her own spin on the idyllic Southern housewife turned murderer in HBO Max's Love & Death. Also based on a true story from 1980s Texas, the new limited series revisits how Montgomery's seemingly perfect suburban life turned upside down after she hacked her church friend Betty Gore (played by Lily Rabe) to death with an ax — forty-one times, to be exact. So, how much of the story is based on fact versus fiction?
Montgomery and Gore were both real people who met at a local church in the Dallas-Fort Worth area in the '80s. Their families quickly became close — so close that Montgomery started a year-long affair with Gore's husband, Allan (Jesse Plemons), after a church volleyball game. Later, Allan reportedly ended the affair, leaving Montgomery feeling rejected.
Despite the apparent motivation, the murder allegedly was not premeditated. On the day of the incident, Montgomery stopped by the Gore household to pick up a bathing suit for the Gores' daughter, who had slept over the night before, according to Texas Monthly. Journalists John Bloom and Jim Atkinson's book about the case, Evidence of Love: A True Story of Passion and Death in the Suburbs, includes exclusive interviews from both families, revealing that Gore confronted Montgomery about the affair that morning while Allan was away on business. That's where things get muddled.
Montgomery's legal team argued that "Gore picked up an ax kept in her garage and came at Montgomery with it," according to the Dallas Morning News, after which there was a struggle that left Gore unconscious with 41 stab wounds. While self-defense seemed plausible, experts in the trial later identified that Gore was already unconscious when many of the strikes punctured her body. To make matters worse, Montgomery allegedly cleaned herself up in the Gore family bathroom, left Gore's 1-year-old baby alone in the home, and proceeded to go about her day. It wasn't until Allan couldn't reach his wife later that night did neighbors enter the home and discover Gore's body.
While admitting to the crime, Montgomery maintained her self-defense plea, which psychiatrists who testified in court bolstered by finding that she had had a "dissociative reaction" that prompted the multiple stabbings, likely triggered by something Gore said to her in the moment. That was enough to exonerate Montgomery: The jury accepted her plea and acquitted her of murder charges in October 1980. Shortly thereafter, Montgomery left Texas and never returned.
Where Is Candy Montgomery Today?
Little is known about her whereabouts today as she keeps a relatively low profile online, though the Daily Mail reported that Montgomery and her family moved to Georgia. Her husband Pat stayed with her during the trial, but the couple is now divorced.
The now 72-year-old also reportedly now goes by her maiden name, "Wheeler," and works as a mental health therapist. According to her HealthGrades profile, she's based in Dawsonville, Georgia. Per CareDash, another medical services website, Montgomery treats people with "anger management" issues, "anxiety," and "depression," and also offers marriage counseling to her patients, tackling issues like infidelity, among others.
After accepting the title role in Hulu's Candy, Biel reached out to Montgomery's longtime representative to ask if she "was interested in having any conversation whatsoever," as she told Entertainment Weekly in May 2022, adding, "She was not interested." However, the actor shared that Montgomery's attorney, Robert Udashen, was a "huge resource of information." She also referred to Bloom and Atkinson as priceless "walking knowledge bombs," especially because they'd interviewed Montgomery.
She didn't speak to Olsen either, as the actor also heavily relied on Evidence of Love for her portrayal. "[Candy] didn't participate in anything besides the book, so that was my resource," she said during a March 2023 SXSW discussion. "I didn't have audio to go off of, so you make decisions based on the location, the background, and the time, as you would for any character, but it's nice to have something to start with... instead of making it all up."
This article was originally published on