Stavros Flatley's Lagi Demetriou Is A Dad Now & Wow, I Feel Old
The cheeky little boy in the blond wig is all grown up.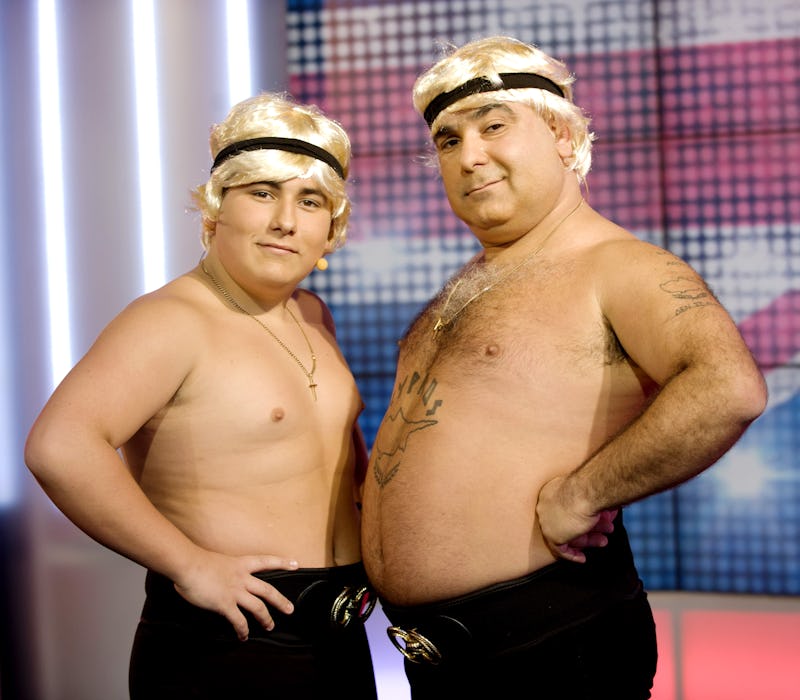 Ken McKay/Shutterstock
Name a more iconic father-son duo than Britain's Got Talent's Stavros Flatley. Go on. I dare you. Greek-Cypriot Demi and Lagi Demetriou shot to fame in 2009 with their roaring-success of a dance act. 12-year-old Lagi and his dad embodied everything Britain's Got Talent is about — fun, folly, and a certain "wow factor" that is often hard to nail. But Lagi couldn't stay that adorable, blonde-wigged little boy forever, and now Stavros junior has become a dad.
Lagi and his fiancée, Annika Crawford, who live in Paphos, Cyprus, shared a photo of their new baby, Xenia Demetriou. The couple, who have been going strong for five years, are active on social media and got engaged on New Year's Eve, in 2020. They shared news of the pregnancy on Instagram in November last year.
While his dad continues to perform the Stavros Flatley act with his nephew, Samson, Lagi has opened up a barber shop in Cyprus. Father and son last performed publicly with even more fanfare in 2019, on Britain's Got Talent: The Champions, a decade after their original audition. The pair received a Golden Buzzer, from tough critic Simon Cowell.
He may have stopped dancing with his dad, but Lagi and his fiancée share videos of them dancing together and performing skits on Instagram and TikTok.
The pair share videos of them dancing on social media.
In 2019, Lagi told The Sun newspaper that he'd considered quitting Stavros Flatley altogether.
"We've done this for 10 years for a joke," he said. "We've done so many amazing things but what is there left to do? We've done the Royal Variety, we've played in China, Monaco - everywhere."
"So when we got to The Champions, I thought this was the right time to leave. But Simon Cowell told me not to quit forever. So I will return for some shows."