The Catch Revisits A Famed Irish Filming Spot From The Tudors
Eagle-eyed fans may well recognise the sights.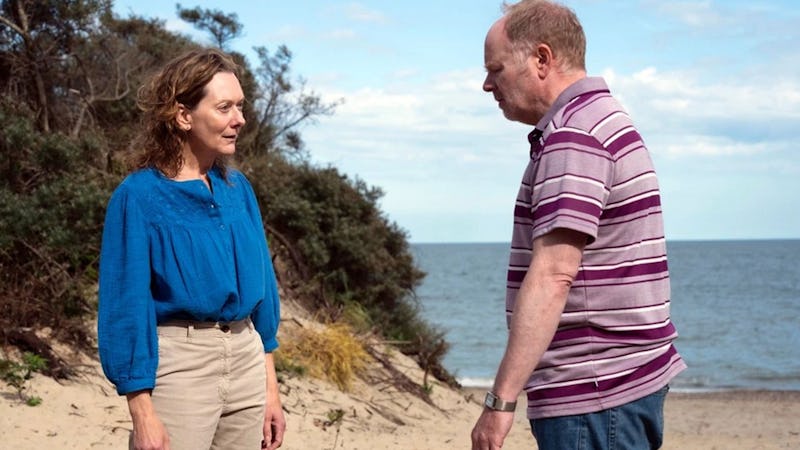 Channel 5
A family drama blends into a psychological thriller in Channel 5 drama The Catch. The four-part series is an adaptation of author T. M. Logan's popular book of the same name and the premise has us hooked. Jason Watkins plays naval officer turned fisherman Ed Collier who finds himself in a pickle when his daughter Abbie introduces her boyfriend to the family. Slowly but surely everything starts fall to apart with the new dynamic that is equal parts gripping and eerie. While the cast and storyline is promising, the series also boasts some stunning shoot locations including endless blue coastlines. So where exactly was The Catch filmed?
While the show is set against the coastline of South West England, like many projects it isn't actually filmed where the story promises. But worry not, the original filming locations are just as captivating. As per Radio Times, the drama was filmed in and around Dublin, including the southern town of Bray. "It's surprising because you think Dublin is a city but it's actually sort of a seaside resort in some respect... I think most people think that you'd go and have a weekend as a cultural thing but actually when you spread out, there's the beautiful coastline, so we made the most of that in this," said Watkins.
Some interior shots of the series were filmed at Ardmore Studios in Bray where other famous productions like The Tudors and Penny Dreadful were made. The expansive blue of Balbriggan Harbour was another key filming spot for the series. Robert Quinn, the director of the show, revealed that he chose to film in Ireland to access versatile locations and shoot alongside other fishermen.
"We were there for nine days, right in the middle of the harbour, and I doubt we would have been able to have had that access in England. I love the idea of people watching this and thinking it's England when it's not. I love that," he told Wales Online. In fact actor Cathy Belton, who plays the wife Clare Collier, explained that her mother in the series lives in a well known Irish property. "Phyllis' house was where the President of Ireland Paddy Hillery used to live many years ago. It's now empty and is used for various film projects," she said. With its distinctive setting and impressive ensemble cast, The Catch makes for a nail biting watch.
The Catch is currently dropping each Wednesday night, with episodes available to stream on My5.