Sky's New Horror Series Was Filmed In An Abandoned Apartment Block
Hausen's shooting location sounds just as creepy as the show itself.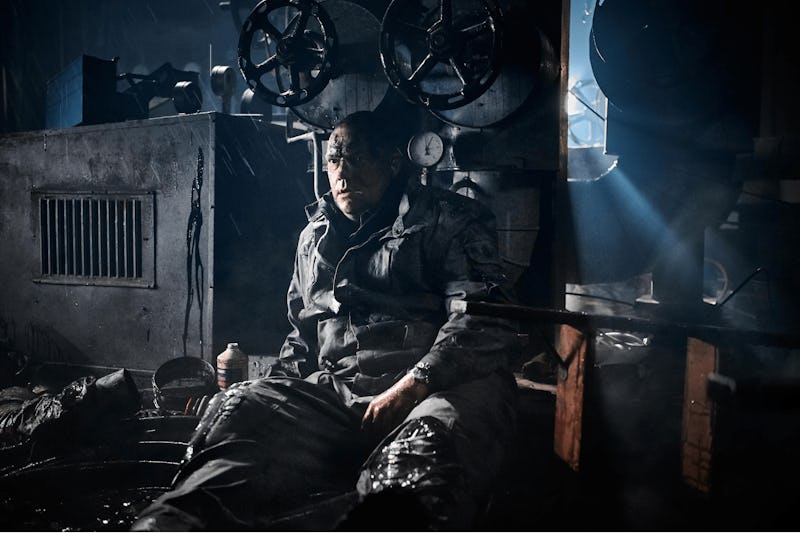 Sky / Hausen
Horror fans are bracing themselves for the brand new haunted house series, Hausen, which launches on Sky Atlantic tonight (Mar 26), at 9 pm. The eight-episode series is set to tell a "dark" and "twisted" story about 16-year-old Juri who, after the death of his mother, moves into a rundown housing complex on the city outskirts with his father as they try to rebuild their lives. True to the genre, the house has "a vicious life of its own" and "feeds on the suffering of its inhabitants." The new series is a Sky Germany production but where was Sky Atlantic's new horror series Hausen filmed?
As you may have gathered from the name, Hausen is a German horror series, that combines horror, mystery, dark fairy tales, and drama. It boasts some of the country's celebrated actors, Charly Hübner, Tristan Göbel, Alexander Scheer, Lilith Stangenberg, and Daniel Sträßer.
While the series set in a crumbling apartment block, Hausen was actually filmed in a hospital in East Germany that had been abandoned for more than two decades — and it sounds just as creepy as the film.
As the plot goes, Juri (played by Tristan Göbel) gradually discovers that the housing complex is sustained by the sadness of its residence (complete with baby cries coming out of the walls). Per the synopsis, in order to fight it, Juri has to persuade the partly hostile, partly apathetic block population to cooperate and to rebel against his father (played by Charly Hübner), who has already fallen deep under the building's corrosive spell.
Hausen's set was chosen for its "labyrinth[ine]" and "mysterious hallways" which the team completely gutted out and transformed into a haunted house. And, from the team's account, the vacant hospital building was destined to give viewers nightmares.
"Typically straight building corridors became labyrinths," said Marco Mehlitz, Producer at Lago Film in a statement for Sky Germany, "otherwise identical floor plans became individual bubbles. The history of the place alone intertwined daily with our working reality."
"I was only on set a couple of times, but it was spooky to be there because everything is ripped apart; every cable is ripped out and it was completely destroyed," said Frank Jastfelder, director of Sky Deutschland, in an interview with Drama Quarterly.
Turns out, one of the actors got lost on the creepy set, setting the tone for the rest of the filming. "I remember bringing Charly in for the first time and he got lost," added director Thomas Stuber to Drama Quarterly. "He literally got lost because I left him alone. That was a very good start for him because he never lost that feeling." Chilling.
Hausen is available on Sky Atlantic, March 26 at 9pm and on Now TV