Allison Mack Could Reportedly Leave Prison Soon For Her NXIVM Crimes
The Smallville star started serving her three-year sentence in September 2021.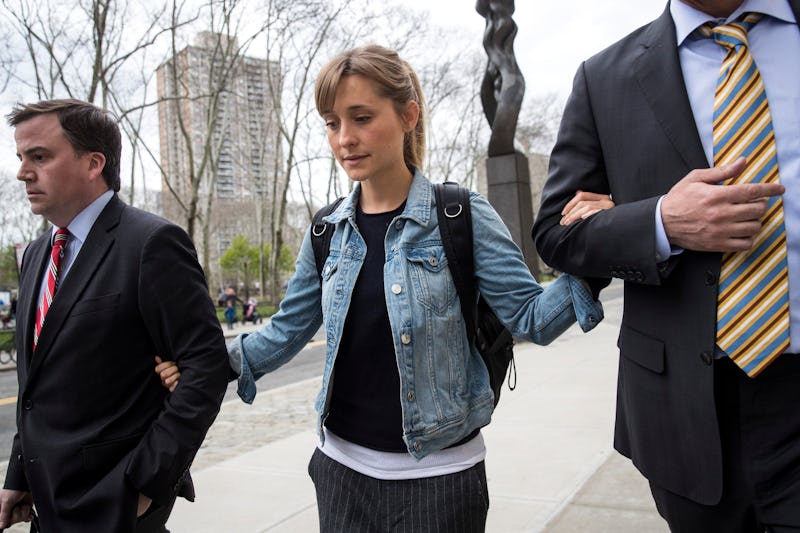 Drew Angerer/Getty Images News/Getty Images
It's been more than four years since Smallville actor Allison Mack was arrested in connection with NXIVM, the so-called self-help organization later revealed to be a cult. Mack, a high-level leader in the group, was charged with sex trafficking, sex trafficking conspiracy, and forced labor conspiracy in 2018. She pleaded not guilty at the time but later pleaded guilty to racketeering and racketeering conspiracy in 2019. On June 30, 2021, Mack was sentenced to three years in federal prison, per The Associated Press.
The U.S. Attorney's Office in the Eastern District of New York also mandated that she pay a $20,000 fine. The result comes as a surprise to some followers of the NXIVM scandal, as the actor faced up to 40 years in prison — 20 years for each count for which she pled guilty. The cult's ringleader Keith Raniere was sentenced to 120 years in prison, so Mack's sentence in comparison feels very paltry.
However, days before the sentencing, on June 27, Mack spoke out for the first time since her arrest, apologizing to "those who have been harmed by actions" in a letter obtained by The Hollywood Reporter. The note was part of a sentencing memorandum in which prosecutors requested a lesser sentence for Mack, explaining that she "provided substantial assistance to the government" in investigating NXIVM and Raniere. "I am sorry that I encouraged you to use your resources to participate in something that was ultimately so ugly," she wrote. "I do not take lightly the responsibility I have in the lives of those I love and I feel a heavy weight of guilt for having misused your trust, leading you down a negative path."
In her 2019 plea, Mack told the judge that she was unsatisfied with her career when she discovered NXIVM and joined in order to "find purpose." She worked her way up the ranks of the organization, led by Raniere, eventually spearheading a subsect called DOS that was comprised of women in slave-master relationships. Its members were allegedly put on near-starvation diets, branded with Raniere's initials, and coerced, often by Mack, into having sex with him. Raniere has asserted his innocence and asked for his conviction to be vacated in May 2022, alleging the FBI tampered with key evidence and gave false testimony in his 2019 trial.
"I was lost," Mack said in court, per The New York Times. "I must take full responsibility for my conduct." She went on to apologize for those she'd hurt through her "misguided adherence to Keith Raniere's teachings."
In her letter, Mack also publicly disavowed Raniere and the entire organization. "I believed, whole-heartedly, that his mentorship was leading me to a better, more enlightened version of myself," she wrote. "I devoted my loyalty, my resources, and, ultimately, my life to him. This was the biggest mistake and regret of my life." According to Variety, Mack's statement was part of a dossier given to U.S. District Court Judge Nicholas Garaufis, filled with a half-dozen letters from Mack's family and friends that argue how much she has changed and worked on herself since her arrest.
According to another New York Times article, she was originally supposed to be sentenced in September 2019, but was released on a $5 million bond and lived under house arrest at her parents' California home. Film Daily reported that her sentencing was delayed at the request of the defense as they worked to prepare evidence they hoped would lead to a lesser sentence. The coronavirus further delayed court proceedings nationwide, however.
Both Raniere and Mack are also named in a civil lawsuit that was filed in January 2020, per Entertainment Tonight. The lawsuit claims that they and other members of NXIVM "exerted power over [group members]; took their money; made it financially, physically and psychologically difficult, and in some cases impossible, to leave the coercive community; and systematically abused plaintiffs physically and emotionally."
Mack's lawyers didn't respond to ET's request for comment. Raniere's lawyers said that the plaintiffs were allegedly "motivated by money," and his lawyers planned to fight the charges. However, civil lawsuits usually result in monetary damages, not jail time.
In December 2020, Mack also filed for divorce from fellow NXIVM member Nicki Clyne, who she married in February 2017 allegedly "at the behest of NXIVM co-founder Keith Raniere" to avoid deportation and remain active in the group. There have been no further updates about Mack's divorce, but former members of NXIVM and neighbors of the organization's previous Albany, New York headquarters are eager to see her case closed. "It's getting old now. It's got to get done," one neighbor, who spoke on the condition of anonymity, told Fox News in April 2021. "We all need closure from this. Once we know that she's in prison, I think we'll feel less anxious."
That day arrived months later on September 13, 2021, when Mack reported more than two weeks early to start serving her sentence at a low-security federal corrections institute in Dublin, California, according to the Los Angeles Times. However, she's reportedly unlikely to be at FCI Dublin — the same facility where Felicity Huffman and Lori Loughlin served time for their part in the college admission bribery scandal — for the full three years. Provided she exhibits good behavior, Mack could reportedly be out of prison as early as the end of 2022.
This story will be updated when more information becomes available.
This article was originally published on