Here's Where Top NXIVM Member Lauren Salzman Is Today
She avoided jail time by testifying against founder Keith Raniere.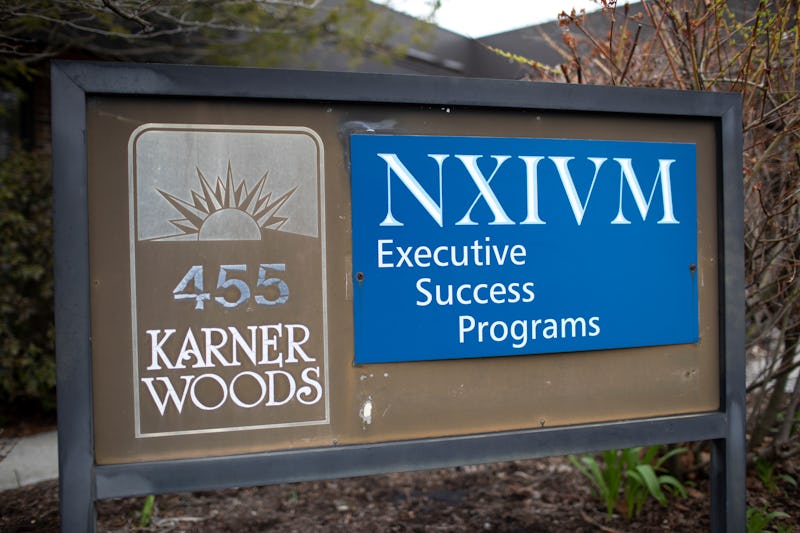 Amy Luke/Getty Images News/Getty Images
Given that Lauren Salzman's mom Nancy co-founded NXIVM, it was really only a matter of time before Lauren also joined. Eventually, the New York Times reported that she worked her way up to be "first-line master" of the DOS or "The Vow" in the all-women alleged sex cult within NXIVM that practiced slave/master behavior, branded women, and more under the leadership of the group's only man, Keith Raniere. The NYT reported that Salzman was in charge of 22 "slaves" before the group's eventual exposure and fall from grace, and in March 2019, Salzman pleaded guilty to racketeering and racketeering conspiracy for her role in the cult-like group.
The New York Post reported that Salzman admitted to having kept one of her "slaves" locked in a room for two years, threatening to deport her if she disobeyed orders. For the racketeering plea, the Post reported that Salzman faced up to 20 years in prison, had she not eventually cooperated with prosecutors and testified at Raniere's trial in 2019. That she did so was monumental, as Rolling Stone reported that Salzman said she'd initially been "in one mode: protect Keith," when police showed up to arrest him. Raniere was convicted last year of several crimes, among them "racketeering, sex trafficking, forced labor conspiracy," per Forbes.
Salzman was initially set to be sentenced in September 2019, according to another New York Post article, but her court date was indefinitely delayed. In the interim, Salzman remained under house arrest with an electronic monitor to track her whereabouts, per the Post. In the summer of 2019, she tried to get her house arrest restrictions lessened, with her lawyers stating that her guilty plea should allow her more freedom "to integrate into her community." The judge denied her request.
Regardless, Salzman's testimony ultimately helped to convict Raniere, who is now serving a 120-year prison sentence. It also apparently helped spare her a prison sentence of her own. Finally, in July 2021, a Brooklyn federal judge sentenced Salzman to five years of probation and 300 hours of community service rather than requiring her to serve jail time.
According to The New York Times, Judge Nicholas G. Garaufis cited her "central" role in Raniere's prosecution as what he saw as her desire to lead a law-abiding life. "The defendant helped Keith Raniere implement some of the most twisted, manipulative and reprehensible schemes," he said at the time. "She is also herself a victim of Raniere and his depravity."
Meanwhile, Salzman's lawyers had also highlighted her determination to start a new life, which they said had included counseling, work as a dog groomer, and a willingness to care for ailing relatives. In a letter to the judge, Salzman wrote, "I do not have enough tears for how deeply sad, ashamed and regretful I feel about my time with Keith Raniere and my participation in his wrongful initiatives." She added, "I can't even begin to imagine the pain, feelings of betrayal, feelings of violation and lasting emotional trauma that the victims have experienced."
While speaking in court on the day of her sentencing, Salzman apologized to those she had harmed, including friends who she had convinced to join DOS, which she had presented as a women's empowerment group, per the NYT. "There was nothing empowering about this group," she said, per the paper. "There was pain, deceit, there was humiliation, control."
This article was originally published on