What Whitney Houston & Robyn Crawford's Real-Life Relationship Was Like
As depicted in I Wanna Dance with Somebody, the two were very close.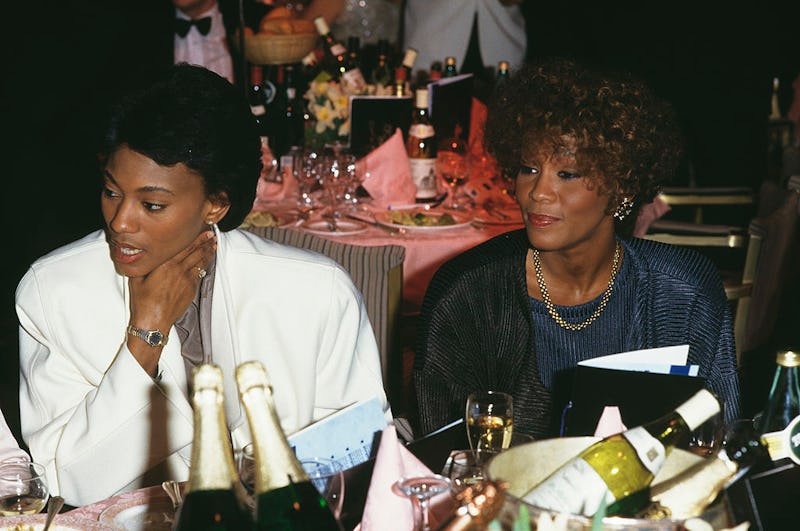 Dave Hogan/Getty Images
Since Whitney Houston's death in 2012, the singer's life story has been told more than once. But the 2022 film I Wanna Dance with Somebody explores facets of the singer's life that might surprise even some of the most die-hard fans — namely, Houston's intimate relationship with Robyn Crawford, which the singer never opened up about while she was alive.
Houston was famously married to musician Bobby Brown from 1992 to 1997, but I Wanna Dance with Somebody contends that the most important relationship of Houston's life was with Crawford. The two met at summer camp in New Jersey when they were teenagers, long before Houston became one of the most famous singers in the world. "I was 16 and we were working at summer jobs and I remember thinking, 'Wow, this is really going to be a trip this summer — I don't have any friends.' And then here comes Robyn with this beautiful, beautiful afro," Houston said in an interview included in the 2018 documentary Whitney, per People. "She was tall and very statuesque and I was like, 'Wow, man. She stood up for me. I remember thinking, I've known this person seems like all my life.'"
According to Crawford, the two remained friends until their relationship became strained in the aughts, in part because of Houston's substance use and relationship with Bobby. In 2019, Crawford published a memoir, A Song for You, about her personal history with the singer.
Below, everything to know about Crawford and Houston's real-life relationship.
Robyn Crawford & Whitney Houston Were Intimate
After Crawford and Houston met as young women and instantly hit it off, the two were physically intimate, according to Crawford's memoir — though Houston never labeled herself as bisexual due to the stigma that LGBTQ relationships carried at the time. "Whitney told me her mother said it wasn't natural for two women to be that close," Crawford wrote, "but we were that close." She added, "We could be naked. We could be bare and didn't have to hide. We could trust each other with our secrets, our feelings, and who we were. We were friends. We were lovers. We were everything to each other."
According to Crawford, the physical side of their relationship ended when Houston signed her record deal in 1983. She broke it off by giving Crawford a Bible. "She said we shouldn't be physical anymore because it would make our journey even more difficult ... She said if people find out about us, they would use this against us. And back in the '80s, that's how it felt," Crawford explained.
But their relationship didn't there. The pair remained close friends, and Crawford served as a part of Houston's team in the early days of the singer's career, helping Houston get dressed for events, providing moral support, and more. When Houston married Brown, Crawford was her maid of honor.
Where Is Robyn Crawford Now?
Crawford refused to participate in two documentaries about Houston's life — Whitney: Can I Be Me (2017) and Whitney (2018) — according to NJ.com. But in 2019, she decided to come forward and tell her story with a memoir. "I felt an urgency to stand up and share the woman behind the incredible talent," she wrote in the book, via Today. "I wanted to lift her legacy, give her respect and share the story of who she was before the fame, and in that, to embrace our friendship."
Now, Crawford works as a teacher and lives in New Jersey with her wife, Lisa Hintelmann, and her two adopted twins.