Amanda Seyfried's Husband Thomas Sadoski Stars Alongside Her In The Crowded Room
The couple joins forces on the Apple TV+ show, but it's not the first time they've worked together.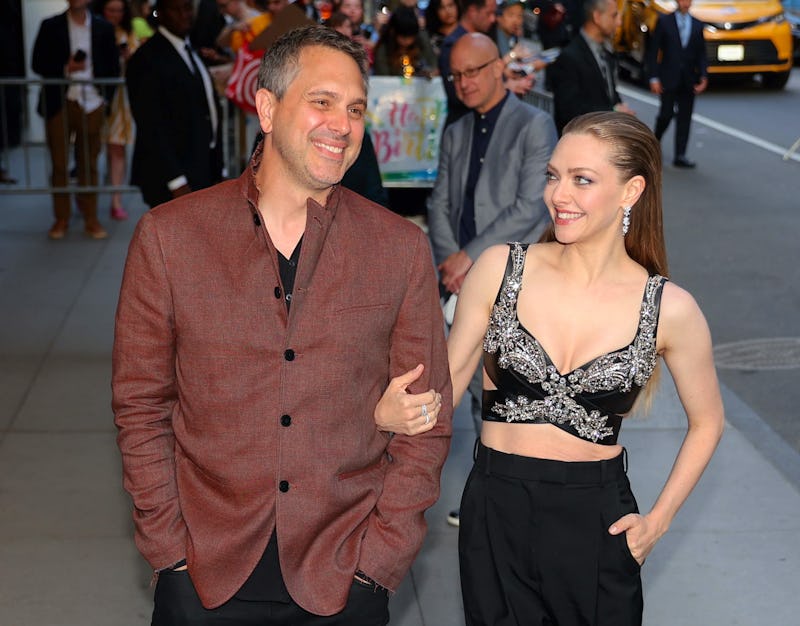 Jose Perez/Bauer-Griffin/GC Images/Getty Images
Fans have been chomping at the bit for Amanda Seyfried and Tom Holland's series The Crowded Room (especially after those set photos of Holland looking like he's from the '70s), but they also have another special co-star viewers may not have realized. Seyfried's husband Thomas Sadoski, an actor who's appeared on shows like The Newsroom and several Broadway productions, stars alongside the Oscar nominee in her new Apple TV+ show. This marks their first joint project since getting married — but it's not the first time they've worked together.
In the limited series, Seyfried plays Rya, a clinical psychologist assigned to evaluate Holland's character Danny, who's arrested after a shooting and faces charges of murder. Sadoski portrays Matty Dunne, a detective who thinks he's locked up a serial killer in Danny, but Rya thinks that may not be the case. While Sadoski's role is more minor than his Emmy-winning wife, the two do share a scene together in the first episode that sets up the story to come.
Speaking to Page Six at the series' red carpet premiere, Seyfried said that Sadoski's presence on set helped her get through the intense filming experience. "It was actually really nice," she said. "Because it was in the beginning when I was a little insecure. I felt like it was always nice to check in with him and see if I was doing a good job."
Sadoski was in agreement, saying the fact that he wasn't on set every day made their time together more special. "For me, it was fun to show up, and for her, I think it was like a breath of fresh air to have someone away from the really heavy serious stuff she was doing with Tom," he said. "So I think it worked out really well for both of us."
The Crowded Room is actually not the first time they've worked together. In fact, the two first met in 2015 while starring in the off-Broadway play The Way We Get By, where they played lovers who had a one-night stand. But things didn't get romantic until they reunited on the set of their film The Last Word in 2016, after Sadoski had divorced ex-wife Kimberly Hope and Seyfried's own relationship had ended. "[He] never flirted, never disrespected his wife. That was another reason why I thought, later on, that I could marry him," she told Porter in 2018. "It was amazing. It felt healthy and freeing and clean. We can tell the story without any guilt."
The couple tied the knot in March 2017, just days before giving birth to their first child, a daughter named Nina. They secretly welcomed their second child, a son named Thomas Jr., in September 2020. Apparently, the couple who acts together stays together.