Who Is Dorothy Wang Dating After The Bling Empire: New York?
The reality show star met a new man at the end of Season 1.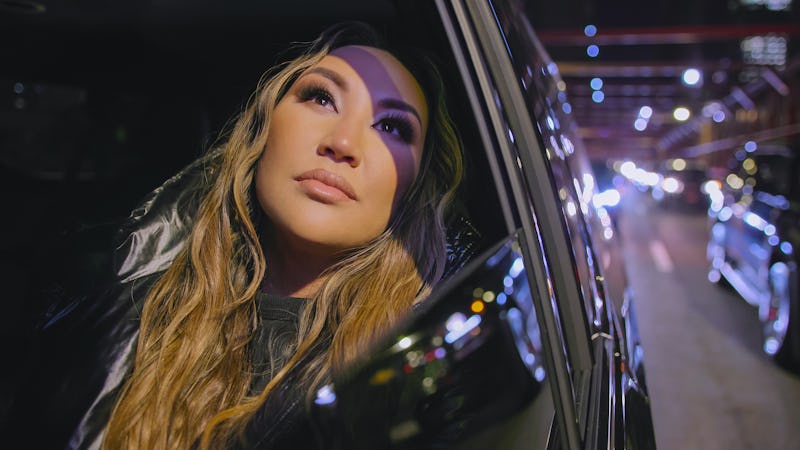 Netflix
When Dorothy Wang first arrives in the Big Apple for Bling Empire: New York City Season 1, things aren't easy for her right off the bat. She has no doorman to carry her bags up the stairs, no idea how to flag a cab, no blinds, and most importantly for a socialite like herself, no good dating options in her cell phone yet.
That changes when the cast heads down to the Bahamas for a girls' trip, and they meet a couple of men at the resort. Dorothy and Nam Laks end up partying with the men on their last night, and instead of joining the group on the flight back to the big city, they stay on with the guys, seeing as they were having a good time with them. As both women repeat over and over, they were good, safe dudes — the cute kind you don't mind changing your flight for.
Back in New York, Dorothy keeps in touch with the one she had her eye on, Ari Kourkoumelis. They meet up, and he takes her for her seemingly first slice of New York City pizza. Then he goes all out and brings her to Astoria, Queens to see his family's produce market and juice bar, United Brothers Fruit Market, on 30th Ave. As the season ends, Dorothy says that they are still texting and enjoying each other, just like any new couple would be. So are they still together? Here's what we know about who Dorothy is dating after Bling Empire: New York City Season 1.
What Is Dorothy Wang's Dating History?
Dorothy is no stranger to putting her love life out there for all to see. Dorothy, the daughter of Chinese-American business mogul Roger Wang, first made her reality TV debut on Rich Kids of Beverly Hills in 2014. Then, she was dating boyfriend Cooper Mount, though they split soon after. Dorothy has been linked to other celebs, like French Montana and John Mayer over the years, but given the fact that her next TV endeavor was to star in Famously Single in 2017, Dorothy hasn't exactly been known for settling down with anyone in particular.
By the time she arrived in New York City to film Bling Empire: New York Season 1, Dorothy was definitely ready to mingle.
Are Dorothy & Ari Together After Bling Empire: New York?
Dorothy Wang told Bustle that she moved to New York City in January 2022, which means that she met Ari sometime afterward. Alas, scrolling through her Instagram grid, Ari is nowhere to be seen. That makes sense as her grid is curated like any other celebs, and she had a lot going on. From the looks of it, she traveled all over the place and did a lot of work promoting Bling Empire, among other things. What is not on her Instagram grid is a selfie from Queens or her date with Ari.
Ari is a lawyer with his own practice, per his LinkedIn profile. Judging from the dates of his jobs on his resume, it looks like he was starting his own practice around the time he met Dorothy. Because he seemingly wants to maintain his privacy, likely due to his work, that means it's impossible to tell if they actually continued to date beyond what you see in Season 1. When Bustle asked Dorothy if fans could expect to see Ari in a potential Season 2, she didn't give anything away and said, "I guess they would have to see!"