Dua Lipa Went Public With Filmmaker Romain Gavras On The Cannes Red Carpet
Meet the singer's new "sweetheart."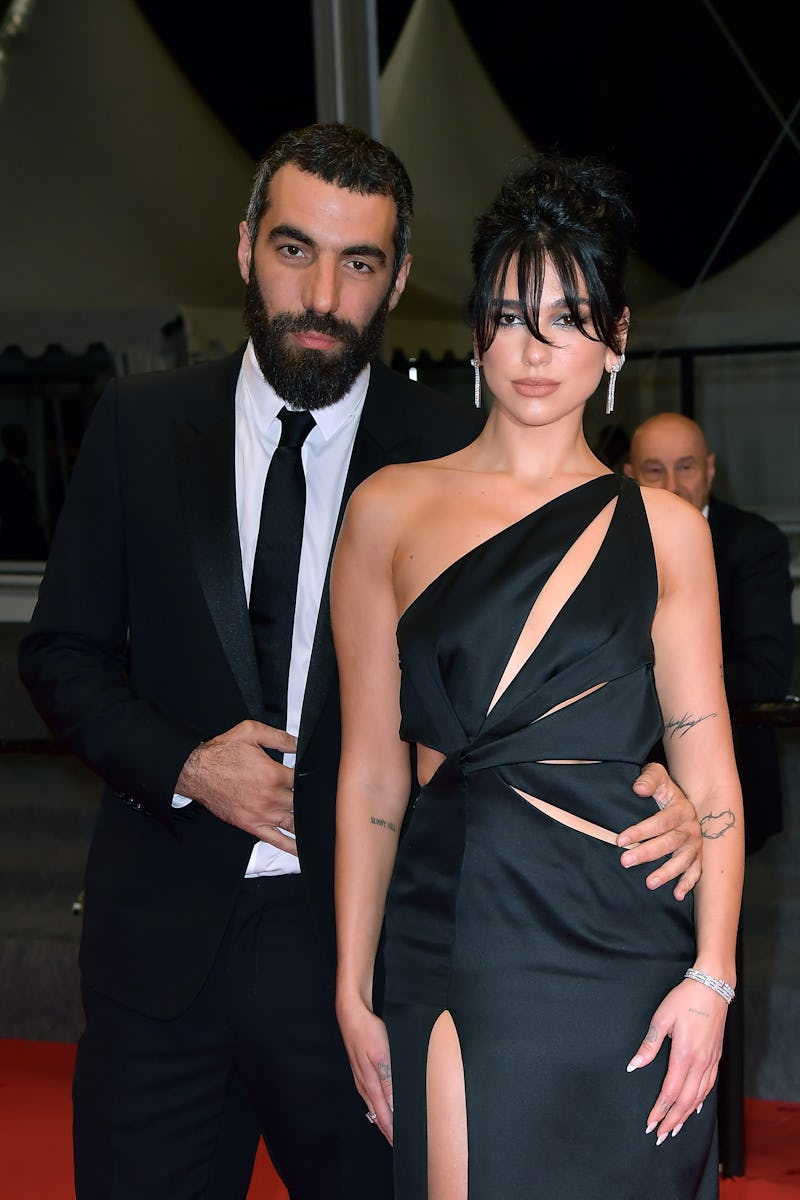 Dominique Charriau/WireImage/Getty Images
A music and fashion icon, Dua Lipa typically likes to keep her life away from the glitz and glamour of red carpets and stadium shows private, including her love life. Since her breakup with Anwar Hadid in 2021, fans have been left wondering, who is Dua Lipa dating? Or is she enjoying the single life? Well, the 2023 Met Gala co-chair answered that question when she went red carpet official with French filmmaker Romain Gavras at the Cannes Film Festival on Friday, May 19.
Since early 2023, it has been widely reported that Lipa is dating Rita Ora's ex-boyfriend Gavras. The pair were first spotted together at Netflix's annual BAFTA Awards after-party in February, per The Sun, and sources have claimed that they "have been quietly getting to know each other for several months." Speaking to the outlet, the insiders continued: "They have been enjoying spending time together. The pair met each other's close circles over the festive period and have lots in common." The sources also claimed that Lipa wants to find someone who "understands her industry" and "she feels Romain totally gets it."
Lipa confirmed the rumors with an Instagram post after they attended the premiere of Omar La Fraise (The King of Algiers) in Cannes. "Last night in Cannes with my sweetheart," she wrote in French, alongside a carousel with several photos from the night, including two of them together.
Before Gavras, the chart-topper was reportedly dating rapper Jack Harlow, who released a song named "Dua Lipa" just six months before the pair was romantically linked in late 2022. The rapper told The Breakfast Club radio show that when he first contacted Lipa for approval on the song release, they had an awkward interaction. The pop star apparently said, "Oh, it's not my song. I suppose it's OK." However, the pair were reportedly in "constant communication" after meeting in person in November 2022. A source told Page Six, "he was very interested in her and was going to strongly pursue [the romance]," while other insiders claimed that Harlow flew to New York to meet Lipa after her appearance on the Z100 Jingle Ball in December 2022.
Page Six also revealed that Lipa and Harlow were seen at the same restaurant in the Meatpacking District the following day, but they entered and left the building separately. Lipa and Harlow's representatives did not respond when Bustle reached out for comment.
In September 2022, the three-time Grammy winner was spotted having dinner in New York City with Trevor Noah, and the pair were photographed "kissing and hugging" just one day before The Daily Show host announced he would be leaving that gig after seven years at the helm. The Daily Mail, which obtained and published the photos, reports that the two stars ate at Jamaican restaurant Miss Lily's, kissed after the date, and went home separately.
The 27-year-old pop star and the 38-year-old TV host likely connected at the Grammy Awards, which Noah hosted in 2021 and 2022. However, neither had confirmed a romance and, in fact, Lipa spoke about being single in the October 2022 episode of her podcast, Dua Lipa: At Your Service.
The "Love Again" singer was chatting with Charli XCX in the episode when the conversation turned to relationships, relaxation, and then yoga. For Lipa, that tied into how she's been able to focus on herself lately. "First year I've not been in a relationship for a very long time," she said. "And it's been kind of the opposite; it's been really great to just be alone and, like, only think about myself and kind of be quite selfish, which I've never really had the opportunity to do."
Although Lipa seemed to be enjoying the change, she did say that finding "someone that really softens you and calms you down" can make "a big difference."
Previously, Lipa was dating model Anwar Hadid for two years before their breakup in December 2021. Lipa had spent quarantine with Hadid after they started dating in June 2019. They were often seen giving each other a kiss for the cameras at red carpet events. Lipa even put him in her music video for "Levitating." They became even closer during lockdown when they no longer had to travel so much for work.
Speaking to Rolling Stone, Lipa revealed what a typical day was like for them: "Wake up around 9:00, 9:30, shower, get dressed, have a bit of breakfast, take the dog out on a really nice long walk, maybe do some yoga, make some lunch, hang out, watch a movie, play with the animals."
While dating Hadid, Lipa reflected on how much she shares about her dating life on social media with British Vogue. "We're quite private — we'll only show you as much as we want you to see," Lipa said. "We have all these incredible memories and experiences, and if there's something that we want to share together, then OK that's fun."
This article was originally published on