Lady Gaga & Michael Polansky's Relationship Is Proof They Can Get Through Anything
The couple was tested once again when Gaga went to Italy to film House of Gucci.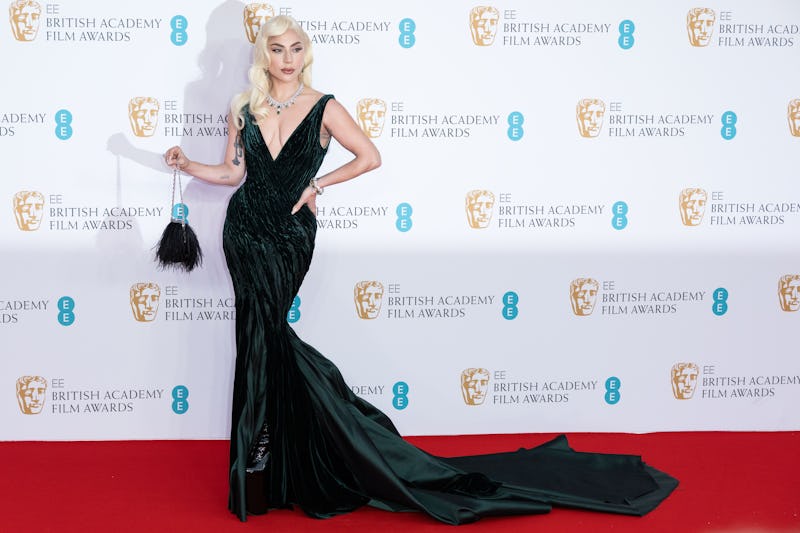 Jeff Spicer/Getty Images Entertainment/Getty Images
Lady Gaga is far from being caught in a bad romance. For roughly two years, the House of Gucci star has been linked to Michael Polansky, and it appears the two are still going strong – making two recent and very public red carpet appearances: at the 2022 BAFTA Awards and the Critics Choice Awards.
But it was their appearance at the BAFTAs that got everyone talking – especially when BAFTA presenter Rebel Wilson awarded Polansky with a golden bra for 'Best Plus One'. "Are you Lady Gaga's plus one?" Wilson asked Polansky as Gaga was beside herself laughing. "That is a good gig!" The singer then took the bra and hid it under her dress before handing it back to her beau.
While Gaga didn't take an award home from either ceremony, she and Polansky served some major looks on both red carpets – especially at the BAFTAs, where Gaga took inspiration from Hollywood royalty with her figure hugging, dark green Ralph Lauren dress and platinum blonde curls.
Gaga and Polansky were first spotted kissing on New Year's Eve in 2019, but it wasn't until Feb. 3, 2020, that the "Rain on Me" artist confirmed her relationship with Polansky. Next to a photo of Gaga sitting on his lap, she wrote, "We had so much fun in Miami. Love to all my little monsters and fans, you're the best!" Since then, the singer has shared snippets of their romance on Instagram, including a post celebrating Valentine's Day and other photos of them looking very happy together. On Jan. 25, 2021, she shared a photo of her and Polansky smooching through their masks at Joe Biden's inauguration.
It's been a while since the "Poker Face" singer shared a photo with her beau, but that's probably because she's been very busy. She spent much of 2020 in Italy filming House of Gucci, in which she played Patrizia Reggiani, the ex-wife of Italian businessman Maurizio Gucci who was shot dead by a hitman she hired herself.
But all of that time apart clearly didn't take too much of a toll on their relationship. In March 2021, Polansky proved just how much he cares about Gaga when he sent her an enormous bouquet. "When your bf sends you all the flowers in Rome for your birthday," the Star Is Born actor wrote alongside a photo of her hugging the elaborate bouquet. "I love you honey 💕 I can't wait to be home with you and our dogs, that's all I need." Per The Hollywood Reporter, the couple currently lives together in Los Angeles with their three French bulldogs, Asia, Koji, and Gustav.
It should come as no surprise that the two have moved in together, especially since their time in quarantine was so successful. At the height of the COVID-19 pandemic in March 2020, the 35-year-old singer-songwriter revealed that she and Polansky were "Going strong, playing video games and cards, and taking care of ourselves." The following August, she shared a selfie and said that she was "making dinner with love," which seemed to be her way of referring to her boyfriend.
Unlike Gaga, Polansky isn't in the entertainment industry, but rather a Harvard graduate and the CEO of the Parker Group. According to ELLE, he's in charge of Facebook co-founder Sean Parker's Institute for Cancer Immunotherapy. He's been CEO for The Parker Group since September 2009, per his LinkedIn.
In February 2020, Page Six reported that the two may have met thanks to The Parker Group. "People are saying Gaga would have met him through events Sean Parker has hosted at his house, including the launch and other events for the foundation," a source told the publication. "Sean also had a party for his birthday in LA in December and both Gaga and Michael were there."
However, when they actually met doesn't really matter, because between quarantining together and making it work long-distance, Gaga and Polansky have proven that they can handle anything.
Additional reporting by Sophie McEvoy.
This article was originally published on