Emily In Paris Star Lucas Bravo Is "In Love With The Idea Of Being In Love"
Bravo was rumored to have dated Alba Baptista and Ashley Park.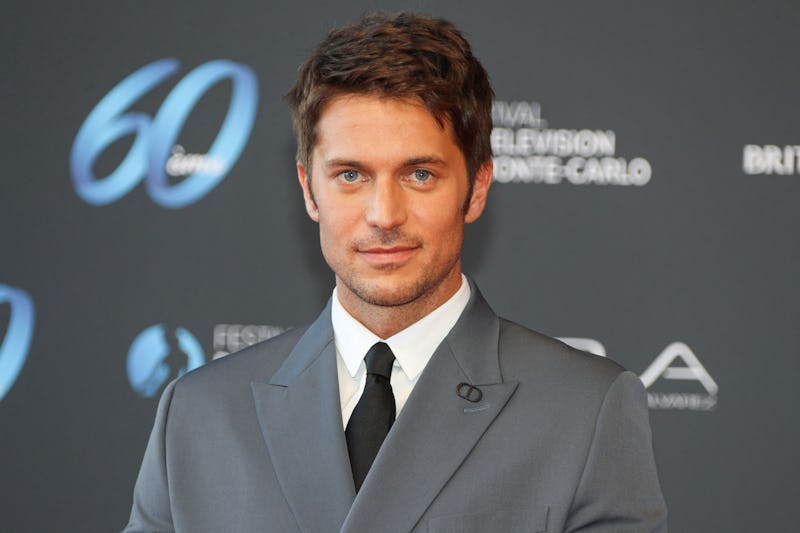 VALERY HACHE/AFP/Getty Images
It's been over two years since Emily in Paris premiered on Netflix and it remains one of the most polarizing shows on the streaming platform. From Emily's genuinely upsetting French and constant scoffing at the country's culture and her various love triangles, the Golden Globe-nominated series remains a hot topic. Since the series first started, Lucas Bravo has been the name on everyone's lips. The actor, who plays Emily's neighbor Gabriel, was instantly labeled a heartthrob, and ahead of the show's third season, inquiring minds want to know about his relationship status.
Although Gabriel's love life gets more complicated as the show goes on, Bravo's personal life is much less dramatic. In December 2021, Bravo confirmed he was single and it seems like his relationship status hasn't budged much since. Though he felt like he became an "overnight heartthrob," his lack of a partner does get to him. "Of course I feel lonely, because I'm in love with the idea of being in love, but I think the less you look for it, the more it finds you," he told Grazia.
We know what you're thinking: What is Bravo's type? Well, fans can breathe a sigh of relief because he doesn't have one. "I like that 'instant connection,'" he told ELLE Australia in October 2020. "Sometimes, you just run into someone, you look at this person in the eyes, and in an instant, in a second, so much is said... Just feeling safe and feeling like there's an old soul in front of me, and we've always known each other [like] in a past life or something… it's something you cannot see, and that's mostly what I'm looking for." As to who he may have that "instant connection" with, here's a rundown of his purported dating history.
He was linked to Mrs. Harris Goes to Paris actor Alba Baptista
In the spring of 2021, after wrapping filming for his film Mrs. Harris Goes to Paris, released in July 2022, fans noticed that Bravo and his costar Alba Baptista were getting friendly. Bravo was even sharing photos of them from their vacation on his Instagram in May of that year, leading some to assume they were dating.
Baptista spoke about her onscreen chemistry with Bravo in a July 2022 interview. "We were the youngsters of the cast, so naturally we bonded through that, of having this insecurity that the other actors certainly didn't feel because of their experience. And so, we relied on each other a lot with working through the scenes, and we just hung out a lot," she told BeautifulBallad, adding that she had a trio with Bravo and Lesley Manville. "We were a trio that were inseparable."
If Baptista's name is familiar, it's likely because she stars in her own Netflix series Warrior Nun and is Chris Evans' rumored girlfriend. Some Twitter users even broke down their dating timeline.
While neither Baptista nor Bravo responded to the rumors, he previously spoke about dating a fellow actor whom he was "very much in love" with. He didn't namecheck the person, but Bravo told Grazia in December 2021, "I was very much in love, but timing wasn't on our side. We were doing the same job and we had a very private relationship." He added, "She was working a lot and I was working a lot, and we were at opposite points in the world for an amount of time, and we decided it was going to be too hard. We're still good friends."
He was also linked to his Emily in Paris costar Ashley Park
A Reddit thread seems to think that Bravo may have had a fling with another costar, this time one from his Netflix show Emily in Paris. Reddit users noticed that Ashley Park, who plays Emily's BFF Mindy, used to be good friends with Bravo during the early seasons of the show. He even visited her in New York. Now, shrewd fans pointed out that they are no longer following each other on social media nor feature in each other's accounts.
While it's not clear what happened, one user speculated it may be connected to something Bravo previously said in an interview about American women misconstruing his innate flirtatious demeanor.
"It's part of the culture to be in this constant seductive communication, which doesn't imply that there's an interest behind it, but it's just more fun and this is what makes Paris so romantic and philosophical and poetic," Bravo told InStlye in an October 2022 interview. This "constant seductive communication" is something that's landed him in trouble with someone before. "I experienced it in my past, having this [love] language … and being confronted [by] someone who misunderstood my intentions. I think it's one of the cultural gaps we have between the States and Paris."
While Bravo hasn't addressed rumors about both Baptista and Park, Bravo has shared his rule against dating costars. In October 2020, made it clear that, ideally, he wouldn't date a costar to keep the personal and professional separate. "Once you step on set, it's a workplace, and I want to keep it professional," he told Glamour. I mean, you never know what can happen, but I really try as much as possible to focus on the story we have to tell and the performance and the character."
Dating fans is another story, though, as he's not ruling that out quite yet. Humbly, he said he doesn't have any admirers and couldn't fairly assess the hypothetical situation. "I don't really have fans, so I don't know," he laughed. (Surely, some of his 1.8 million Instagram followers would beg to differ.) "That is a question I will maybe answer some other time," he continued. He also noted that when it comes to relationships, his favorite thing is open communication and when his partner greets him for the day with a "cuddly, tender … just a sweet wake-up."
While Bravo keeps his personal life private, he did give some insight into how he compares to Gabriel's. Speaking about the love triangle between Emily, Gabriel, and Camille, Bravo revealed if he's ever had a threesome. "I've never experienced one, but I guess it's a reality and it's not even in France," he told SiriusXM's The Michelle Collins Show. "I think it's everywhere. It depends on connections and the situation, you know, anything can happen sometimes. You know, your life can do a 180 in just one second, one hour and anything's possible."
As for what's in store for his Netflix character, Bravo hinted there could be a threesome with Emily and Camille in Gabriel's future. During an October 2020 Cosmopolitan interview, he said, "We planted a few seeds about different characters. Like Camille, when she kisses Emily on the mouth, and she's like, 'I'm not sorry.' And then when they're in bed, and I'm liking the picture, it's all little seeds." He added, "Anything could happen between the three of them."
Additional reporting by Jordyn Tilchen
This article was originally published on